KIDNEY DAY!
Carly has a nightmare: Ryan is holding her baby--only..the blanket is empty. Even on kidney day, Carson has to be front and center. Carly HAS to have a Ryan nightmare. :Eyeroll:
Ava's on her way up. She wants to see Avery to celebrate Kiki's bday. Sonny's all snotty and says they already did "on her ACTUAL birthday"..and Joss has her at the Zoo. "Call next time" OMG I wish Ava would stab him lol. She tells them why she didn't kill Ryan and then ended up stabbing him anyway. Sonny seems a bit impressed.

Waiting Area:: Franco, Kevin, Laura and Finn. Franco says the operation to harvest the kidney is taking too long. He's worried. RoHo is hilarious. Finn gets a beep.
Jordan's room: TJ, Stella, Liz... Curtis. Getting her labs in order to receive the kidney after Ryan is done. Finn comes in..KIDNEY IS READY TO GO-GO! Jordan wants to talk to Stella alone. She has a DNR and wants Stella to advocate for her because she's afraid that Curtis/TJ won't.
Kevin and Laura look in on Ryan who's post-surgery and hooked up to machines.
Later, Finn goes in and he's not waking up. Franco and Kevin have a fun convo about killing Ryan with a pillow.Must see. Finn says he may be in a coma and goes to get neurology. Franco looks longingly into the room.(like he wants to kill him).
Charlies: Jules called Alexis to talk about Wiley's situation with Shiloh. Blah blah --they'll help keep Shiloh away from Wiley.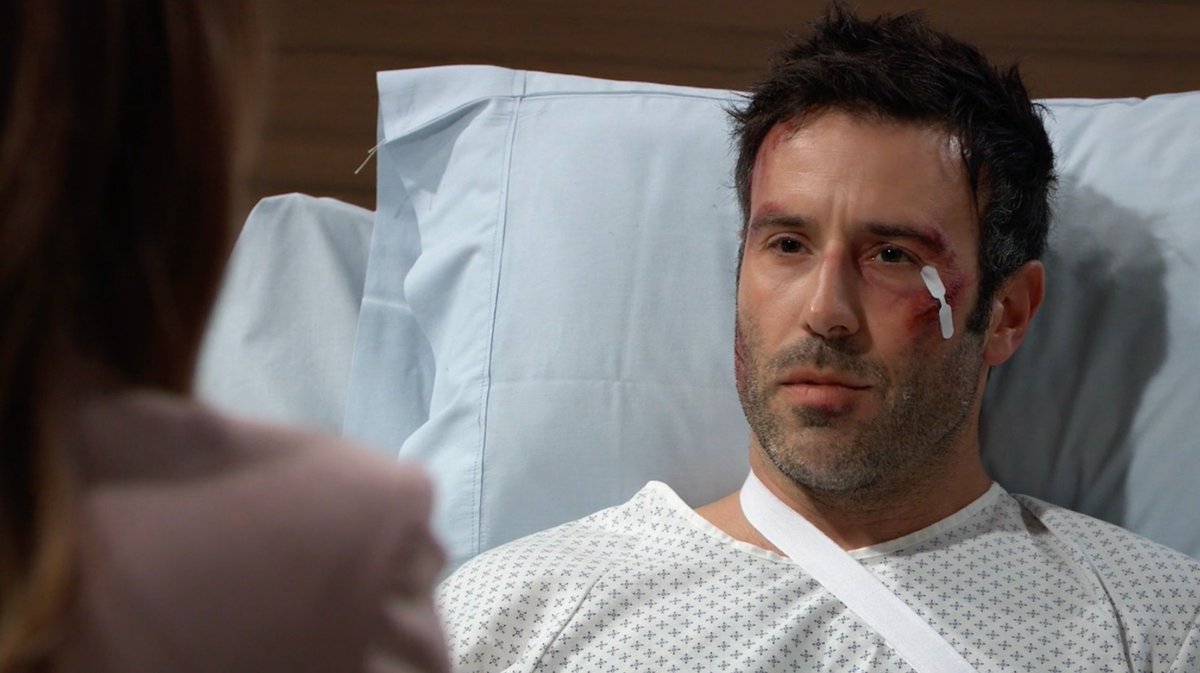 Shiloh is pissed he's arrested DA Lady comes in. The actor that plays Shiloh is really good. He's slimy...scary..angry. Just good. Margot tells him she IS going to put him in jail. He's not happy. Margo says that she has evidence. Shiloh says he'll retailiate with the pledge..she SHOWS HIM THE PLEDGE. He says: Oh well, I have it up here and I'll ruin you. She says she's going to resign anyway (going to another show sooo...)
Willow's Mama is harassing her to give up the baby. She yells and pleads but Willow says the baby is dead. They go around and around. Somehow Harmony figures out the baby is alive. Not sure how, I wasn't paying close attention. Willow tells her that they got the pledges back. Harmony is SHOOK!! She runs to tell Shiloh the baby is alive.
Alexis is going to Carly to tell her brother to 'watch himself"..she tells CarSon Wiley is Shiloh's? WTF? SO she can keep an EYE on BRUCAS!! Oh that's stupid.
Julian tells Willow to get court records from Diane and destroy them (regarding Wiley's adoption). She calls for an appointment.
Jordan gets wheeled into surgery... end. of show.