Brad having a Panic Attack..Bobbie and Carly are there. Lucas shows up and Bobbie is told everything about Wiley. She's mad at Julian for being underhanded with the paperwork. She goes to Charlies' and slaps him.
Jordan and Curtis..fighting over her checking herself outta jail. Ok, I'm saying it. I don't care for NuJordan and I don't see chem between she and Curtis.
Michael and Jason talking about going to Beecher's Corners. Michael's gonna go. Looks for that Lockhardt girl.
" Midnight in the Garden of Good and Ava" is her feature in Crimson!! SO NICE-- Jax wants Joss to have a summer internship at Crimson. Maxie is so happy. Joss didn't even KNOW it. She's like "Couldn't you ask me first"!!?? She's not sure if she wants to do it. Aww cute Dad girlie moment.
While Maxie talks to Joss about the seance, Ava listens in and I think she'll do one for Kiki?
Jax tells Nina that Curtis is head of security.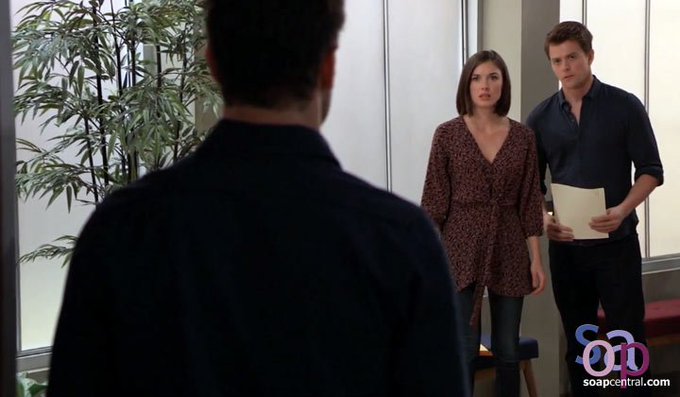 You'd think Willow would just run out. Anyway,just like I said, the principal offered her her job back. Yada blah blah.. .FINALLY Diane tells Chase to go get Willow. He interrupts and they leave.
Meanwhile, Diane wants to know how Shiloh got the records from Mercy if her client didn't sign off of them!!?
Willow gets there. They are in recess but the judge is going to rule when they come back and Willow can't talk because she missed her chance.
Diane is pissed. The judge rules for Shiloh. NOW, forgive me but wouldn't Shiloh have to prove he's the father? He's not listed on the Birth Certificate..and how would the judge know if Willow slept with just one person??
AND the judge says Willow has to give Shank ALL the information on the baby's adoption.

Friz' Venue was cancelled due to MOLD and Lulu offers the Haunted Star. Liz is like, ummm probs not a good idea. SINCE KIKI'S BODY WAS THERE FFS. Franco says "the past is the past and a place is a place" What could possibly go wrong??
OH HELL..welp! Cursed that!