ON WITH THE SHOW-SHOW!!!
Willow gets home. Chase says he has wine and take out. Willow just wants hugs. They talk about Wiley. She thinks she's too sad to see him.
Alexis sees Lucas at GH says she's surprised he's back already. He said he feels normal there and GH gave him his job back when he decided not to go to Portland. He asks her to be his divorce lawyer. She says of course.
Molly says no to TJ.. again. Damn I want that cake! TJ tells her marriage is important to him She still says no. A LOT of dialog here about Molly not wanting vows and how married people don't really stay together. YOU MUST WATCH IT. She gives TJ back the ring. He goes to take a walk. Molly texts Alexis. Alexis is sad she turned him down and realizes it's because of her choices.
Michael and Sasha. He's just EXHAUSTED after taking care of Wiley all day :eyeroll: He and Sasha talk about him being a dad and he knows she doesn't want to be an insta-mom. She says lets take it day by day. She goes upstairs. Willow comes over to talk to Michael. He tells her it's important she stay in Wiley's life. She's no so sure.
Franco comes downstairs..Liz shows him the phone and says Cam's been kidnapped. Franco: Did you call the cops?? Liz: Jason says don't... Franco "well Jason has a certain set of skills...but if you want to I'll back you up. LOL Liz calls. Jordan shows up. Asks questions and realizes Taggert left on his own to go do the saving.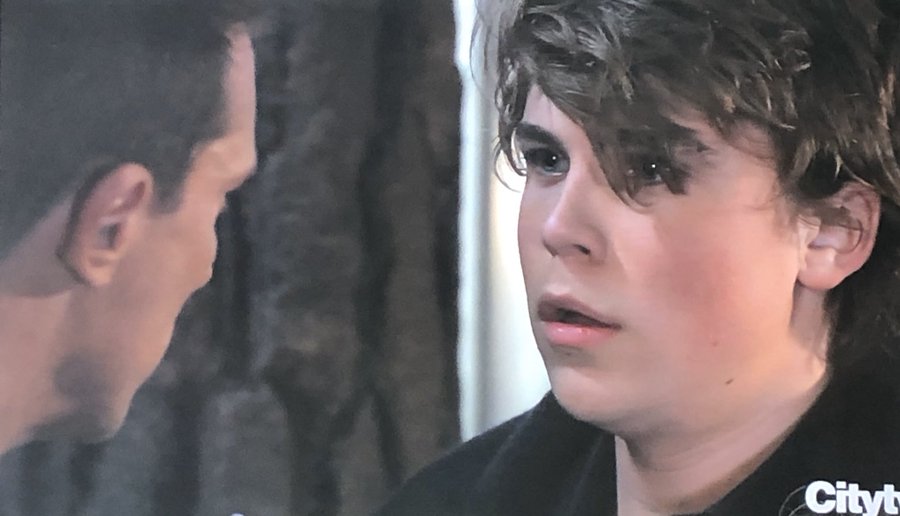 Taggert is surrounded at the warehouse. HOLY..things just happen fast. He's surrounded, the guys tell him they aren't letting the kids go.. Curtis bursts in ...gunshots all over. I think Cam ran out?? Then Curtis grabs Trina and keeps her behind the boxes. It was really chaotic and good and I can't type fast enough
Cam runs away and falls and a guy comes up and points a gun to his head. Guy got shot by Jason. from behind. Cam is yelling at Jason to get in there, Jason says they need a plan
Trina is behind the boxes... the goon says they'll never get out of there alive. Taggert goes from behind to shoot at them... they shoot at him HIT HIM IN THE GUT!! Trina is dragged out yelling "DAD" by Curtis.

BREATHE!!
ok, so they are outside and Jason and Curtis tell the kids to lock themselves in the car and the'll go get Taggert. Trina and Cam go (Trina throws up lol...totally realistic). Taggert is down on the floor bleeding and goonie is going to shoot him and Curtis shoots the gun out of his hand!! Jason and Curtis have guns on them. They have a shootout.
IN the car, Trina is freaking..she says it's their fault. They were stupid. She's panicking..RUNS OUT OF THE CAR!! NO! NO! UGH

The GOONS RUN OUT OF THE WAREHOUSE!!!!! Damn it..and Trina's out there ! Cameron grabs her, won't let her go. They get back in the car. She says "I saw my Dad get shot"!! He holds her. GAH!!
Back in the warehouse, Taggert asks if his daughter is safe and Curtis says yes. Taggert passes out.
PREVIEWS:
Trina is saying "He's waking up" so I think Taggert doesn't die??
NOTE: TJ is out and around Port Charles, he'd better not die??!! I mean>??