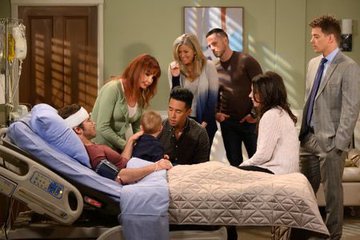 PREVIEW

I hope Finn gives Pete a nice shot of something to put him fast, fast asleep. Peter leaves. Finn talks to Anna about having a killer around Violet. Then he finds out Robert doesn't know about Peter's connections because Anna kept the evidence out of the file. He's furious. Good he should be. Why is Anna like this about Peter? Guilt? He might not even BE her kid in reality. Whatever. Finn and she fight some more. Finn takes Violet to school. He's not sure he'll be back.
Sam and Spin. OMG I really hope her voice isn't like that because of nodes. She was talking about Peter and he wants to tell Maxie. She says no.
Jules and Brad. Julian is pretending to make ammends but he's up to something. OH He puts something in his coffee! THEN he daydreams that Alexis is holding Wiley and she says "Brad got arrested for Opioid use and now someone has to care for Wiley"!
OOOHHH...back to BAD Julian in a big way! Having fantasies !
So, we think Brad drank his coffee when he wakes up but he hadn't he was just tired.
Julian gets him to drink it when he wants to toast their new peace.
Jason and Sonny...Jason tells Sonny about the gunfight and that the guy is "taken care of". Carly bursts in and demands to know who shot at them. Sonny says it's ok to tell her. "Cyrus Renault"-- he's a drug king pin that does business with Russia. "you don't wanna be his enemy" says Sonny.
Cyrus was transferred from Canadian prison to Pentonville. Oh the horror!
Alexs and Jax. She's mad he didn't tell her about Nikolas. I like these 2 together. She leaves.
Maxe and Nina talking about how flustered Nina is around JAX. Nina says "we kissed" Hey, I finally love Maxie's outfit!
Later, Nina sits down with Jax. I am so not into them.
Nelle summons Martin Gray to help her with the living situation. Michael offers her even more money for her stock. She says NOPE. Not enough. Then Tad takes her in the other room and says "you must really love Michael" ..she laughs in his face and says "for a lawyer, you're dumb" LOL. She wants enough money from them to never have to work again in her life.
Does anyone know if Elle got the job?? If they are moving to PC??

END:

Brad answers the phone. Lucas is awake
Nelle says "let the games begin"
Sonny goes to visit Cyrus in Pentonville