So, at least I got some Tami-flu to help me out. I also got a flu shot in October but with the germinations I'm around, doesn't always help lol
So, Watching Monday's show... not dealing with the mobular stuff very well. I was loving the direction of the show and now? Meh. I would rather have seen Molly/TJ getting engaged and his med school stuff. BUT YOU KNOW... it's GH .
Brando snarl-acts. That's all I'm saying about him.
AND they are acting like Gladys set all this up! Sonny's the one that FOUND HER and was saying he KNEW her son DIED. SO all this reconning in making me pissed off. He also basically forced her to do all this.
AND Now he tells Gladys she has to tell Brando that Dev might really be his son??? Oh boy, I don't like this. I mean.. WHY? I would have rather have had Dev's real fam look for his ass and drag him back to Turkey.
Dev's "father" is in Port Charles. LOL. Okay. Whatever Does Dev have to act like his "dad" is suddenly alive?? PFfffffffft!
Nikolas seeing Laura. He always called her "mother"...
Nelle calling Brad LMAO "BYEEEEE". Love her giant Pintrest board. Brooklyn and Nelle--perfection of the whole Soapy Genre!!
Nelle mentions her missing kidney every other day!! LOL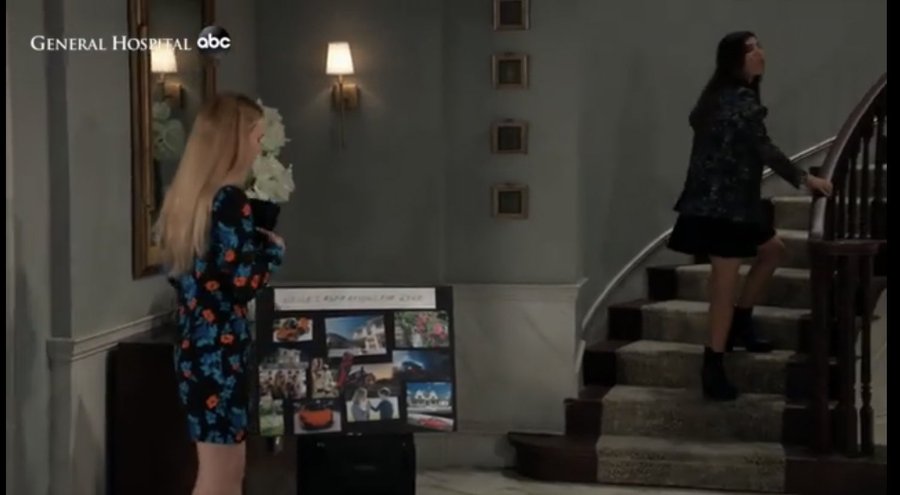 TODAY'S SHOW:
I love the Q house. Tracy and Ned finding Nelle talking herself in the study LOL Tracy wants to get "Daddy's Winchester". Michael tells everyone it was he who invited her and Monica said it was ok (off camera).
YOU HAVE to watch those scenes, just hilarious.
Tracy says she's going back to Amsterdam and Ned says he can manipulate her.
Laura's awake and going to be ok.
We get to see some guy getting beat up in front of Sonny while he yells. Ugh. Stupid. I GET the mob is totally part of GH but it was taking a nice backseat for awhile He calls Jason to "come and finish up here" when the guy won't give it up.
I thought Anna was having a nightmare about Peter but it was a game with Violet. He pretended to capture Anna and tie her to the stairs. Violet saved her. She talks to Peter about covering up the whole background. He talks about Jason being suspicious. Basically orders her around. I don't like this.
Sam and Finn talk in Kelly's about mob life and Laura. Boy, I remember when their chem was off the charts. Now? not so much.

Jax points out to Carly that Michael got shot in the head and Morgan died because of Sonny. Tells her to take the girls and get away. Sonny walks in. Jax bitches at Sonny. Sonny bitches at Jax.
END:

Michael boots Nelle to the Boat House (cause the guest house burned up)
Jax tells Sonny he should turn sates evidence
Jason gets out of the guy who's dying that Cyrus Renaud or something was behind the shooting
Tracy is leaving (sobbing)