Time for the SHOW SHOW!!
Michael tells Monica that Michael is his son. Great, another kid she has to take care of LOL Wiley giggles. Jason comes over later. He and Michael talk about the docks explosion. Later, Monica comes back and they take photos. OMG such a cute scene!! Really cute.
Oh, Jason tells Michael Nelle can be "taken care of".. dun dun dun
Corinthos Kitchen: Giant MOSSS on the counter . It's bigger than ever. Carly's talking about the explosion on the docks. She says Lucas wants to be left alone. OMG we aren't going to see him until 2021 are we?? Jason leaves. Carly talks about ME ME ME and how Nelle is mean to her. Sonny tells her to let Michael handle it. She's like "You know Michael, he wont' do anything". Sonny's being very rational. Tells Carly to stay out of it. AHAHAHA. GOOD LUCK
Willow wants to go to work. Chase thinks she should take the day off. She says she has to keep working. She starts crying because Nelle shouldn't be a mother and she should. Tells Chase she wants to be alone. She leaves.
Brad is in Jail..with a new spiffy denim shirt on and Jules thanks him for not saying anything. Brad's like: I can STILL blow you in, you know. They argue. Brad says I bet you're happy we had that car crash.. Julian said it was the worst day of his life and Lucas "never should have been in that car" OH! WHOOPS! Brad is like WHAT? WHAT do you mean!!? Julian covers by saying he meant thank god both of them are ok. Brad tells Julian that Nelle is changing the story to make it look like HE did everything. Julian says they have to work together on this. He says if he keeps his mouth shut, He will make sure he walks out of jail.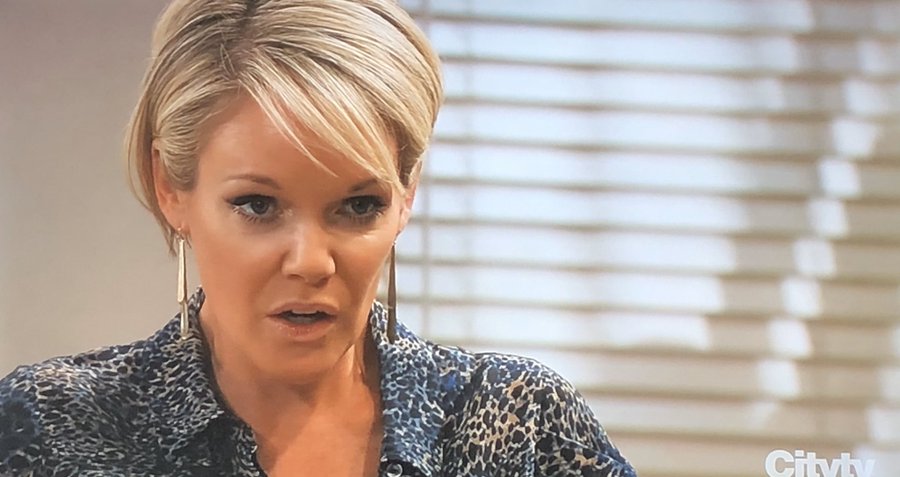 Ava is getting her portrait painted by Franco-- she and he watch Nik and Liz talk at GH in at the nurses station. He's jelly--she's grinning. They go to paint... and Ava tells her that Nik and Liz had an affair. Oh! Then Nik tells Liz Ava and Franco had an affair years ago.

Nik and Liz talk some more. They kind of make up a bit. both smile at each other. Cute
Ava still can't believe Nik and Liz had an affair. Franco's trying to draw her and says "look happier or people will think you're Helena Cassadine" LOL I love Franco and Ava. Nik sees them through the window and is like: Hmmmm, will they have an affair (I hope?)
Willow went to her baby's grave. She's sad. Liz comes in and hugs her. Chase told her what happened and she figured out she'd be at the cemetary.