STUPID JASAM meet at #GH in an exam room-- Finn comes in to tell them about Peter. He makes them agree to tell the feds the INFO .. Sam and Jason say it's not the feds they have the deal with it's Robert. He finally agrees and they shake on it. He tells them the info. They figure out that Anna is the 'source"...
At Anna's she and Robert argue about Peter and she opens the door and he's there. Peter's like "don't let me keep you" to Robert. Ugh, I wish Robert would kick him. Robert leaves. Anna says to Peter that she knows he's a good man..changed and if people can't see that, they'll have to go through her. Gross.
Kelly's: Lulu and Char are eating. Valentin comes in "PAPA"!! They talk about her horses. Lulu tells him to cool his jets about "running into" them. They talk about custody and Charlotte listens to all of it from the counter where she gets a hot cocoa.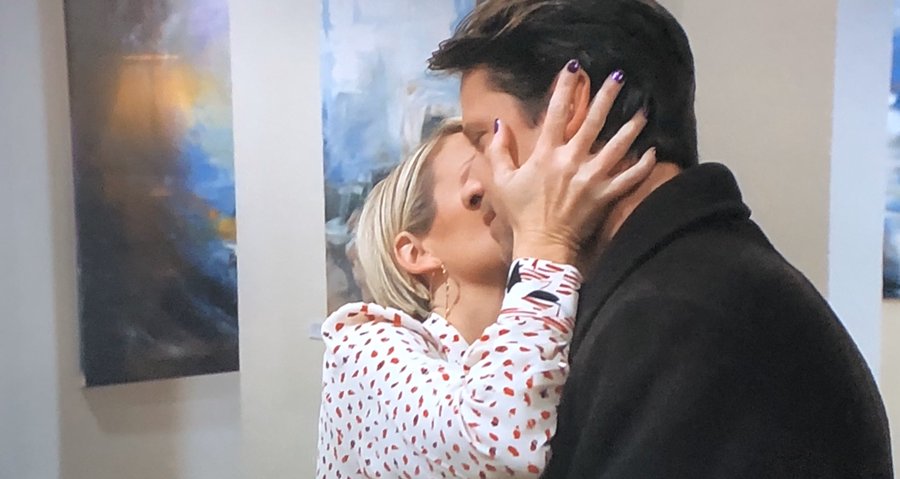 Gallery: Trina wants to know why Ava married someone she thought was a ghost and was dead. Ava says they were old flames. Ava's lipstick is amazing today. Franco visits! Asks her about Nikolas. She wants him to paint her portrait for over the mantel at Wyndemere! LOL She poses and Trina takes a pic to upload then Franco leaves and she gets a pic of them kissing goodbye. Ut OH
Manor Hill (Whatever the place Mike is is called LOL) Brook Lynn wants to visit Mike but Sonny says he's not up to it. Mike walks out tho and knows Brook Lynn, talks about the Cirello side of the family --OH! he thinks she's Lois! Doesn't know who Sonny is.
Friz are at GH and Nikolas walks up. Franco says from one Dead Guy to another they have to work things out. Franco yells at Nik about making Hayden leave town.
Later Liz tells Franco it's ok to do Ava's portrait, they need the money. (or could use it)

Alexis comes into GH to do a DNA test with Nikolas. She says that Valentin will never 'go quietly" VAL finally shows up at GH. He and "natasha" sit and wait.
Peter calls someone to call the DA to put Sam back in jail.
END:
Robert is going to take JaSam's info to the prosecutor to see if they can use it againt Peter--and it's the same guy Peter has in his back pocket. WELP! Yep, Robert goes back to them and says "Deal is off"
Charlotte drew a mustache on Franco's sketch of Ava. !! AHAHAHA She says that if it wasn't for "Certain people" Nina and her Papa would be married. Oh watch out Ava!
Nikolas is happy Franco is going to do Ava's portrait I think he thinks they'll have an affair.

Reason to watch? Brook and Sonny's talk about Alzheimer's