WE HAVE A SNOW DAY!! whoo hoo..it's bad out too. Ice, snow..blowing all over the place. Tillie won't even go out!! OY!!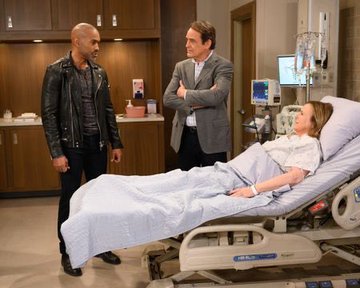 From Yesterday
I get an extra day of rest and recoop!!
Nikolas is at GH. Ava pretends to be all wonderful and hugs him. They banter. She gives him a list of rehab therapists in the area, she made the calls. She says to kiss her before she leaves. Nik leans close and whispers a threat. THEN THEY KISS....a hot hot kiss!! WOW. Even Ava staggers away. Good Old Soapy Sexual Tension baby!
Laura and Lulu. Lulu talks about Dustin. "He was in the right place at the right time three times"!!
Kelly's.. Brook is writing a song-- Dustin walks by. They talk. He thinks she broke up with him because he was boring. He sits and they talk about writing songs. He says it was a hobby for him, not a passion like it was for her.
Michael and Ned. Ned's mad because the Invader asks if Michael is a CEO or a Mobster LOL They talk about Edward. Michael wants Ned to stay on and work side by side with him.
Nelle barges in "I knew you were trying to kill me" She says the boat house is cold... damp and too noisy. Michael says he thought it would remind her of Pentonville! AHHAA. He says Lucas is awake. She's not happy.
Metro..Valentin and Nina. OMG IF I HAVE TO LISTEN TO HIM BEG HER TO COME BACK ONE MORE DAY!! UGHHHHHHHHHH. That's their ENTIRE relationship. Since day ONE.
Nina leaves thank god. Tad comes in to talk to Valentin about the DNA and codicil. Val is certain he's Mekkos -- and Helena is messing with him. I'm not so sure. I also wonder if Charlotte is his!
Lucas thinks Brad was going to confess something in the car. Brad sidesteps it. Then Willow comes in. I THINK LUCAS KNOWS about Michael!! He keeps looking at Brad weird and says "Michael will make a great father".. Hmmmmmmm!!!! In the hall Jules says to Brad that Willow will trigger Lucas' memory "she's a ticking time bomb"!!
Willow tells Lucas about Brad being a mess--emotionally and she's worried about him.
Ava's Gallery: Nina comes in. They talk about being commrads with the Cassadine men. They are so fun together !! Nina needs to move into the apartment! Ava tells Nina about the agreement that if one has an affair on the other, they forfeit the deal.
Brook and Ned are meeting with Link at the Metro, he's her "producer" . He calls Ned "Eddie Maine" .. LOL Ned says he assaulted Brook and Link says no. Ned tries to pay him off but he won't take the check.
Lulu wants to talk to Dustin about "us"...they are at Kelly's
Michael tries to give Nelle another offer She says no.
END:
Nelle calls Martin Gray, tells him to sell her 'item"... Martin calls Valentin ..he's going to buy the stock!!! HAHAHHAHA

Martin is working with Link..Link says "I turned the screws, they are willing to give anything to get her out of that contract"....
Ava says there is no sex in the marriage either so she KNOWS Nikolas will lose the sex thing-- What does she have planned??