Ava and Carly. Ava was seeing Avery. Carly asks when she's going to introduce her to her new husband. She also tells Ava she knows her marriage is a sham because Nik only loved Emily and Ava is nothing like Emily.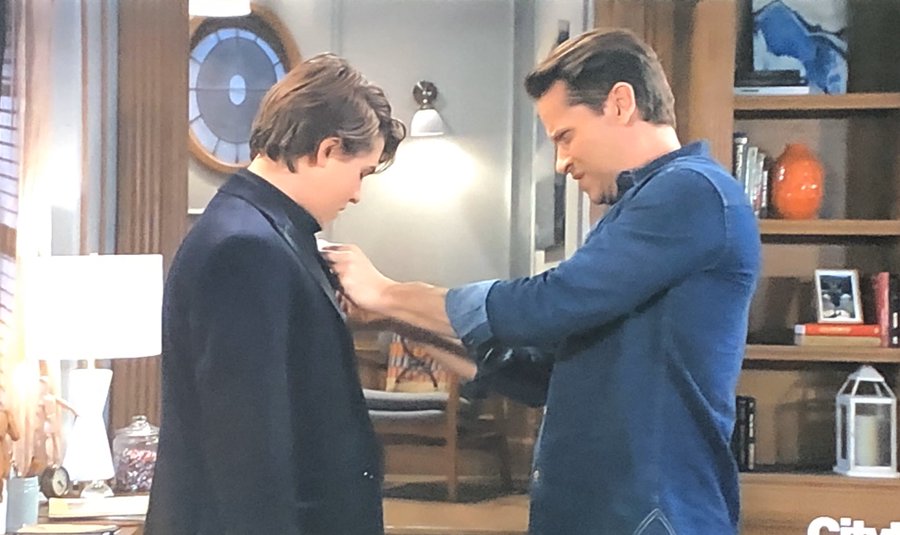 Cam is getting ready for the dance. Nikolas comes over. He and Liz talk on the porch and he wants to give money to GH and wants her to help him figure out where. He wants her to be his friends actually. She says, don't buy me with charity money, find my sister. He leaves. Trina comes over and looks stunning. Cam's like Um..huh..hi...Liz takes pics. Trina wonders where her Dad is.
Sonny and Jason talk about Nelle--the baby yada yada. Taggert comes to the office and says they have a mutual problem. He wants to work together. He tells them he was on the DEA team that took own Cyrus.
Julian still tries to put off Brook. She says Sonny will believe her. She wants Julian to threaten Linc, her producer so she gets out of her contract. He says there could be another way. Ava and Nik come in. Brook and Nik go talk at the bar. (they are old friends). Julian tells Ava that Brook knows about the whole situation with Brad. She says keep her happy; for now.
Laura's hospital room. She's going home. She wants to know who starting a mob war. Jordan tells her about Cyrus.
After Taggert leaves Sonny, someone is following him. He thinks he's sneaking up on the thug but doubling back but the thug has a PARTNER AND IT'S 2 AGAINST ONE!! OH NO!! Later he's in GH..and he said he got jumped but got a shot off and they ran. They dropped a needle, they were going to OD him!!!
Laura goes to Sonny and basically says she's going to be involve in all of this too to help Port Charles. YEAH!! Put her right in the middle. She seems strong and ready for a fight! It's not just Sonny and Jason!! She basically tells Sonny their war is in low income neighborhoods and people are scared. Not happening on her watch. She says he needs to take care of it and she'll do what she can. Also tells Sonny she won't hesitate going after him if he messes up.
Carly tells Joss she can't go to the dance because Of the mob threat. Joss leaves with Dev anyway.
END:
Carly trips over Dev's backpack and she finds a bullet in there!!!

The UBER driver for Cam and Trina is a MOB GUY!!!!!! EEK!!