Cam and Trina are taking selfies in the SUV... the goonie guy says they'll take a short cut.. and they say whatever. He takes a pic of them without them knowing it. He later stops the car, locks the doors. Trina cries. HE takes out his gun and takes their phones.
Jason and Sonny try to figure out how to stop Cyrus. They think Taggert might be trustworthy right now and might take him up on it.
Carly finds a bullet in Dev's backpack!! She looks for them but they left for the dance without telling her. Oh she gonna be MAD!!
She freaks out.then the door opens. Brando is there with Dev and Joss. He saw them leaving. Carly is like WHY IS THIS BULLET IN YOUR BACKPACK DEV?? He says: NOT MINE. They figure out Cyrus is sending a message. They also decide that Dev can't go to boarding school because it's too dangerous.
Taggert tells Jordan about the plan to work with Sonny. She's not happy. He grumbles and leaves. Curtis says he thinks he might be right and working with Sonny could be a good thing.
Jordan goes to talk to Sonny and Jason. She asks about how Taggert got beat up. Sonny says he has no clue. She says things better not get ugly in town. Jason asks her if she worked for the DEA before coming to Port Charles. Oh, he's figuring out Taggs and she know each other!
Molly is at The Metro waiting for her big date for TJ..Alexis sees her and is all excited but doesn't say why.
Later, TJ goes to the Metro and Molly is freaking out because ANOTHER friend asks her to be in her wedding..she's like GREAT Number FOUR dress I won't use! then she goes on and on about how marriage is male-driven and women were traded for goats LOL!! hahhaaa. She also knocks the diamond industry and how the guy proposes! TJ panics and goes to stop the hostess from putting the ring in the dessert. BUT.. they are bringing it to the table before he can stop it. The ring is on the top of the cake! Molly looks at it and her eyes get big. He makes a beautiful proposal but she says NO. !! OH NO!! MOLLY, damn it I want a wedding LOL.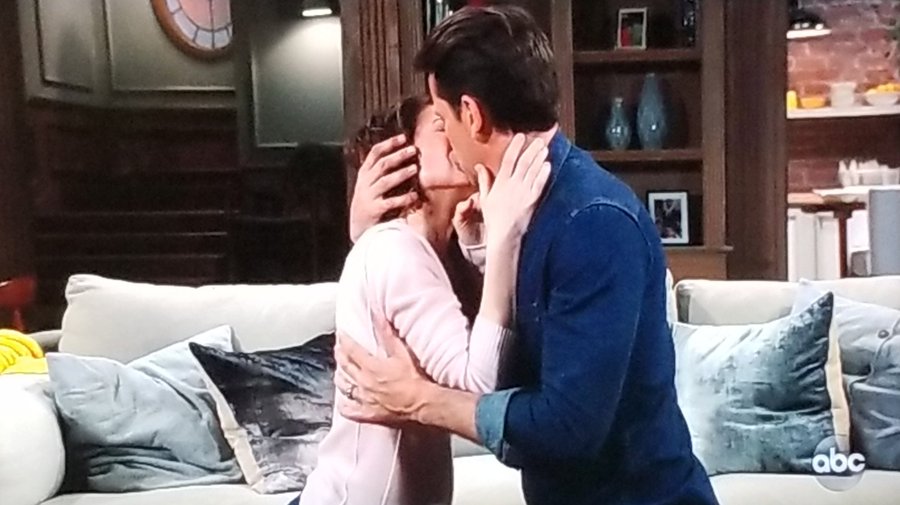 Liz and Franco's anniversary. he gives her little clues to find her gift..very cute scenes. Awwww he bought her an art set and canvas and tells her to paint again!! Oh how nice. They are going to go make some love. Taggert comes over because he was supposed to get photos. He and Liz talk. Franco is like "How do you two know each other'? Liz says she knew Gia his sister. Taggs says Gia is an immigration lawyer in Texas now. He gets a phone call. Goes in the kitchen and gets a photo of Trina and Cam telling him where to go and meet up.
END:
Ok I have to write this up how it happened because it was really fast:
Cam managed to get a text off to Liz-- she calls Jason
Taggert calls Curtis to come and help him find Trina on Vineyard Drive-- and NOT To tell Jordan. Curtis goes and tells Jordan a client called.
Next up we see Taggert going into a warehouse. He asks to see his daughter. They bring she and Cam in...
Curtis is outside with his gun out!!
Today felt like a real crime show. WOW..pacing was great. My heart LOL. LOVED it.