OMG SO MUCH is happening!! My typing hands are going to need some motrin lol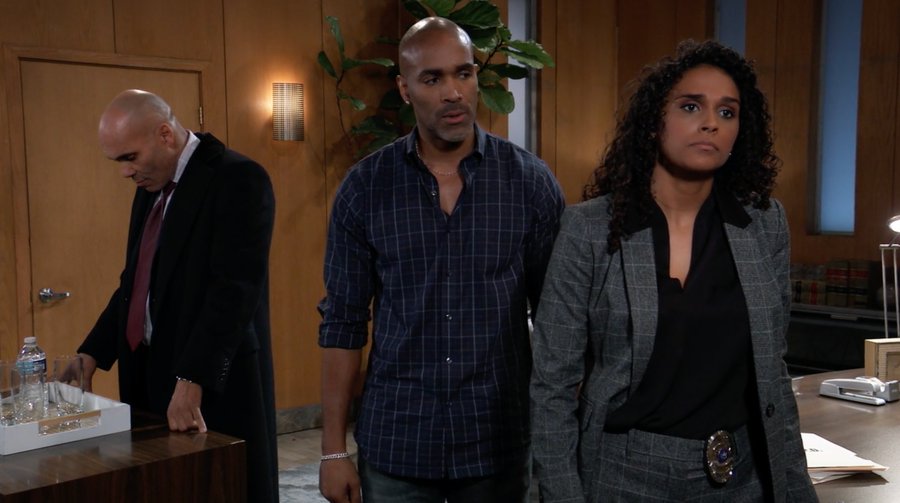 Jordan and Taggert tell Cyrus about their undercover ops. That 2 of their team are dead and they are in danger. Curtis tells them to call Anna. They say NO! HE thinks they are still hiding something-- Jordan says they are!! She gives Curtis Cyrus' folder. Said she visited him in Jail. Both Curtis and Taggert freak out. Taggert eventually leaves.
Lucas takes Wiley in for a snack and he chokes up.. gah!!!!!!! Michael says it's not his fault. Also tells Carly to go in and be with Lucas now because he's going to need her. gah. Michael talks to Sonny about Wiley only knowing his Dads..Sonny says he'll know Micahel and Michael loves him because he's his father. Michael says "we aren't blood and you loved me". Michael is concerned taking Wiley away from Lucas right now if that's the only home he has known. OMG MICHAEL So mature !! Such a NON-CORINTHOS answer!! You are not a Corinthos for sure! Sonny tells him he has to "claim" Michael now--yada yada. Michael finally agrees. The scenes where Lucas gives up Wiley are just.......:SOBBING:
Brad and Nelle are in jail together. Nelle says to Brad "You are despicable" .. she's going to try to gaslight him!!! She says that HE took her baby out of her arms and left her there. This is for the benefit of the guard standing there. She keeps saying she was alone. Brad reminds her that Dr. O was in the woods too. She says she doesn't remember that. The guard is listening --she tells the guard that Brad is antagonizing her and to remove him. The guard believes Nelle and takes Brad out! !
WILLOW.......oy vey. WILLLLLLLOW. Here we go go. "Wiley isn't your son, he's Michael and Nelle's"..She screams and backs up.. cries, falls to the floor. Chase tells her the rest of the story. She says she remembers when Michael told her about giving up the dead baby. She thought she knew what it felt like giving up her baby--now she knows what it's like to grieve him. WOW Katelynn does a FABULOUS job with this dialog. She talks about her baby being alone and dying and Brad trading him in. OMG. Heartbreaking. Really good suff.
Julian and Ava.. he explains it all to her. She realizes Brad is in huge danger from Sonny--and also figures out Julian knew the secret too. HE also tells her that he cut the breaks on the car. Ava looks horrified but then says they have to make Sure Brad keeps his mouth shut now.