Bobbie and Julian..makes no sense but Bobbie is at least on. WHY is Scotty on the Scooter?? oh Broken foot IN REAL LIFE.
BOBBIE FAINTS! good god I hope SHE'S NOT PG! AHAHAA
Scotty takes her to GH -- she said she skipped breakfast but Lucas wants to check her out. Lucas wants to take blood, think she may have diabetes.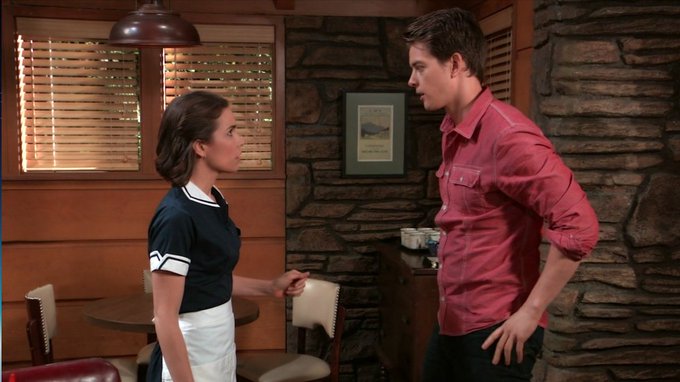 This is Mandy Musgrave, Matt Cohen's RL wife.
Michael trying to convince Waitress girlie to help them. Boring. Jason's in the car. Wish I was in the car. LOL
Just a bunch of stuff about DOD and overdosing..yada yada. That set is the safe house. Anyway , she agrees to help but has an ankle bracelet on for taking the fall for Shiloh. Jason says "no problem, I have a way around that". Takes off her bracelet but when they are about it leave, cops shows up.
Diane is trying to argue about the HIPA thing. Says the records were obtained illegally..yada yada. All you need to know is like "yeah, whatever, turn over the records"... more arguing. Judge says they have to answer his questions. Diane is going to go to prison instead of answering. Willow says no and says 'FINE I HAD A BABY" -then she starts screaming at Shiloh looking like a loon. Shiloh is just sitting there, smug. She won't hand over the records and has to go to jail. Chase cuffs her and its' kinda..um sexy? LOL
Cam brings flowers to Kim. Drew is there for dinner. They talk about what else? Oscar. Later Kim gets out a music CD with "their songs' on it. She basically jumps Drew and kisses him.
Mike..has an iPad and OMG.. but he mentions BARNEY MILLER!! He wants Carly and Sonny to stand up for he and Yvonne at their wedding. Fake wedding. Sonny asks his Dad about some family member--cousin and he wants to say Dev is him. I can only hope that means Dev will have to speak American.
Joss and Dev go to the park. Cam is there. They tell Dev about Oscar. Joss thinks that the water moving was Oscar-- but Dev tells them it was HIM. And also tells her "People die all the time and Dead is just DEAD"