I'm back!! Stiches are out, looks good, go back in 3 weeks to check swelling and to see if cartilage has shifted. I'm going back to work tomorrow. Have to wear a bandage but at least the kids won't be scared. I hope!!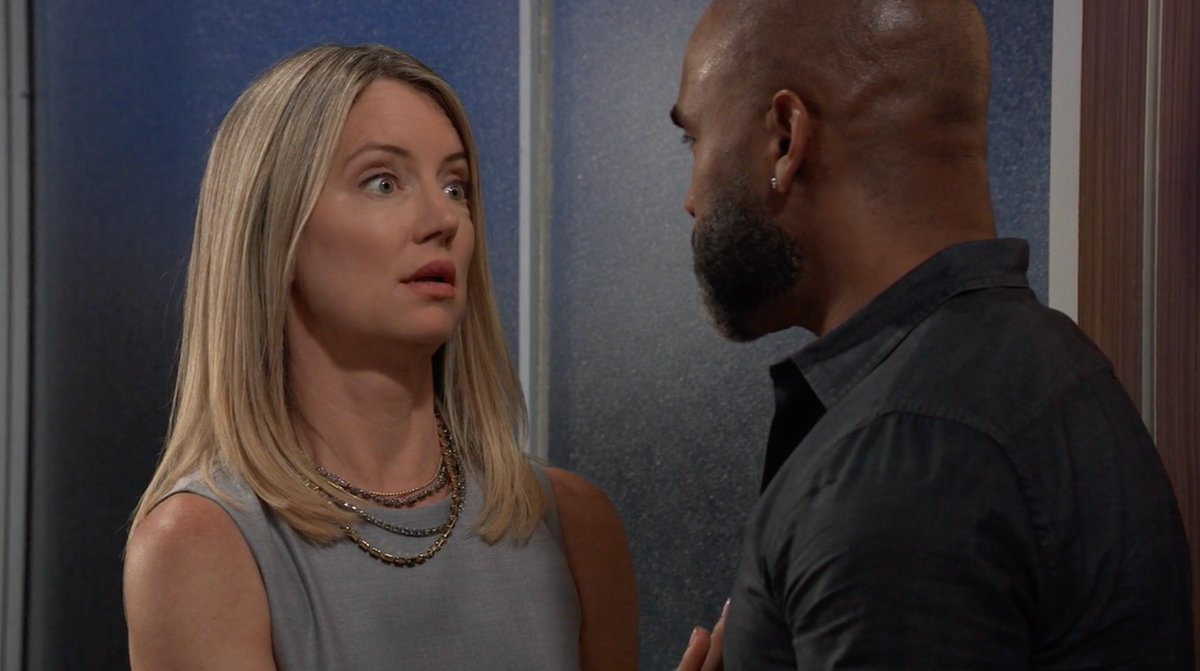 New Nina...2 seconds in--and I like her!! She has mannerisms of Nina. She talks to Curtis, offers to pay for the hospital bills he says no.
Jordan and Finn... Jordan want to know how Ryan is doing. Why? Says Finn.. she says not everyone has his kidney.
Curtis and she talk about bills. Drew comes and says he'll pay. Jordan says no it could look like a coporate mogal making a bribe? So...
Offers Curtis a security analysis position.
Valentin and Jax. Valentin wants to buy Jax's 1/2 of Aurora. Jax is like, because of NINA? Valentin says yep. WE are just getting back together, don't rock the boat. Nina walks in. Jax leaves. Valentin wants to get married NOW and thinks Jax is holding that up.
Maxie and Mac. Laura comes in to talk to Mac. He's shocked she'd ask him to be temp police commish. HE SAYS YES!!
Peter's Party. WHYYYYYYY. ugh. Maxie's all nervous about it--Lulu and Felicia are decorating the Floating Rib.
Maxie comes in. Peter doesn't like PIE--he likes CAKE. She's upset. She wants Peter to like his party. UGH.
Later: Finn gets Peter there under the guise of wanting to go to dinner ala a suggestion by Anna. Peter acts surprised (he knew about the surprise and talked about it with Mac).
Kim and Drew. Drew puts all her stuff down and is going home to sleep. Julian comes in with burgers. He and Kim hug. Kim doesn't "know who she is". She talks about losing Oscar. She and Carly should get together. Geesh.
Seance with Josslyn... she's got candles on the table. Cam is angry she wants to "contact" him. He wants her to let him go. Cam says to go to the meadow or play a song or something. Joss thinks he may be trying to get in touch and how would she know? LOL. Trina is IN. Trina is ALWAYS IN !! They sit down and try to Summon OSCAR NERO.. spooky music. Cam starts laughing. "If Oscar heard this, he'd be laughing his ass off right now" --they all laugh. Aw, cute scene.
Jax goes to GH and runs into Laura..tells her he's getting back on the board. He wants to talk about Valentin. She says stay away from he and Nina..he says TOO LATE!!
END:
Valentin calls Curtis for a job: "Find out everything you can about Jasper Jacks"
Kim wants to make a baby with Julian.
The Cam and Trina leave-- Joss sits down blows out candles..and someone is watching her from the outside. Will that be DEV?