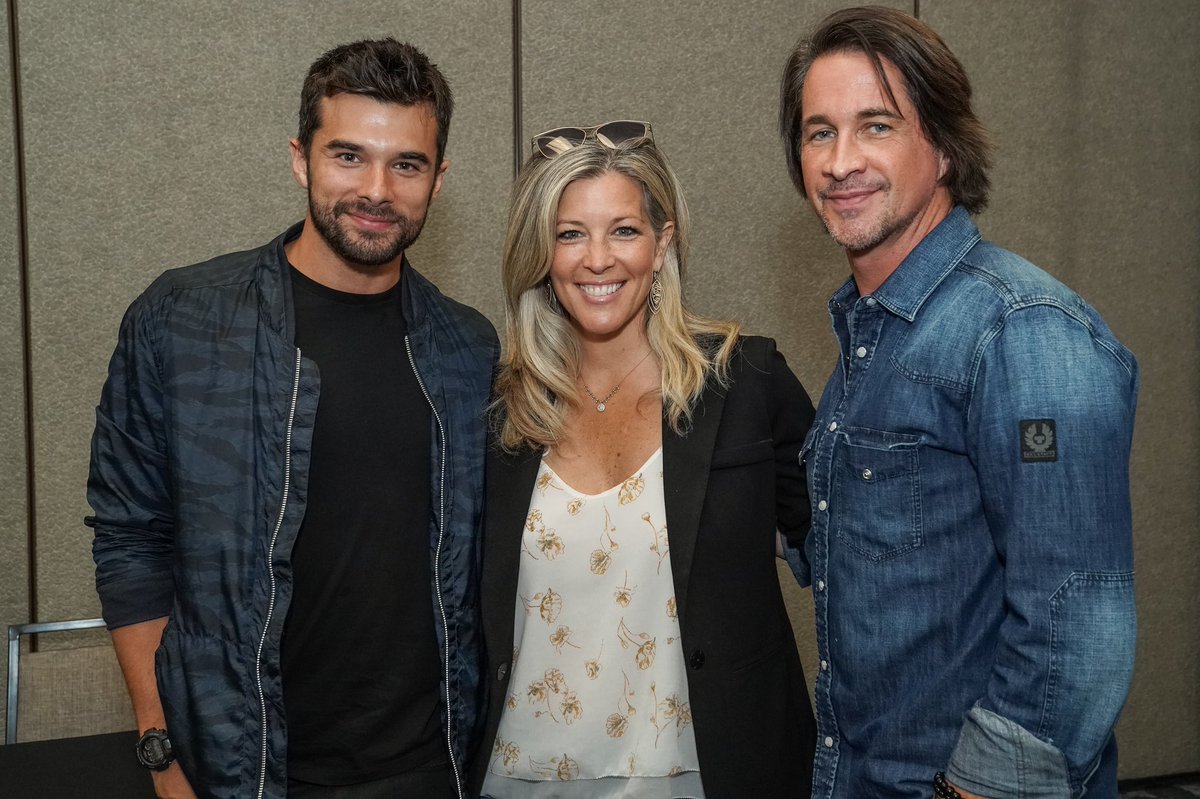 THE GH CONVENTION WAS THIS WEEKEND...here's a great photo that was on Twitter!



Diane is visiting Wills in her classroom. Love her outfit. Diane is mad that Willow let it out that she might have a baby. Diane says they'll never find out. Willow tells her the records got destroyed in Albany. Diane is all "OMG that's a total federal offense."!! Willow asks her to destroy her copies. Diane is taken aback. "You're asking me to do WHAT"??! She tries to tell her that he won't be able to get a hold of them. Willow doesn't believe her.
Jason is at GH talking to Chase Ford about Shiloh. Chase says the DA had a "change of heart" and he's under arrest.
NEWBIE Chick Nurse girlie is a DOD'er and you KNOW she's gonna get Shiloh OUT OF THERE!! He bamboozles her into getting him a list of all hospitals within 100 mile radius of there and Beecher's Corners. I think her name is Judy. Although she does look like my cousin Sally. lol OMG ! HARMONY steps up and says SHE DRUGGED Kristina and it's all HER FAULT. OH!! and She also said she drugged SAM!! AND...get this!! In her last act as DA, Margot let Shiloh go and arrested Harmony!! lol CHASE tells Sonny and Jason and man, Sonny is gonna be pissed he didn't kill SHank!!
Sonny's in the kitchen! Making a healthy salad for Carly. Krissy brings him some herbs and a hug awww. LOVE that kitchen "We're stubbon, hard-headed and good-lookin' Says Sonny. AHAHA.
Nina and Ava ---Nina's trying to convince Ava to do the magazine. Ava said she slept with Ryan and will look like an idiot. Nina says "you're not the only one that fell for a bad-boy" . Ava "yeah, like you and Valenin, WHO MURDERED NIKOLAS" ahahahahah. GOOD ONE! Such great chat--and so happy Michelle and Maura get one last cool scene together.
Jules and Carly. OMG Carly is being such a BLABBER MOUTH to Julian "You stay away from my brother" she says. Because Julian could hinder everything and the adoption. UGH she's a pain in the ASSSSSS.
Jax and Bobbie..JZ is looking awesome.


UGHHHHHHHHH INTERRUPTION BY NEWS





END:

Shiloh walks into Julian's and everyone freaks. Julian kicks him out. Shiloh starts calling all the hospitals in the area to find out if anyone gave birth at the right time...which is going to lead him to the baby. Diane finishes saying to Willow "he can't get a hold of a baby that he doesn't know exists"..meaning he will find out.