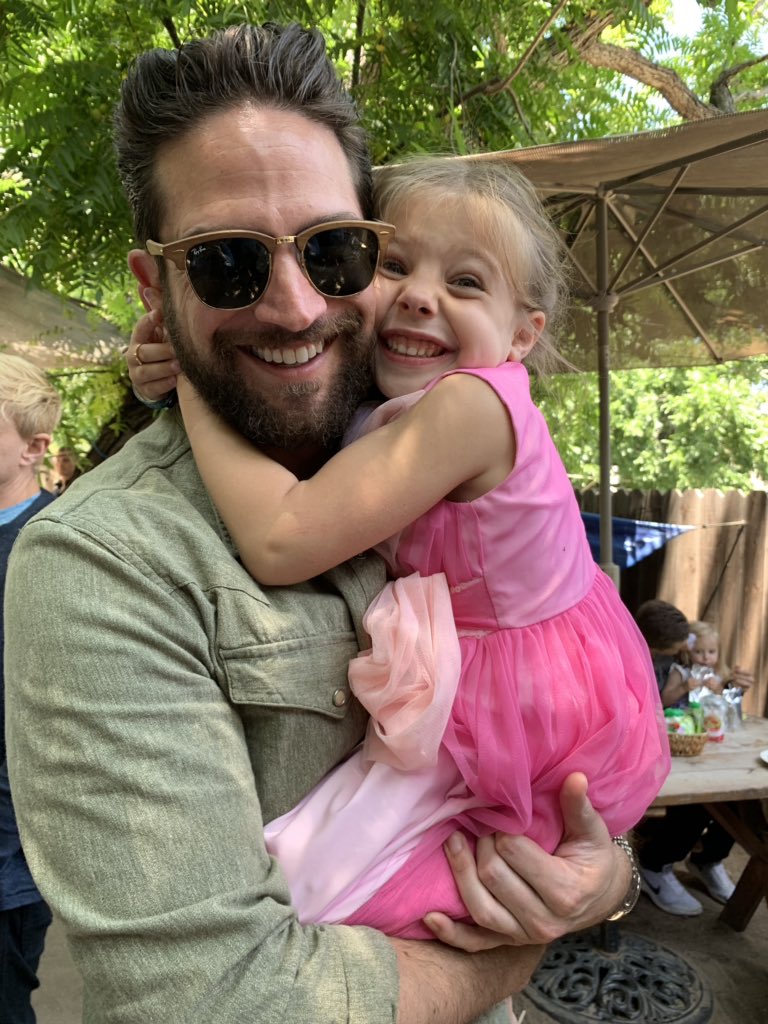 Brandon Barash and Harper at her Preschool Grad: via: Twitter
Nina totally went off on Drew about Jax and Jax was STANDING BEHIND HER LMAO!!
Drew is in a suit-- at Crimson. The sale went through and Nina works for Jax only, not Drew.
Val and Curtis discuss Jax.. not much to see here.
CarSon going to #GH for appointment. Michael is there. He tells them about the whole Beecher's Corners thing. Carly has an ultrasound. Mid way through, the doctor stops and says she has to go get a consult. Very abrupt. I guessed it was Spina Bifida..because it was so fast-- you see that right away. It has a spectrum of severity, btw. Severe to mild. They won't know until longer into the pregnancy. She will have to have a C-Section. Carly wonders if she did anything wrong. The doctor says no. (Folic Acid is what you need to be taking to help avoid SB but she was taking her prenatals). Carly cries and Sonny hugs her. Sonny says no matter what, the baby will be loved.
Brad wants to run. Lucas thinks Alexis is right and they should go to the courts. Brad says Sonny can help them get away. Lucas says no. Brad's stomach gets a cramp again.
Sasha wonders where Michael is. When Curtis leaves Valentin sits with her. She says she's going to stay in PC. Oh, he's mad. Tells her Michael's family will vet her and find out she's not Nina's daughter.
Shioh and Kim. OMG thank you, she just wants Shiloh to help her talk Drew into having a baby. She thinks his seminars teach people how to persuade others. So, she doesn't want his sperm. yeah. She does let it slip she asked Drew (said no) and so did Julian and he's busy anyway. Shiloh is like; With what? She says Oh, some custody thing with his son. You know Shank gonna figure that out. She says it's about his grandson adopted about a year ago.
He leaves. Julian tells her that he was a sexual predator and what happened to Sam. She feels awful and mad Jules didn't tell her sooner.
Willow and Chase..exposition about the adoption. She says she'll stay there forever if she has to. Michael goes to the PCPD and tells she and Chase her dad was murdered. She can't believe it but gets it happened.
END:
Shank sees Brad at Charlie's and circles him like a shark. Brad snaps "Stay the hell away from me". He figures out (using flashbacks) that the baby is Wiley's.