That's right, Jax in the HOUSE!! I like Carly and Jax. Jax said that he thought Joss wasn't sharing something with him during the Niagara Falls phone call. Jason comes in..he thanks him for being a friend to Joss. Jason says she's a great kid, a lot like Carly but he sees a lot of Jax in there too. "Joy and Compassion" LOL.. Carly: WHAT?? !! I HAVE JOY! Both Jax and Jason just stare at her.
Later, he says he's staying at the Metro for 'awhile"
OMG they are so cute together. He makes Carly ok.
Finn and Anna say that Alex is the one that slept with Fiason. She's supposing that, right? GOOD. JUST KEEP IT THAT WAY. Stupid Finn is like .."but do you REALLY know""?? "do you"???
Krissy and Dr and parents..Chase Ford comes in. She says she's ok.. no problem. He leaves. Dr. Neils says "You are all very adept at lying" LOL! YES! Krissy says she wants to go home with Mom. I bet the story will be SHank tries to get her back. They better tell Sam.. LOL
SHank and Sam..she's there at the Cult Club. She won't drink the drink SHE'S GETTING THE TATTOO. First of all, Sam talked like she was drugged even tho she DIDN'T drink the drink. Kelly is really ruining these scenes for me. Full Stop. She just doesn't GIVE A DAMN and it shows. This story might suck in most ppls eyes and in her eyes but it COULD be way better if she put forth an OUNCE of effort. Yep. I said it. **If you watch the scenes today and can say I'm crazy, I'll be shocked.
Jason gets a text to go get Sam. Oh, take your time. THE DOOR is locked. LOL It's never locked.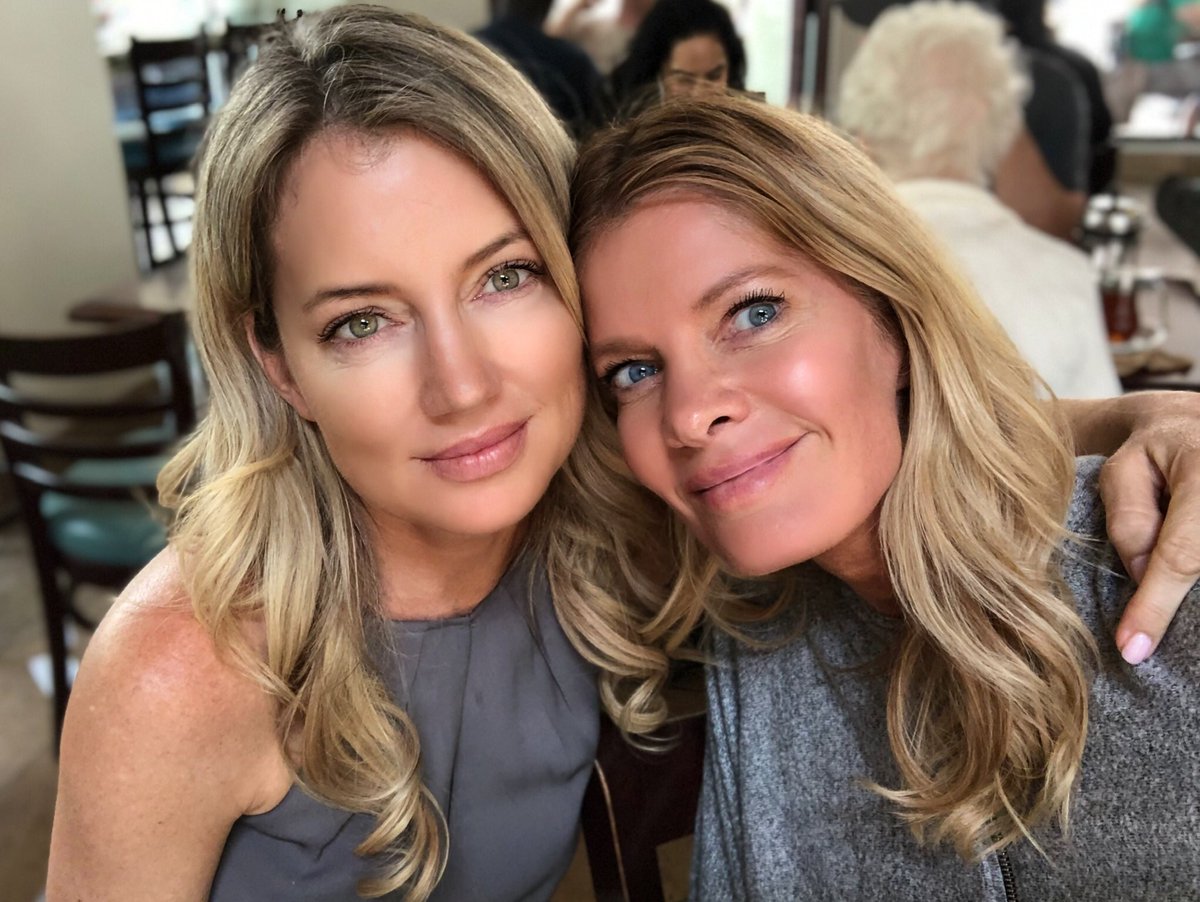 Michelle posted this--it's her and the NUNINA!!
Willow and Michael...Nina comes up. She ignores Willow, talks to Michael about Oscar. When Michael gets more coffee, Nina sits down and says "Michael doesn't need this situation with you right now" LOL!! WHAT?! She's so cheeky. She thinks Willow is trying to get in bed with Michael "And his cousin JUST DIED". LOL I'm here for her being a bitch.
Peter and Maxie on a plane. Where they going?
Don't care.
Oh Paris. Get this: Maxie gets up to pee and when she comes back, Peter goes: Well, I guess you think this is all too fast..we can turn around. UM SHE WENT TO PEE. Maxie says no, I want to go.