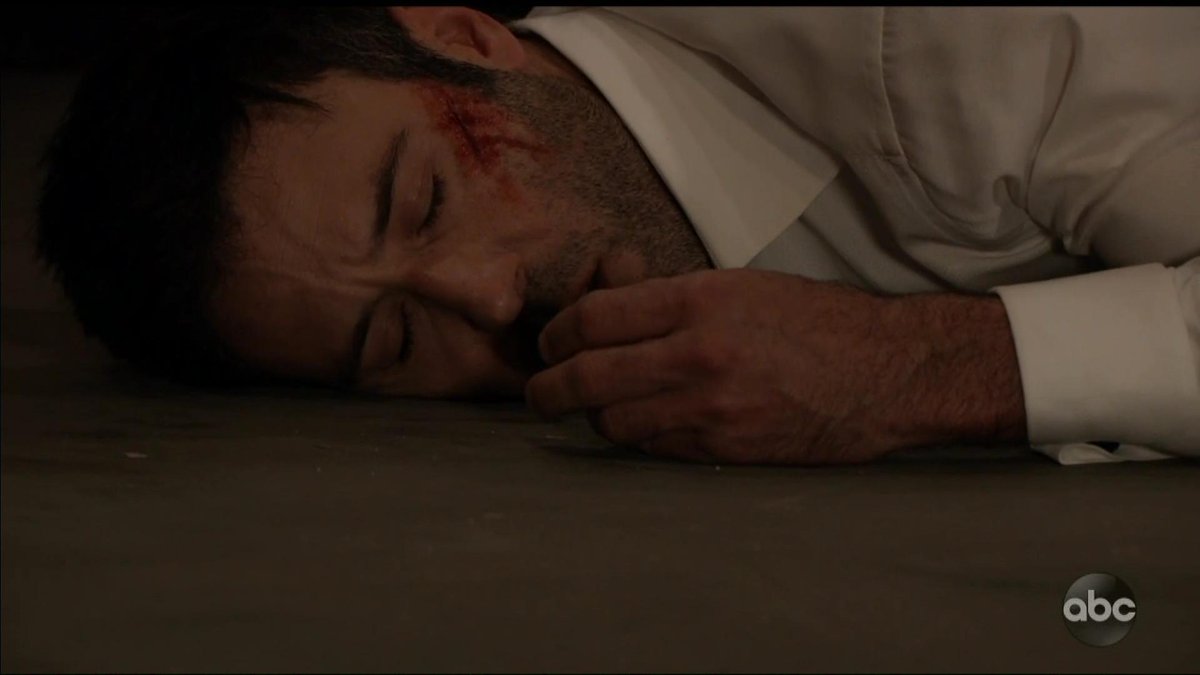 I FELL.
Sam and Shank. Good God this is so gross.. so OLD SCHOOL..'holding a woman against her will" crap. They could have written a really exciting, intricate STING operation. Instead we get Sam in a "gown" like the olden days almost being raped and ST. JAYSUS saving her.
BORING and just not acceptable.
Shank falls down the stairs.
Next thing you know, Sam's at the hospital. Perfect hair, make up. Still groggy .. talking to Jason. She's crying her face off.. like WHAT DID SHE EXPECT????? Now she has all flashbacks, dreams. Great. MONTHS Of PTSD. can't wait.
Shiloh is still alive. Sonny goes in to taunt him. Why doesn't he just kill him now?? Oh, because it's going to be a murder mystery I bet. SO many people want him dead.
Curtis doesn't want Ryan shot because of the kidney. Lucy is at GH..I wonder if she knows where Ava's lake house is because she sold it to her? YES! Ava bought it for a remote location to take Ryan to.. they know where it is. Curtis wants a head start to go get his kidney.
Brad and Julian. I still think they should have an old fashioned affair. YEP I said it. Brad is telling him about the Ball and Shiloh knowing about Wiley. he's all upset.
Stupid scenes with Sonny and Margo. Ugh. Just not needed. They are throwaway. Basically she just says it's Sonny's fault she went to DOD.
Ava and Ryan: They show him saying Don't Shoot, you love me..and the gun going off. Did she hit him? NOPE she just fired a warning shot. CAP HIM IN THE KNEES DAMN IT. He's not capable of feeling anything like "hurt" . She wasted 2 bullets.
Ryan said that Kiki didn't suffer long. he didn't want her to feel much pain. He tells her that Kiki's last minutes were terrifying and she cried for Mommy..Mommy..(I think he's trying to confuse her) Ava still yells at him. Good stuff.
Just when Ava's going to shoot, CURTIS COMES IN: Don't shoot!! I need his kidney. LOL You can't just TAKE A KIDNEY. Derp. Ryan (even Ryan) would need to give consent. Oh, Laura says they'll bargain with him. He's killed like 4 people..bargain how?? Death penalty off the tale on the Texas murders?
Welp.. Ava lets Curtis take the gun. PCPD comes in.
OMG WATCH THE END!!!!!!!! UNEXPECTED!!!!!! NICE!!