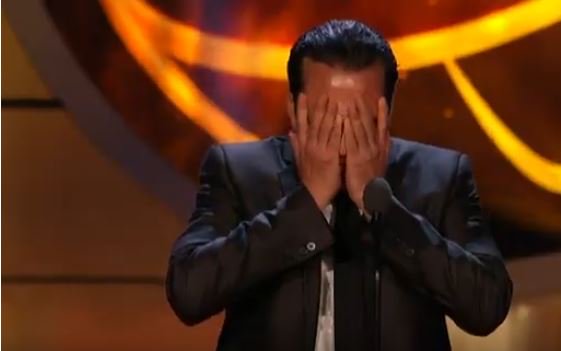 Maurice gets emotional as he accepts his Emmy last night.
ROBERT AND LAURA!!! He sees her..says "Laura?? My sweetheart!!" they HUG and it's wonderful!! He says he's sorry she broke up with Kevin. He says he's staying in town for awhile and would she like to go to the Nurses' ball with him!! YEAH!!!!!!!
Lucy and Scotty are talking Nurses Ball at the Metro. She sees Kevin and Ava and LOL BUT Scotty's EYEBALLS POP OUT! I mean HE REALLY DOES!! She goes over to snark on them. Tries to get Scotty to take Ava to the Nurses' Ball because they have "chemistry" LOL Kevin says sorry, I'm going with Ava. Lucy reminds Ava she's singing in the show and then says to Kevin 'Oh, DOC..why don't you just join her onstage??" HE says OK!
Then Scotty drags Ava to the bar. Orders 2 "Dirty ROTTEN Martinis"!! LOL
Lucy yells at Doc about Ava
At the bar, Scotty thinks Kevin is Ava's 'bait' now ..she says no, but he thinks Kevin is "cozying up" to her out of guilt.
Maxie and Lulu getting their nails done. Talking about Peter so don't care.
Anna tells Jordan she should have told her about her kidney problem. Curtis does too. Anna looks cute in a white/red top today! She goes to talk to Peter who says he's backing away from Maxie because he has Faison's DNA. Don't care
Willow tells her story to the Safe House crew. Her mom was a 'Seeker" and moved them from Commune to Commune and then met Shiloh. Shiloh liked her mother's organizational skills and they felt alive and volunteering was feeling good. After about a year though, Shiloh "wanted me'. Then she tells about the pledge and "Secret" she had to give him and how he holds it over people's heads if they want to leave. Willow says 'then he put his mark on me' and shows everyone her tattoo.
Tells Krissy that the women did the tattoo and had her drink something that made her feel weird> Then Shiloh had sex with her. She's not even sure it was rape because he makes you feel like you 'want' it.
Kristina said he'd never do that to her..he knows she's exploring her sexuality. She also said no big deal about the tattoo a lot of people get them for their faith and she thinks that Shiloh is a good man. Willow says NOPE sorry, he's not.
She leaves.
Alexis goes to hug Krissy and Sonny THROWS A GLASS --scared the hell out of me and says SON OF A BITCH, as only Sonny can LOL. Dr. Neil tells Krissy she can determine her "treatment from now on" .
KIDNEY UPDATE: Finn gets a call from the lab..goes to the hallway. SEE BELOW
Laura goes to see Jordan about the drug thing in Canada.. she asks about the women he may have asked to help him since one stole all the drugs. They know she had a bumper sticker on from a certain HS so they may tack her down that way. Jordan tells Curtis to go-- and Laura is going with him.
OMG!! KEVIN IS A KIDNEY MATCH!!!!!!!! I did NOT EXPECT THAT!! They'd better tell Laura and Curtis LOL They are leaving in the morning for Canada!!
So, Dr. Neil opens the door and tells Kristina she can leave if she wants. In the PREVIEWS it shows that Chase Ford finds her there.
WHY DID THEY SHOW THAT??? UGH
OH! And Robert finally says to Anna 'Um, why haven't you thought that Peter's could be Alex's"??? YES!! FINALLY!