It's MONDAY!! It's FREEZING here! Finally the sun came out but this morning?? Dang! In the low 40s!! UGH. I glanced at the Sunday Surgery blog below and wow, either people don't care or..no one's reading lol. I guess it was a short week and stuff but still....weird.
ON TO THE SHOW!
Sonny and Michael are at the Metro Bar. Sonny complains he sees Jax all the time. Annnnnd... Jax walks in.
Michael goes over to have dinner Sasha. They talk about the history of Jax and Sonny. She sees him as a combination of the 2. WOW. He never mentions AJ! WOW. REALLY?? really. wow. He could have at least said he was "a lot Quartermaine...my biological Dad could run a legit business after all"....
Jax and Alexis in the Metro Restaurant: He wants her to look over the Aurora contracts. She wants to tell him about Valentin. "he has all of the money and none of the crazy". Neil walks in. Jax had something delivered to the Metro to eat lol Panea?? He leaves. Alexis tells him that she and Jax were involved but not "involved" involved. Alexis is kinda pissed that Kristina would give her up and not her father LOL She says their relationship is toxic. I feel counseling coming on.
Alexis googles him after he leaves. He's written some books and dedicated one to "his wife and daughter".
Nina at Crimson. She tells Sasha she's going to love working with Jax and Valentin overhears her. Glowers. He wants to take her away... she says no.
Then Jax comes in with the Panera order for he and Nina. Oh, it's Indian food. Sorry. Jax leaves. Valentin comes in. Nina immediately announces she wants to postpone the wedding due to the September issue being so important. hahhaa
Jordan Kidney Saga: Curtis and Finn... Curtis wants to forge his signature. Finn says he should go under the knife and never wake up. Curtis says he just wants that kidney, no matter what!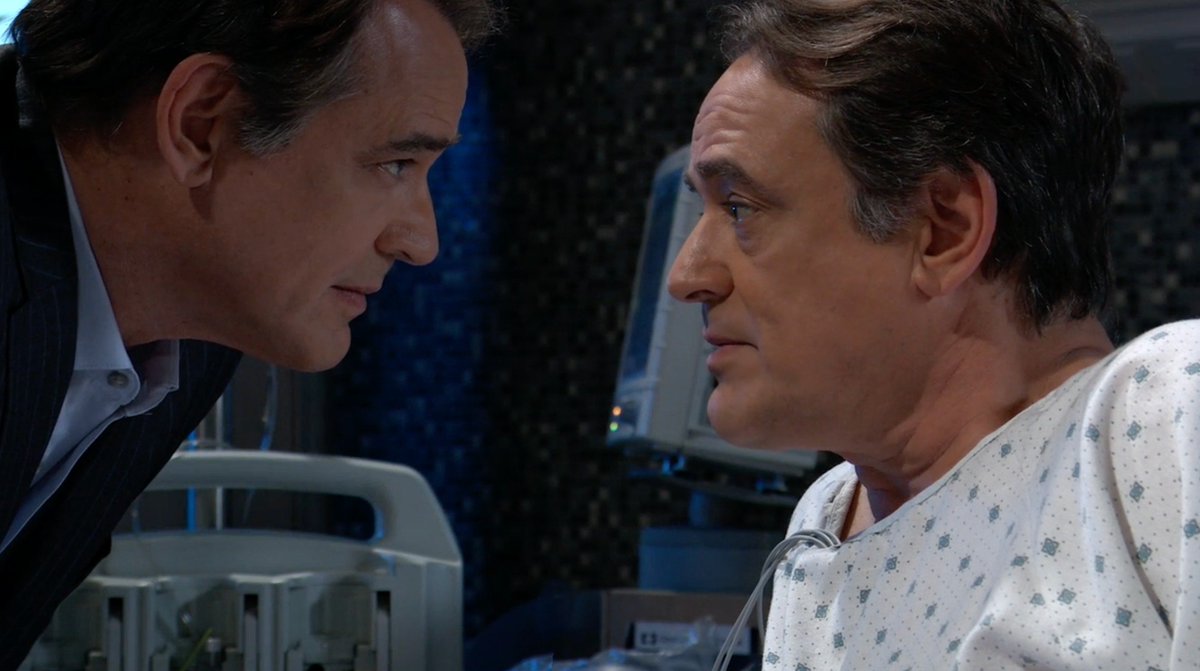 Kevin to Ryan: People love me, can you say the same? Ryan says Ava.. Kevin says, hope, she despises you. Ryan says nope, it's all "Passion". Then they discuss good/evil twin stuff for awhile.
Ava is at Kiki's grave with sun flowers. Franco's behind her with the same. "As long as I get the chance to kill him again". Franco wants Ava to be good. Thank GOODNESS Ava is like: NOPE.

Valerie goes in to see Jordan.... then hugs Curtis.
END: Someone in a white coat is putting something into Ryan's IV --Seizure tomorrow
JUST TODAY:
AVA Says she wants to kill Ryan
Kevin says he wants Ryan "Gone"...
Finn says he would't mind doing Ryan in...
Valerie is pretty angry
Liz says something about him being alive and Jordan needing a kidney
Could be anyone at GH-and someone we didn't see.
My guess: Aunt Stella did it, Finn will cover for her if it ever comes out.