OMG..this is a FRIDAY??????????????????? Seriously!??????
WHY are Dillon and Lulu in the same room? Is it the old "We're full" shit?
And they find Luke and Laura in 2 seconds, same hotel--and go in to see them. Door's open. LnL pull guns on them and say "freeze"!
Valerie is there right when Dante throws the phone. WHY wouldn't he confront Lulu? They've been married FOREVER.....?? This is stupid. It's soap from the 1960s when anything was shocking. This is stupid.
TJ's moving into Sonny's. Get a damn Kevlar vest buddy.
Sabby and Michael. Boring
I sang a song on Periscope today (video app) called: "I'm kissing Donna Mills" for Ric. LOL..
Nina walks into the hotel room when they are in bed. Will she see them?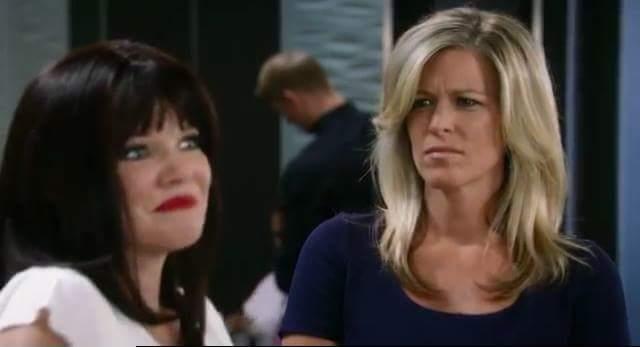 OMG, the Ava and Franco kiss was AWESOME........he got her lipstick on him and her gum in his mouth!! bahahahhaaa.
Charleston interrupts...which is appropriate. Godspeed to all those people.