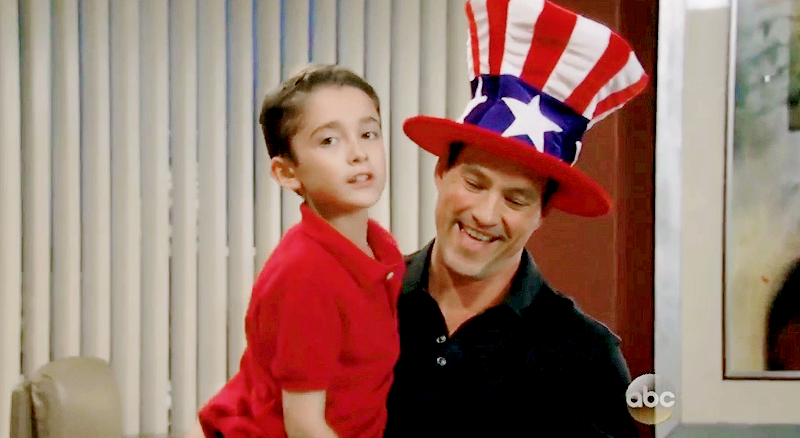 CUTE or what!?
Spencer was so Jiminy Cricket. Being the voice of The Townie and Nik's conscience. LOL. I say "Star Spangled-Spencers because it's the weekend of the 4th and there's so much history flying around at home and on GH, it seemed fitting.

You know I had a rough week with watching. I hope I make sense in the blog and don't just trash and whine.
Speaking of WINE...let us partake in some good old American NY State Fingerlakes wine. Bully Hill Love My Goat. (which is scrumptious!!) Hope you had a great Independence Day.
I live with a Brit so... it's always a treat!


And the Nutshell Version ... The biggest things were:
Mikey and Sabrina ditch their Amish inhibitions and make the wub. Not sure if they had their bloomers on under the covers, but I'm assuming not.
Sonny got Avery back. Meaning, absolutely nothing. Sonny has had the least character growth out of anyone--ever. Now it looks like he and Carly will be together and/or marry for the 66th time. Yawn.
Oh, we didn't see Josslyn... which would have been a nice addition to the 'family', especially on the 4th. Guess she's out with the others shuckin' corn. Is Bobbie now living alone at Carly's? Carly sure isn't there.
PS. Sabrina better watch out for Sonny's dimples--she looks a lot like Lily there. You know how hard it is for him to control hisself
.
Ava told Franco the truth. Why in the hell they didn't have Franco know from second ONE that the wig was really Ava, I have no clue. People acting like she's really Denise is stupid. Roger and Maura are worth the trip--even with the wig.
Kiki and Morgan. Ugh. Whatever. Gross.


TJ and Molly..adorable but boring.
Ditto with Maxie and Nate.

But..you don't understand! Shawn is in jail and his BLTs were awesome!!

Sam and Nikolas had the same convo they had last week at the Metro but this time outside of Kelly's. I wish they were also with Alcxis...'member her?
Dante and Valerie. Welp. You all know how I feel about VAL-- what a waste of a new character. She does nothing but skulk around Dante. Dante is an idiot who flies to British Columbia and never even bothers to question his wife about what's going on. I mean, Dillon has been in town a HOT minute. It's not like any of this built up over time or anything. Oh whatever. I suppose that The Lante saga needs some stirring up. I just wish it wasn't being done in such a dull, predictable way. Kudos though to Dom Z, he's bringing the pain.
Hey, anyone remember where we were in that scene where..you know..that house thing...
We were at the ranch?
Yeah...at that ranch in..erm..what state?
Hollywood?
No..no...begins with a T
Oh, Texas...
Yeah..I think I had a beard
Well, I don't remember that whole decade so...
Wait, why are we here again?
Wasn't this the Lifetime Movie we are doing?
No, I think it's Hallmark....
Well, whatever the hell it is, I need my next line!!
@GHFan1982 via twitter
The Luke Saga. WOW. Just wow. What in the hell IS this? Yes, I seriously could have written it better. Yep. I could have. The "Lumber-Yard" dialog? "There are two guards there"..."This must be the place"... "Look at the fence"-- "Our boys must be in there"!

Wait, here..take my gun.
Why?
Well, this little lady here is having a baby...
You sure?
Hell man! Look at her stomach!

I really wonder if they are writing and producing this on a 1970 level to just give that 'nostalgic 'feel??
The biggest part of having an impact about a story from the past is to at least cast people FROM the past. Hell, Luke had to tell us who Frank Smith was because he sure as hell wasn't anyone we saw on the screens! I get they couldn't have the guy play him who's like 98 now but seriously, why would you bring a guy back that people barely remember anyway--and then have him played by someone different?
Dialog STRAIGHT out of Batman. And then, after making Luke "choose" (which he never really did) Frank the Tank shoots Ethan..and then...LETS EVERYONE GO. Except Luke and Laura.
Which was ..ermm. The point. Right? Why kidnap everyone-- and then let them go? And how STUPID were his guards? Were they supposed to be that dumb? Was that so Luke could "save" Ethan from the 'bomb"?
Well, at least Tony woke up for about 20 minutes when he was on screen with Nathan Parsons. Yes, I am actually enjoying seeing people from the long ago, so there's that. I still think it's a bit weird that Dillon is in the middle of all this. Lucky will be on soon though.
I get the whole "Parade of the Past" when it comes to Luke (it was done on Seinfeld..although the original actors were all used) --and it could be interesting. I just can't pretend the story/dialog is anything but what it is.

Tim Hortons or Dunkin Donuts?
Laura, I'm British. I need Tea. Now.
The biggest fun was Twitter, watching the whole unfolding of "Script-Gate" where Ron said that The Holly Laura dialog got switched. Emma Samms chimed in and said, yes, She and Tony forgot about Bill so they 'CHANGED the line". Not for nothing but Poor Joey got killed off as Dr. Drake Ramore when he changed his lines.
NO one addressed the glaring omission of Holly saying she didn't know about Laura or the baby--when she clearly did. For like TWO years she did and even had a major story line end when they were all at the ranch and Luke found out he was going to be a father. But Hey: GH. History means say whatever you want and if the fans complain, they are hysterical girlies. If you are sending off a legacy character and are using history to do so, you'd better get it right. Where are your interns to comb over the You Tube videos? GH Wikipedia? It's not that hard.
SCENE OF THE WEEK:

Yep, the only thing that made me smile. Dr. O, Franco and Cheetos. Purell too. The thing is-- I don't even care what they were talking about. Compared to the rest of the show, they were fun and on point. Which tells you how connected everything is. (not)



PROP of the WEEK:

Holy hand signals Batman!

So, next week (a few spoilers so stop if you don't want to know) Josslyn (Yeah!) is getting a cancer check up and Liz stops by.
Hmmmmmmmmmm WHY could THIS be? LOL Lucky visits Liz and I think the Jake thing will indeed, be true.
Brad and Lucas lumber towards the wedding. By this rate, the ceremony will be in 2018.
And the Dante Val thing? So classic. One spouse thinks another cheated (When they didn't) and they go ahead and cheat only to learn the truth and ...er..whoops. Guilt and secret-keeping ensues.
Why are the ratings low? I'm still going with the rotating story-telling and characters being on then gone for weeks on end. I mean, it's obvious Julian/Alexis are on vaykay, right? Then what happens is that the stories stagnate. Aka: we see Nathan and Maxie not doing much more than snuggling in bed or narrating what's been happening on the show. I was also thinking about Morgan and Kiki. What a nothing couple. They were together--she went with Michael...then they started flirting again during the whole Brownstone mess-- now they are back together. Well, sort of. He's almost back with her mother--again! And still doing NOTHING! lol TJ and Molly? You can't have a couple on once a month and expect me to care at all. Not even about those glamour earrings he bought her.
AND NOW:
I'm naming what I like about GH--
Evilish Nick
Sam remembers she is a Cassadine
Nathan Parsons pop-up
Brad/Lucas Wedding (absent this week)
DR. O and Franco

:) Ok! Hope you had fun fireworks. Our next door neighbors bought about a million fireworks and HOO-HA it was a late, loud night!!!