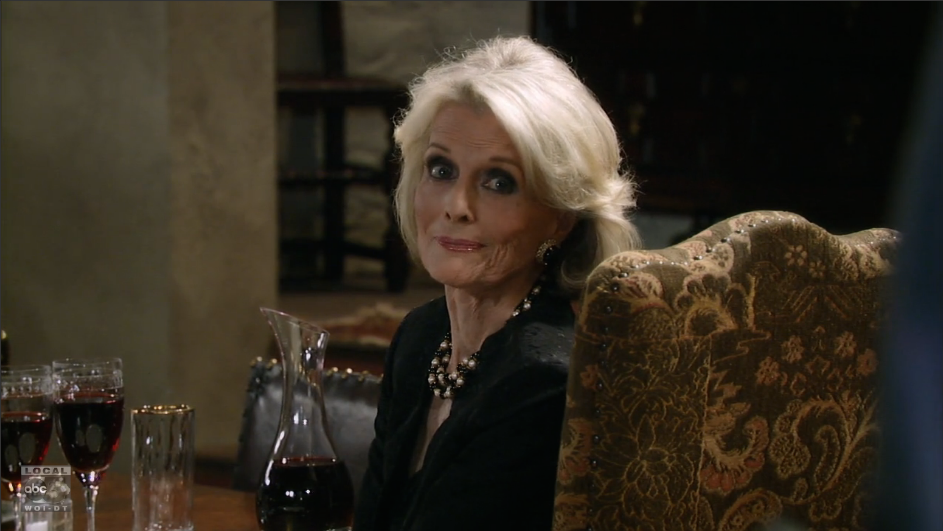 I usually think about the blog when I drive but this time I was doing the dishes. One word came to mind: Vexed. Oh GH, how you vex me. Take a show like Friday and turn me into mush. Mon-Wed I could barely get through but Thursday and then the glory of Friday just made me smile like a teenager again.
Ok, buckle up. We've got a lot to talk about!! I'm going for blueberry muffins (in honor of blueberry hill on Cassadine Isle).
Mon-Wed put me in a rotten mood. There was the Valerie Dante sex (which we got to experience over and over again thru the magic of flashbacks), Ava/Franco stuff, the 1:1 4th of July scenes and just a bunch of boredom. Not even the JJ shoots Frank Smith moved me. I'm going to gloss over those bits a lot and focus on the major storylines and what DID work. Here goes!
Brad, Lucas and Felix. Great fun. I do not understand why they insist on putting characters on 3 weeks later from the last scenes they had. It's not interesting and it really makes it choppy. It's obvious Brad's bio parents are going to be against the wedding (or have 3 heads) or something. GET. On. WITH. IT!!
NuPaul Hornsby. Surprisingly, the recast didn't make me mad! I know, I know-- I hate recasts but this one works. I didn't really watch that faithfully during all the Paul/Tracy years so it wasn't a major deal for me. Plus this actor is awesome. OUT OF THE GATE. You know he can do it--he's charming and just works. Loved Alice telling him off. Bringing back Paul and Dillon is an interesting choice at this stage of the game but I'll take any Q material I can get.
Let's also speak of the magnificence of Dom Z this week. Holy Moly. Now, I'm not going into how much I hate the Insta-Sex with Val-Pal but his acting? Out of the park. First of all he totally acted drunk. Even his eyes were glazed. I wondered if he put drops in them! Then, the Lulu scene where he's yelling at her. Perfection. She finally tells him where she was and his face--I swear if you look at it he looks ill. Like he really felt that. Clapping all around. Emme was ok..but I did find myself trying to picture JMB in the role and how she'd play it. I guess all the Spencer reunion stuff made me miss her.
Carly and Liz. Nice scenes. Now I wish they had talked a bit more over the years about their Joss-Jake bond. Silas came in and NO JOSSLYN -- which you know made me furious. Get that kid in there! LOL A major fap-poo happened with her "5 years cancer free" statement being thrown around. It's actually 4 years. The other interesting thing is that Josslyn was younger than Jake when she got his kidney (or kidneys, I think it was both) and then was SORA'd to 11. He's now 8. So....welp.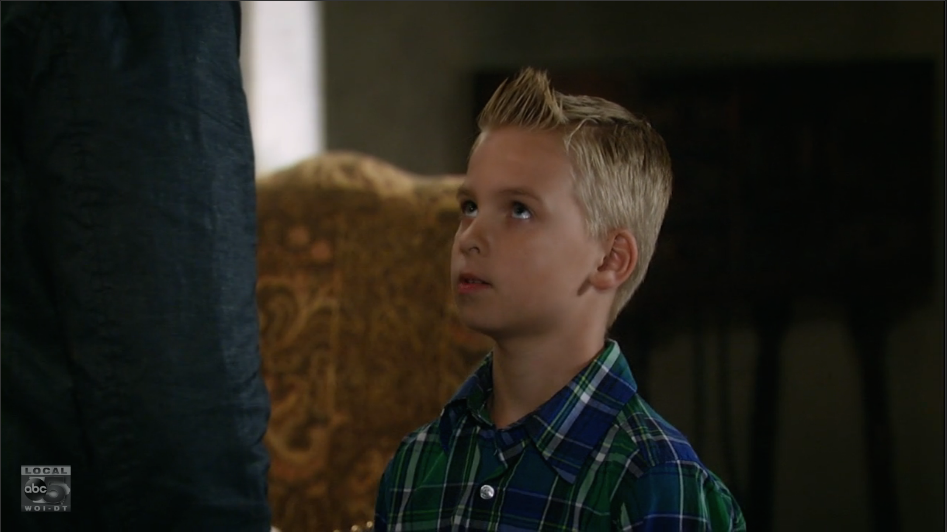 This brings us to Jake (the kid). Yeah that they got the original actor to play him. Nice touch. I think that kid looks so much like Steve Burton it's amazing. Secondly, he's alive. Now, if you look back on my blog and how I flipped out about this you'll be surprised to hear that I'm just going with it now. It's done, he's back and there it is.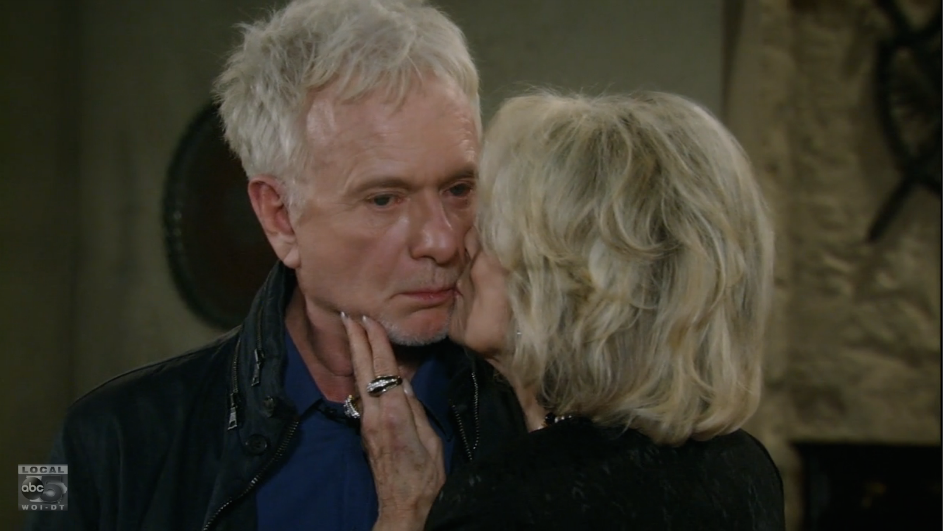 Our stunning Helena is at the Island House all ready for Luke. With the economy collapsing all around her, she just doesn't care. She's having wine and fine dining. She gives Luke a nice speech about their relationship through the years. He calls her almost "human"-- She says yep, Nikolas is finally turning on the Cassadine evil meter so she feels better. Then Helena plays the trump card: "I have a parting gift for you"..and produces Jake.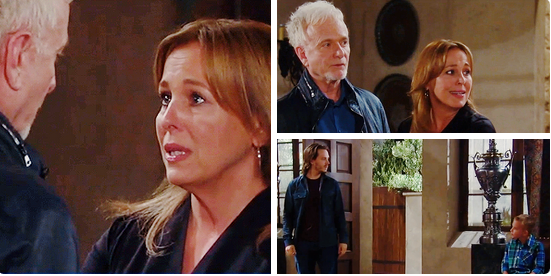 We find out from Luke that she took Jake after he hit him with his car. So, he did hit him after all. No other explanation really. Basically just took the kid. Organs and all. Who knows what happened there. I'm going with Helena is some kind of real-time witch that knows spells. Or they cloned organs at the Clinic. Whatever.
Just call it magical!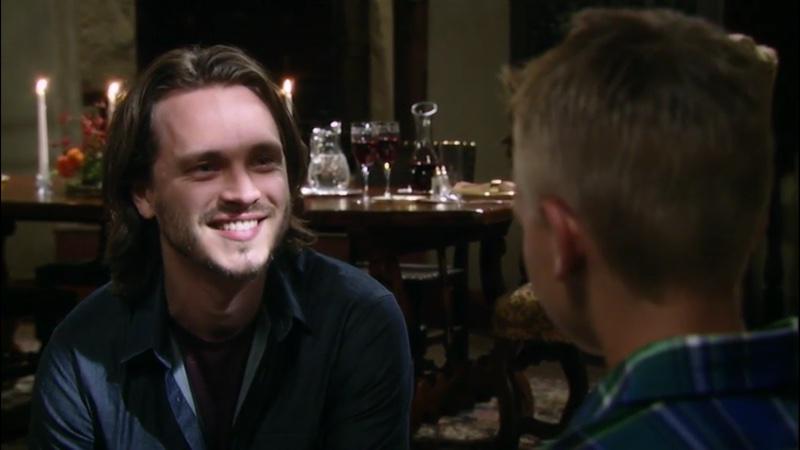 Lucky sees Jake. Cries happy tears. You know what I would have done? First thing? Looked for scars on his kidneys. YEP. That's me though. Poor Jake's been on Cassadine Island for all this time and thinks his mom is dead. I guess Helena was "Granny"?? No idea. I also have no idea why he doesn't sound Greek. LOL. Must have isolated him from everyone else and had an American tutor.
Liz...oh Liz. She almost told Jake the truth then copped out. Dang, girl...you are going to have a mess on your hands but soon. Your kid is alive and you'll be so elated but--there's that pesky secret you're keeping from his bio-dad. Whoops. It's gonna eat her alive. Lucky always raised Jake as his own and he and Jason came to an understanding that Jake would "BE" Lucky's boy because of the mobular involvement.
Monica and Jake. First off, MONICA. Yes, I said it. MONICA. Only took like a year to get her back on but there she is. And Jason's with her. Will she know?

SO many questions:
How in the HELL did Lucky, Luke and the gang get from Greece to USA in ONE day, not even a day like an afternoon? It was so funny. They didn't even TRY with that. At. ALL!! Which actually made me go--ok! This whole story is weird and 'out there' so why not just have them appear in Liz' yard!!? I swear if this is a dream of Luke's while he's in the looney bin I'll scream! I've been wondering since the beginning of all of this if it's been "real". I mean I think it is but geesh, it's just STRANGE. Like Helena's speech, then her just leaving.

Did Nikolas know about Jake and if so, for how long?
The whole organ thing is a mess. Plus, if Helena stole Jake, who'd they bury? I suppose I'm not to care about that either! Just some poor kid they swapped out and no one noticed.
Why would Valerie confide in Jordan? Good Lord, you'd think they were sisters. Go in, tell your new BOSS you slept with an officer who's married. Nice.
The Ava story is so isolated and 'out there' from the rest of the show I just can't. Watching Maura and Roger together is always a treat but geesh.
Where's Bobbie?
Why was Sabrina hanging out at the Q house, holding on to her purse for an hour, even after Tracy left? I don't think they know what to do with her. LOL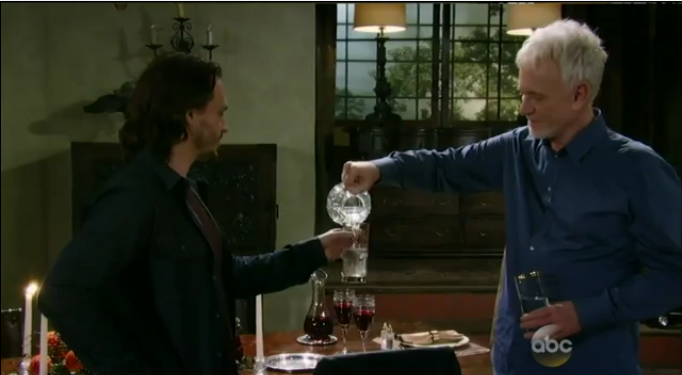 SCENE OF THE WEEK:

Well, Tony and JJ just did me in. I cried, I loved the whole Albert Camus existentialist nature of their "choices" talk. Superb. Legacy, great actors and time. Wow.
"It all had to do with loving your mother and raising you, my first born, my pride and joy of my life"

PROP of the WEEK:

I would give it to Jake's little remote car but this green wall thing intrigued me so much. It was in all the airport scenes. So random. So green.
FACE of the WEEK:

Dante wakes up and sees....Valerie!! LOL. this is the exact moment of eye-contact. He's like "Oh nooooooo"







I'm looking forward to Monday that's for sure!! What is Liz going to do when she sees Jake? I'd probably faint, scream...tear my hair out and throw up ! LOL. Cam and Aiden...not only is Jake a "dead Jason" but both he and Your brother Jake came back from the dead! Poor Emma is going to think NO ONE ever really dies! They are VEXED I tell you!


Supplement Surgery:

I found this video on You Tube because some people insist that Jake only donated one kidney to Josslyn. Nope. Cancer is in both kidneys--not only that Lucky convinces Liz to donate all his organs to 'save as many children as possible". From what people have now said on twitter, I guess in the next set of clips, Liz does say "one kidney"..so there it is. Whatever, right?! There is some FANTASTIC work done during Jake's death. Which is why some of us are a bit peeved that all of a sudden it's all erased and he's just fine.
Photos thanks to Lisa, @sourcejenn, @spinsvixenlla @momoftwowildgirls