I've been doing this on this particular blog for TEN years now!! Before that I did it on my Anglefire site, so that makes it about TWENTY !! I sometimes look back to see the best/worst of each year and have forgotten so much that has happened. See if you agree or disagree and let me know in the comments !!


BEST ACTRESS:

Maura West. How can I not choose her again? She elevates every scene she's in. Even the little throw-away ones. She's amazing. Keep her at all costs!


BEST ACTOR:

Jon Linstrom. Nothing more to say about his powerful acting choices for psychopathic Ryan other than Brilliance!


BEST PAIRING

: Brad and Dr. Obrect ...because you see, I'm not shipping any "Couple" at the moment and just find these 2 delightful together.



BEST STORY LINE :

I'm going with ....Mike's Alzheimer's. Very touching and they've kept going with it and not shying away by making Mike far away or die before the worst part has set in. Didn't like the whole "I wanna marry" part but everything else was really good and gave the actors a chance to do some real-life emoting.


WUBS FAVORITE MOMENT:

Tony Jones. Caught me off-guard in that I didn't think I still had such feelings for the character. Brad Maule nailed it as well. It's such a shame Tony died in the Guza-purge years ago because he could be our Steve Hardy.



BEST RECAST:

Brook Lynn. Holy Moly--she's everything I want in a soapy character: Feisty, Mouthy...a bitch and yet funny as all hell. I loves her. She will liven up the Qs so much!!


BEST RETURN CHARACTER:

Robert. When Laura made him DA I screamed just a bit! Awesome idea and it has him coming and going when I need him to be around. He's grumpy and so Robert!! More please.


RUNNER UP:

Jax. I didn't know how much I missed him until he showed up again. Yes, the stupid Sonny rivalry still exists but it was evolved into something more mature. Ingo seems to be having fun as well, always a plus.

PROP OF THE YEAR:

GIANT MOSS! Who could deny this it's rightful spot in the Wubs Props Hall O' Fame??


WORST LET-GO

: Hayden-- and before you come for me about The whole Billy Miller thing, I really think that both his character of Drew and the character of Kim needed to go. Hayden was vibrant, filled a great void and had a huge potential of a great triangle. She left too soon.


WORST WEDDING

: Yes, we got a do-over but having Friz marry in jail on the anniversary of her rape....um... no.



MOST OVER USED WORD OF THE YEAR

: Last year it was Croton...this year it's CODICIL. I even learned how to spell it correctly!! LOL . Codicil...Codicial...Codicial.. HOWEVER--we did get a great Laura and Curtis pair-up during the story so I'm fine with hearing it all the time.


WEIRD ACCENT OF THE YEAR:

While Dev tried his best at a Turkish accent, I'm going with both Tad Martin Gray and DrewCo for their GENTEEL "Southern" accents. Because they were pretty funny.


WORST STORY LINE

: Quite a few to pick from but I'm going with--Poison Kendra. While I was waiting for the whole Shiloh to get over with, at least I understood the whole thing. This was out of left-field and just weird. Who cares about Kendra? No one..Who cares about Keifer? No one. Kristina wasn't even IN the story until the very end. It felt like it was inserted into the canvas for the sake of some 'drama' we didn't need to see. The tiny redemption came because it sparked the car-crash (which was mighty soapy) but couldn't save it from our misery.


COP-OUT of the YEAR:

Baby Donna. The story that became more about her name than her diagnosis. Not sure why they didn't go full-on with this other than time, raw material and great stories but???






FACE OF THE YEAR

: I had to pick Mr. Miller for this. What a crappy year for him all around. You could just tell as the months went by--things were coming to a close. Drew had this face for about 80% of his scenes.

Few Notes: I didn't consider picking Michelle Stafford for worst let-go because she decided to leave. Ditto Dom Z. I do miss both quite a bit. I wanted to pick Trina as "Best new Character" but.. guess what? That character was on the show from 2017-18..and was recast. Um... okay! Didn't remember?! Notice I didn't mention Oscar's Death, the many attempted rapes of Sam...or Shiloh dying?? These were all meh. It's bad when you think a kid's death is just ... bland.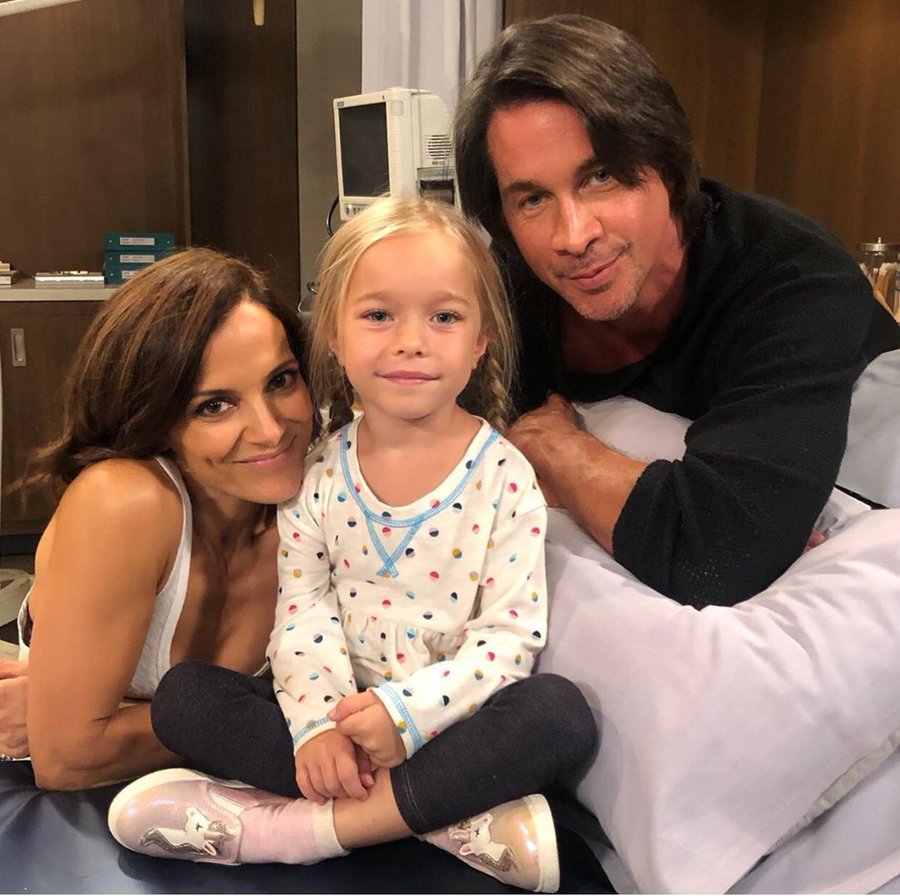 Best Insta-Family
Are things looking up for our show? Oh hell, yes!! With the Dan and Chris pairing there seems to be new energy, a great mix of characters and an upgrade in dialog. I WANT To watch GH everyday! I couldn't say that a year ago. There have been delightful little moments like Jason hugging Monica and Nina and Ava teaming up that have made my day. This makes me end 2019 in a positive note and can't wait for 2020!