SO...
CRASH ON, BABY!!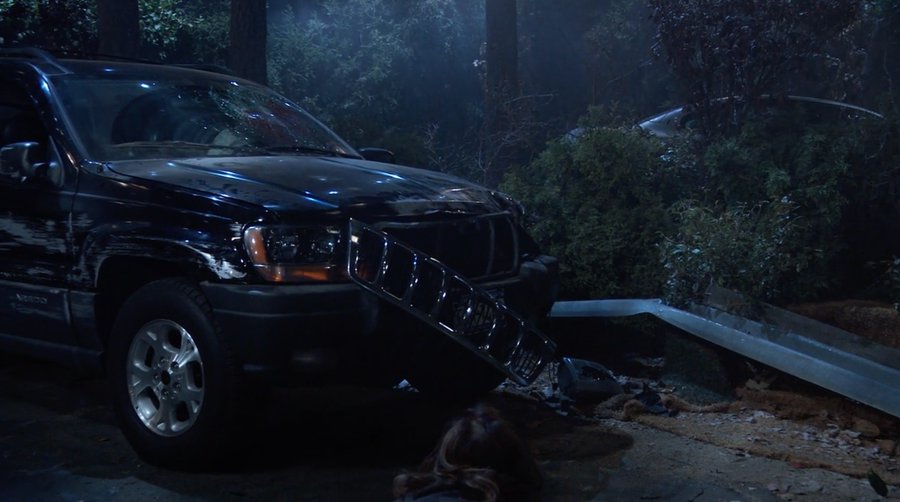 LUCAS WATCH OUT!! It's a crash... we don't see it but later Alexis rolls over a bit and sees Brucas' car in the field all smashed up. Kendra's car is smashed up too. Alexis crawls over to Kendra's car..she's passed out behind the wheel. Alexis tries to wake her up. THEN KENDRA SITS UP and scares the hell out of me! WHOA!! LOL
Julian and Neil are figuring out who Kendra is. Krissy comes by. They tell her about Kendra. She has a tracking app on her phone her mom put on between the 2 of them...she turns it on.
Alexis talks to Kendra..Kendra dies... Neil and Jules come. No one sees the other car yet. Alexis tells them what happened. Julian says Kendra is dead, no pulse. They finally see the other car!! Julian goes to check it out. Ambulance and Police arrive.
Julian finds the car. Says "Well, too bad Brad but at least you saved Alexis"..then he sees Julian. OH NO..NO he says and runs over to that side of the car. Tries to break the window. FINALLY runs up to the road and tells the police and Chase to get down there and help him.
Curtis and Jordan. It's there Anniversary. SNOOZE. They are in bed tho. Jordan gets called to the crash.
CarSon. Everyone's in bed... CarSon are alone and going to kiss. DOORBELL! Carly thinks Lucas finally made it. But it's Jax. Sonny's like "OH Brother"...Jax wants to wish Joss a happy thanksgiving. Carly says she's out. She wants to know if he wants pie. He's like...nah. Then Sonny says: BYE THEN!! Jax goes : Oh I think I will have that pie.
They sit. Sonny says "Carly told me everything"...You have a lady friend staying with you and now you don't want Joss. Pffffffff. Jax is like Well...er...um....Then Krissy calls Sonny and wants him to come to #GH he leaves.
Jax woofs down pie. lol Carly thinks he needs to stop needling Sonny because Sonny can destroy his life.
Sonny goes to GH and sees Krissy, she tells him the lie she told about her Mom and Kiefer. Alexis gets rolled in in a wheelchair. She tells Krissy that Sasha found out about the lie from Shiloh.
Jules comes in... Chase tells him Lucas is in surgery and Brad is in the trauma unit. "The Drivers side sustained the most damage".
Willow is at GH looking at a "First time mother" Pamphlet. Chase comes in with a turkey sandwich for her, she hugs him. HE says it's great being an uncle because he can do the fun stuff then leave Violet. LOL. He gets called to the crash. Willow calls Sasha and says she's too chicken to get a pregnancy test. Sasha comes to the hospital to see her and gives her a pep talk about finding out if she really is. She bought a PG test. Willow goes to pee on the stick.
END:
Jordan figures out Brad's car made no skid marks
TOMORROW:
Nikolas goes to see AVA!
Willow tells Sasha if she's PG or not
Bobbie goes to GH