I've been waiting for this day with such squealy anticipation!! I love specials and this looks to be a goodie.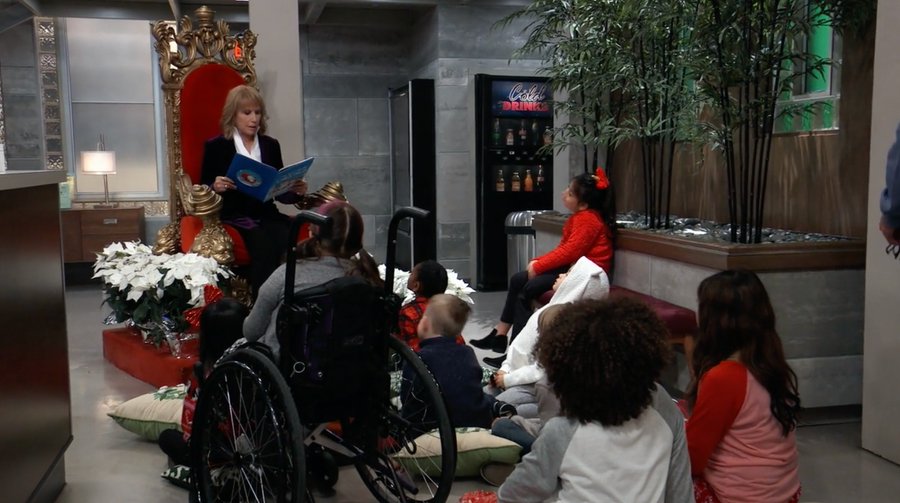 I'm not going to spoil too much so you'll have to watch for yourself!! They all get stuck in GH for the night because of a storm. TRACY IS THERE! HER hair is natural gray and she looks so so good!! Squee!!
Finn wants to leave, is being all grouchy. Violet overhears him and now he's afraid she'll be upset. Monica reads another book because of the storm and it's Dickens A Christmas Carol. Finn imagines himself at Scrooge. We see the story as played out by cast members.
YOU HAVE TO WATCH THIS!
Cratchit: Franco
Nephew: Peter
Charity collector: Curtis
Maid: Monica (lol)
First ghost: Marley is Tracy
Joss: Ghost of Christmas Past
Chase: Young Scrooge!!
Michael: Young Scrooge's partner
Willow: "Belle" The love of Scrooge's life
Ned: Scrooge's Boss when he was young
Anna: Old Belle--omg so good!!
Robert: Old Michael --ditto!
Dr. O Ghost of Christmas Present
Maxie: Nephew's wife
Liz: Mrs. Cratchit
Tiny Tim: Jake
Brother: Cam
Ghost of Christmas Future: Ava ..gah!
Brooklyn: Town seller of goods
It's wonderful..I hope you watch and have a very wonderful holiday--however you celebrate!