Today is the day!! Can't wait!!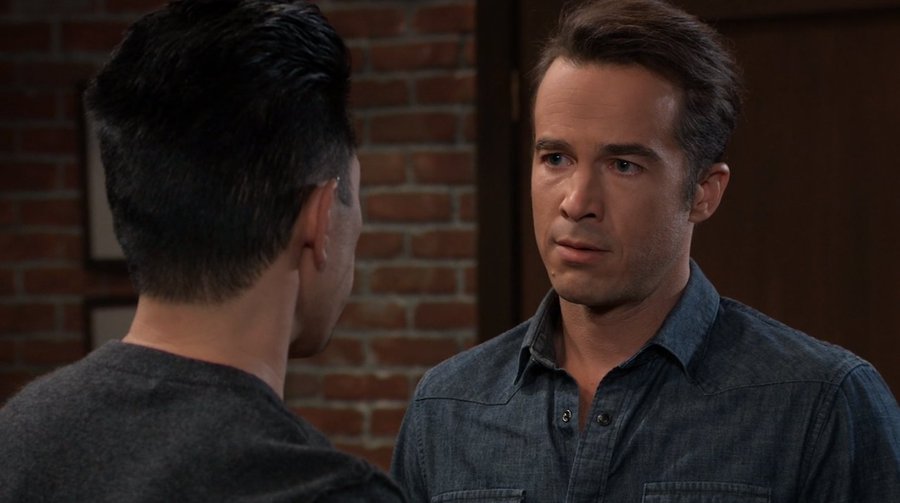 BRUCAS: Lucas wants the truth. Brad feeds him a line about Obrect and being involve with her...and gets mad. Says he's done.
Lucas' blood sugar monitor goes off. He takes a gluecose tab.. then Carly calls (see below)
Julian tells Neil the jar was behind the bar when he saw the dead rats. Neil tries to phone Alexis. They show her in the back of the car and Kendra's driving. "Our final destination". I think it's where Alexis hit Keifer. Kendra jabs Alexis with a shot telling her to wake up. She does. "Happy Thanksgiving"!! She says how great her brother was and how he was charming and nice and she murdered him. Alexis can't move. Kendra drags her out of the car and lays her on the road. She's going to run her over like ALexis did to Keifer.
Julian and Neil google Kendra. They see she graduated from PC High. Go on social media, find out what her real last name is.
CarSon house: Everyone's playing Texas Hold Em. Sonny's sad. Sasha comes over. Michael thinks Devvv is cheating at cards. Sonny's all mopey. Joss says they have to be upbeat to save the holiday for Sonny.
Carly goes to talk to Sonny. He says he only sees the people that are missing today. He needs a minute. Carly goes and calls Lucas to come over for dinner so there's not an empty place at the table. Lucas says OK and they leave. In the car, Brad and Lucas argue. Brad finally says that Wiley isn't their's he's Michael and Nelle's...Lucas tries to put on the breaks. There is none..then they come around the corner and Kendra is going to run over Alexis but the T-Bone her first. DAMN!! excitement!
Q House: Monica yells at Brook Lynn not to touch the paper turkeys because Olivia was in charge of decorations. Brook says they are tacky. Olivia comes in and says; Go ahead then, throw them out, I don't care. Monica is like: I defended your decorations!! Olivia says she should try to keep the peace. Monica says there is no peace with Brook Lynn. Lulu comes with Rocco. Brook says "I see you can't find your own family to spend the day with"...SNAP!! Rocco then tells everyone that Mommy kept warm with Mr. Phillips a the parade!! LOL. Olivia is chugging her wine. Brook Lynn is happy.
Lulu and Brook go out to the terrace. Brook Lynn says that she THOUGHT Lulu was a "tough Spencer...all adventure" yada yada... Lulu says that Dante abandoned her which Olivia hears. Lulu apologizes. Olivia accepts. Brook Lynn says "That's you, always the victim" Lulu says "you are a tramp, trying to seduce my husband" ... Ned says we are family: both say: IT'S MY FAMILY...then Olivia screams loud.
Monica smiles.
OMG I swear the Qs are coming BACK PEOPLE!! it' awesome!!
Hospital: DrewCo asks Liz if he's dressed ok to go the to Qs. She says yes. Epiphany is there too. He leaves. Epiphany says Liz should be thankful for DrwCo's sacrifice. Monica calls Epiphany. I think to sabotage dinner.
FLASHBACK: Monica called Epiphany to pick up the food for the GH staff. Olivia screamed "THE FOOD IS GONE"! She thinks Brook Lynn stole it!! ahahahaa. Franco comes in and is like: Um..is this normal? Monica smiles. She's happy. Pizzas come in!
Anna's House: ROBERT COMES OVER!! Little Violet says: HELLO WROBERT!! Maddox explains the whole memory thing to Peter and Maxie. Peter is worried.
Robert says he thinks Finn was wrong. Robin calls and talks to Robert. Tells him to cut ANna some slack about Finn because it dredges up memories of what happened with her when she was a kid. They are all "Awww, she's so smart". Violet asks where her mom is. They distract her. She gets the wish bone and they snap it.