Jax and Carly talk about the guilt she feels not telling Laura that Nik is alive. Michael comes back home.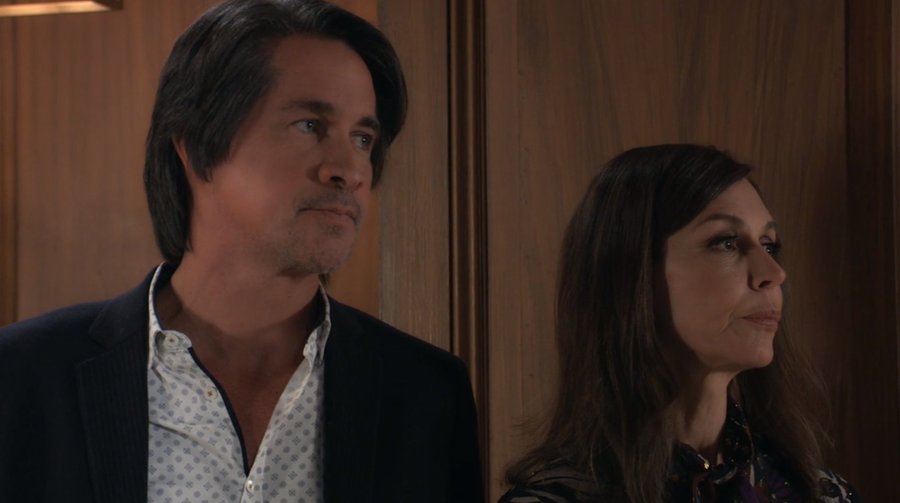 Anna and Finn ... Finn feels awful that Hayden is gone and he has to tell Violet. Robert is trying to find out where Hayden went. Anna calls Jax to come over. He does and they are on him about what he and Hayden were doing together. He says, "Just Aurora stuff" They don't believe him. He says, really, it's just that. He's pissed she's gone and says she must have felt like she was in real danger if she just left Violet there.
Hospital: Julian is mean to Brad..Brad is still not awake. Bobbie comes by...She asks where Lucas is.
Bobbie calls Carly.
Carly gets to the hospital and Chase fills her in. Bobbie's all upset. Julian is mad Brad's alive. Brad dreams about telling Lucas the truth before the crash. Chase questions him about the crash when he wakes up. Brad says the brakes were gone.
Bobbie finds out Lucas is in a medically induced coma... he has a brain injury.
Willow goes to tell Sahsa about the PG test results and Stupid CHASE interrupts about Brucas being in a car accident.
Ok, so..Bobbie sits with Lucas and asks Julian to sit with him because she's going to update Brad. He talks to Lucas, says he's made a mess of things, that Brad was supposed to be driving alone. Then says "I'm so sorry, Lucas"
AND BOBBIE AND BRAD ARE RIGHT BEHIND HIM!!!!!!!!! She wheeled him up to see Lucas!!
DAMN!! lol Jules just says he wants forgiveness because they were estranged that's all.
Sasha goes back to see Michael and they talk to Wiley and get him a snack.
Nikolas pays the nurse at Shadybook to give Ava some drug...?? Ava's sad because Julian didn't call her on Turkey Day. Later, she's "talking" to Kiki and gets dizzy. She lays down. Nikolas walks in and whispers "Ava"....
She asks if he's dead...he says yes, and he's coming from HELL.."Where you sent me"..and now "You're going to make amends"!! OMG he's SUCH A CASSADINE!! Using his dead self to get information!! LOL
Ava doesn't tell him but rants about Morgan, Kiki and Ryan.. He tries to get her back to reality..and she's crying "Kiki will never forgive me"... and Nikolas says "I know, she's here with me"!! OMG! Nikolas!! he tells her Kiki will be trapped unless she tells him who she sold the painting to...she says no one, I still have it.
Nina and Valentin--not a lot of anything. He tells her about the painting and the CODICIL . Jax flies in and grabs Valentin and asks him what he did to Hayden.
END;
Willow goes to see Wiley
Jax orders Nikolas to meet him, even before picking up the portrait
Of course, Valentin is going to the gallery just to 'eliminate the obvious"
Ava is tossing and turning and NIKOLAS DROPPED HIS SIGNET RING!! ahahah it's on the floor. He might be evil but he's so dumb.