What Day is Today? GEESH... first I thought it was Sunday..then Thursday lol.. concept of time is out the window!!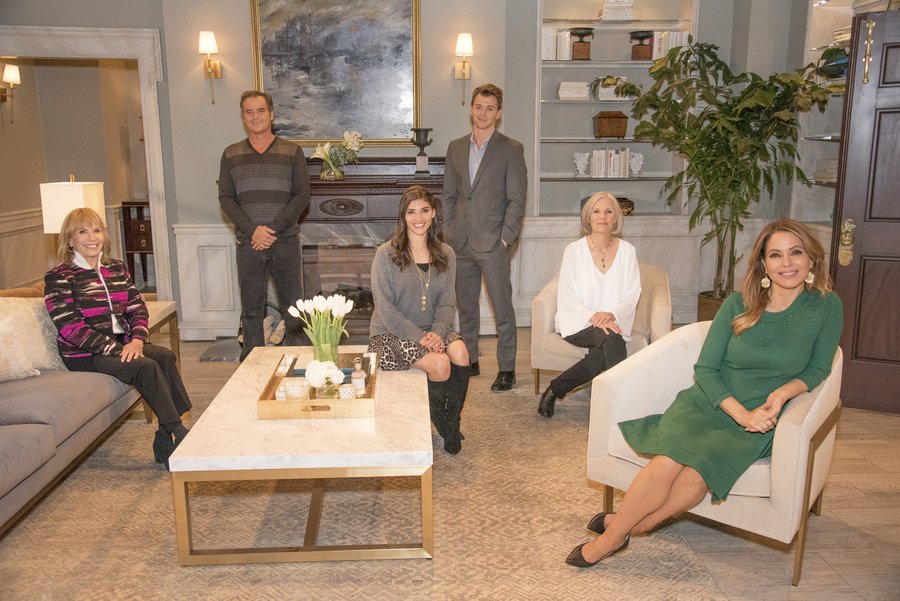 Going Minimalist
I feel like we are going to have to talk about the Q mansion at some point. Now, if Tracy had done this as a "surprise" while the fam was in Switzerland or something, it may have made sense...but?? I'm all for an update-- and hell, if it gets the Qs on more, serve me up. BUT! The door moves? Who moves A DOOR? The DOOR has been the DOOR for eons. You just don't mess with that ish. Now people are entering in where the kitchen used to be. I can't process this!!
Ok, ON WITH THE SHOW!
Old people home: Gladys is there and Carly comes in too. Carly wants to invite Brad to dinner. Sonny's like: ok, you invite someone I have to put up with..and I'll invite someone you have to put up with. Gladys tells Carly shes' coming to dinner!
Christmas in the Square: Curtis is Santa... Leo goes to see him... Cameron is his elf for "Community Service" . Jason brings a giant Scout and Danny-- geesh, I guess I haven't seen Scout in awhile! She wants Mommy home for Christmas. Curtis gives her a 'magic" candy cane to keep her happy lol. Alexis comes to get Scout and Danny to go decorate the tree. He has to "do something" first.
Joss tells Dev about American Christmas. He tells her about Turkish Christmas. She tells him Christmas is about joy and giving .. and looooove :eyeroll: Trina says Cam has only a week to go on his community service. She also tells Joss that he has a crush on her.
Sam's in jail. Nelle is needling her about her being in there and not with her kids. Says that her baby is dead, but Sam's is alive. Nelle keeps bugging her, saying she might get out before She does and how Ryan knifed her and everything. Says she could 'help Jason with the kids". Sam tells her to shut her mouth before she shuts it for her. The guard comes up and tells Sam the warden wants to see her. Oh, it's going to be Jason. I just know it. Oh! Hey, Jason got Sam OUT OF JAIL for the evening. LMAO
NO! She's PAROLED!! WHAT??? Yep, she's out of jail!!! The board approved her. Welp!

Q House. Tracy wants to know why Monica didn't ask her about the house redecoration when Monica clearly said it was "their" house. Monica said she said that because Tracy was leaving and she was feeling sentimental . Tracy says she's sorry about Oscar and Drew dying. Also, what's holding up probate? Then Olivia and Ned come in. Olivia stands open mouthed lol . Monica got punch out. She's going to have them wassail with punch.. which involves singing. Tracy asks about ELQ. Michael tells her some things. She thinks Brook Lynn should be a junior exec. Michael says they have to go. Then, Ned gets out his guitar to sing.
LATER...at the House of Corinthos: Gladys is being snarky to Sonny and he tells her to cool it, he's paying for her sevices, they aren't "family". Dev and Joss come in. Dev goes to wrap stuff. Joss is SUPER nasty to Gladys. I mean..geesh!! Like it's Glady's fault Sonny asked her to lie for them!!?? That was weird. Gladys goes to talk to someone on the phone. Sonny asks who it is...it's "Brando". Gladys has been paying his phone bills just so she can call he service and hear his voice on the message. She's sad. Say she misses him. Sonny says he understands.
END:
IN jail, Nelle has a "vision board" with blonde ladies and little boys and mansions LOL
The Q family sings
Jordan gets a call a "Friend passed".. and Curtis doesn't know them. It was weird. Oh RECON: People on Twitter says SOD says it's her new story. She doesn't think this friend died naturally and investigates. :Eyeroll:
Dev and Joss think they see the real Santa in the sky.