Hope you checked the 2019 Wub Awards down below-- they were fun to write. I always forget so much that's happen.
Peter at GH talking to Maddox. Maddox is treating him like a king. Anna sees them and tells Finn she can't meet him because she has something to take care of. She tells Peter that when the guy that was shot wakes up he'll probably tell the police who hired him. She questions Peter about why he was at GH and he gets a bit pissy with her.
OH DAMN, Andre says the gunman died after surgery. Womp Womp.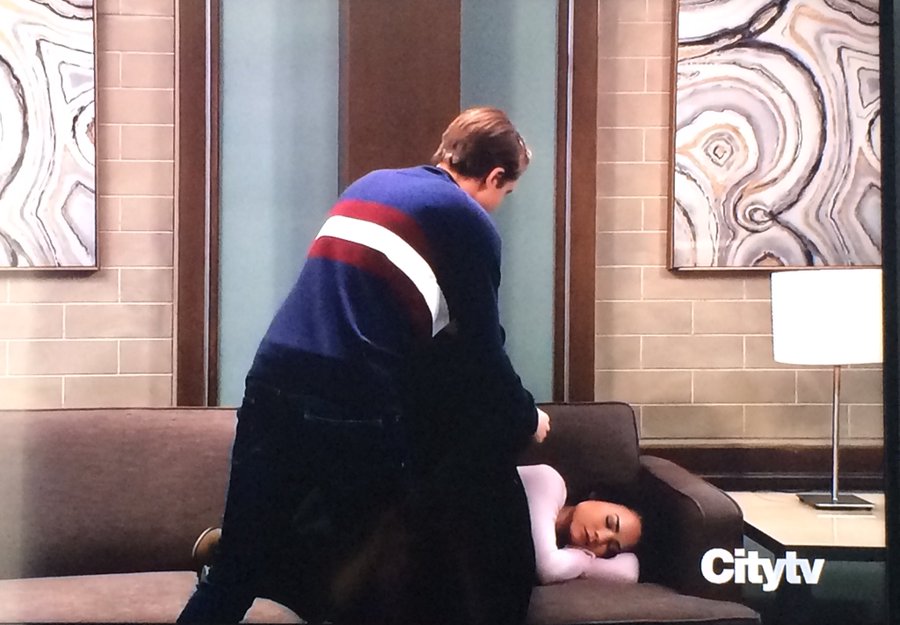 Franco's eyelids are fluttering.
Kelly's...Finn and Violet are going to dinner. Chase and Willow are there eating. When Finn comes with Violet, Willow gets all nervous and sad and leaves. Then she runs into Maxie with James!! LOL.. She doesn't want to think about babies or kids!! Chase tells Finn that Willow thought she was pregnant.
Metro Restaurant: Lulu and Dusty take Charlotte and Rocco for "ice cream"..why wouldn't you go to Kelly's?? Weird. Char wants to know if they are boyfriend, girlfriend. They don't really answer. Then, the kids go eat sundaes and Dustin and Lulu decide to have a "sleep over" LOL They kiss then go to the launch to take Charlotte home. Rocco doesn't believe Char has a bodyguard. She says : "I'll prove it"! SHE JUMPS IN THE WATER!!
AVA'S ART GALLERY Everyone is there. AVA looks resplendent. I mean REALLY GOOD. Laura looks like my Aunt Peggy did in 1975. Damn it. Anyway, woohoo!! Nikolas --the idiot is 'hiding' in the back storage room. Jax goes to talk to him. Laura tells Valentin that he should have told Lulu about Charlotte's bodyguard. He's like WHAT BODYGUARD??! She tells him about what Charlotte said. Wonders if she could have an imaginary friend... Val is like ABSOLUTELY NOT !! I guess because she's too smart for that? LOL (I so wish Helena would walk out about now !!)
Nikolas tells Jax if he doesn't win the painting, he's going to steal it..Jax is like don't worry, I'm going to get it.

Nina "Are we set"??
Ava: "They aren't going to know what hit them"!!
BIDDING BEGINS: Back and Forth, Back and Forth..some other guy besides Jax and Val is bidding. I wonder if he's Ava's wringer? It's up to 300K and Nina grabs Jax' arm and says "Stop this right now"...she physically pulls him away. Val bids..then Laura starts bidding.. lol. Ava's smiling like a kitty cat. Laura pushes it up to 450K and a waitress knocks into Valentin so he can't bid..he's all mad.
THEN..
OH MY GOD!!
THE PAINTING BURSTS INTO FLAMES!!!!!!! ahahahhaa. OMG!! AHAHAHAA. Everyone is just standing there with open-mouths!!
END;

Franco's eyes open
Tomorrow: Trisha sees Nik in the backroom
REMEMBER, this was a FRIDAY show--that's why there were cliffhangers LOL