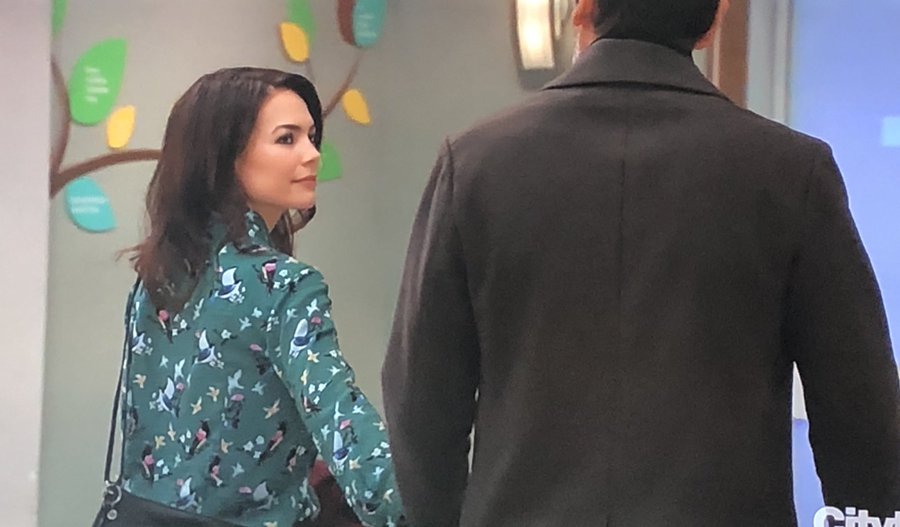 Liz and Franco...GAH the way he looks at her!! Sorry, RoHo is my crush LOL . Nurse Amy is on a hot minute. Franco overhears Julian tell Liz about him being Drew.
They go home...Aiden made him a chocolate cake. Aiden actually flew out to Ireland-- Lucky wanted to see him for the holidays. Liz tells him that Drew is presumed dead. Franco thinks it's his fault. He was on that plane because of me! They say all mushy stuff on and on..love, life...love. Liz draws back from him..she says she's thinking about when he was Drew and had sex with Kim!
Michael and Willow... he invited her over to CarSon's house for 'Fun stuff' he's planned. Oh such a chem test. He tells he about the AJ murder and getting custody of Avery to make his dad pay. . Amy calls him and asks him to bring Wiley to GH because Brad is in a bad way over Lucas. Oh Wiley will be in GH when Nelle is there too?
Hmmmmmm!!
Anna and Finn talking about raising kids. He wonders if Cartoon rot kid's brains. She's doing research on Peter! WOOT !! The security guy worked for various shell corporations ..she doesn't want to think Peter is bad. Later Maxie and Peter come over. Maxie gives Violet Georgie's hand me downs lol. She tells Anna how much she loves Peter and how happy she is. They leave. Anna says she should probably leave well enough alone. Then, she picks up Peter's file to pout it away and. She sees something and says "Oh my"!
Nelle and Tad. He wonders if it was her big plan to get stabbed. She says no, it was the serial killer's plan! Tad is mad because she could have died and he wouldn't get paid. Jordan comes in and tells her she's going to have to go back to jail NOW. Tad tries to say Not yet!! Nelle says "just a tad" and you can see MEK almost cracking up! LOL
Brad and Lucas. Brad is pleading with him to wake up. Julian comes in and says "get out here, Brad, test results are ready" Lucas slipped into his own coma and the doctor says he has to go to a long term care place. GH needs the bed. Brad is devastated. Amy tries to cheer him up by telling him Nelle's in the building, it's the best gossip, she says. He's like GOTTA GO!
Brad goes to see Nelle. She's happy to see him. He is not happy to see her, tells her everything is her fault. Nelle's like calm the hell down.

Michael gets to the hospital...goes to look for Brad. Tad introduces himself as Nelle's attorney. Michael is like "RUN"! He asks Amy where Brad is...
END:
Jordan has the forensics report...they found nothing!! The undercarriage of the car was too damaged!
Anna realizes that Peter and the gunman worked at the same place long ago!
NELLE SEES Willow and Wiley "What a beautiful baby you've got there" !! Just like the big bad wolf LOL