Oscar in the hospital REALLY needs to get looking like he's sick. Right now, they made his lips a bit white.
Franco finds out from Joss that there's no bake sale. She takes a brownie into Oscar. Cameron finds out where she got it. LOL Busted. Franco calls the Drama Department!! Cam tries to cover up, then runs out to meet the dealer and forgets his phone. Franco reads it. Whoops. Pot emojis all over the place.

Marcus sees Mike kissing his wife. He goes after him. They almost fight. Yvonne says she and Mike are 'going steady' and she has a bracelet on from him. It's the bracelet the facility uses to track the patients. Mike doesn't think she's married (neither does she). They go back and forth. OMG, then Mike and Yvonne are missing later-- and Yvonne took off her GPS bracelet!! ahahaaa!!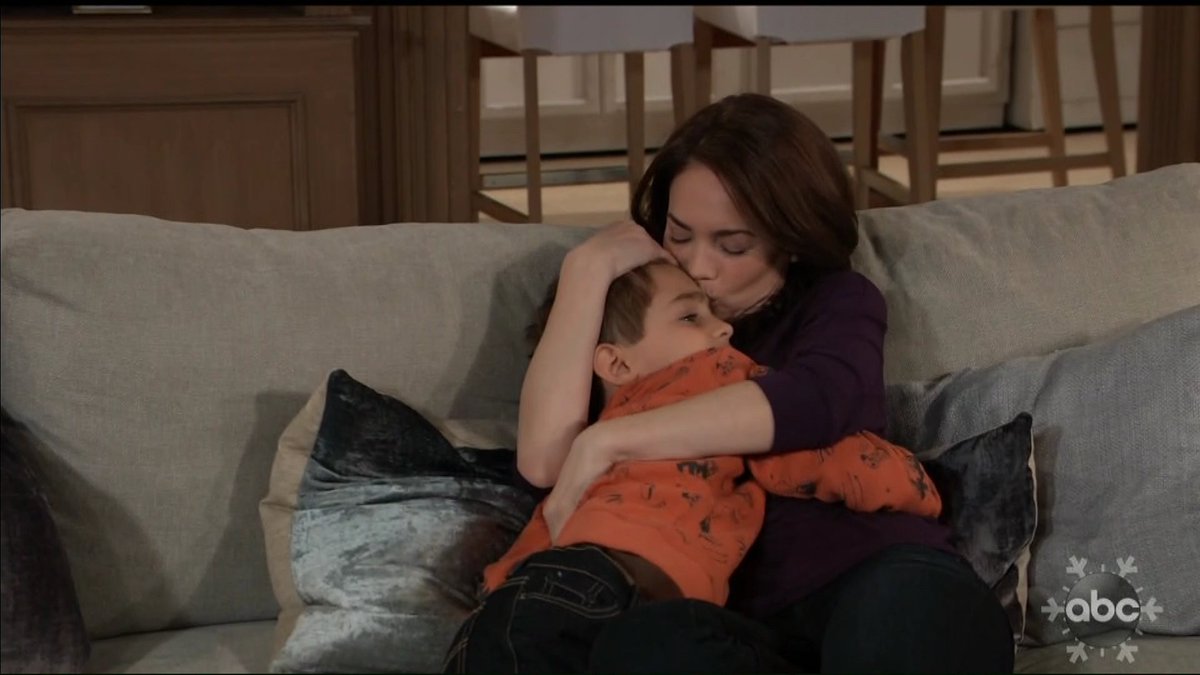 Charlotte goes to apologize to Aiden. Liz is stunned. She gets Aiden. Charlotte apologizes and says a bunch of nice things to Aiden. He says "It's ok"... and she says "Is that all you have to say"?? (I would have hauled off and taken her outside at that point). Liz basically makes Aiden say he accepts her apology. Charlotte says "Will Papa be proud of me now". All the ladies tell her how brave she was and how wonderful for her to apologize. That's a bunch of bull--you don't reward kids for doing the right thing, especially after she bullied the hell out of Aiden!! I didn't like the way they wrote that scene at all. THEN, Laura and Lulu take Charlotte out for ICE CREAM?? "Don't you feel better now that you apologized"?? Then she says other kids bully him too. Cut to Aiden playing a game on the PC and it's hacked to say "You're a loser Aiden".
Danny asks Jason why they need to donate if Santa brings kids toys. Um, he looks like he's Joss and Aiden's age.
They go to the PH. Sam shows Jason the obit that was sent to her in the mail. They talk. Later, Jason has a flashback of an old Christmas.
Danny made a stocking for Jason that said "Daddy".