Anna, why are you wasting time taking to SLOANE! He's a nothing...nada... I can't stand him. This is stupid! She owes him NO explanation!
Jake: (Looking at a gun/blood) What Happened HERE?
DUHHHHHHHHH. People were doing their nails! yeah, that's it!
Maxie and Nate come in. Jake picks up the gun. DUH. Nate handcuffs him and lets MAXIE question him! ahahha.
Sabby and Michael kissed again. She's like" Let's talk" WELP that was not a great kiss, I'm guessing. They sit and talk for EVERRRRR. GEESH. You kiss and then sit on an couch for the entire show talking? That's dull kids, way dull.
Carrrrrrrrrrlos comes into Sabrina's for HELP ahahahaa.

BadAss Jordan shoots Bruce 2x! BOOM! One and a kill shot. She's the only lady that can get anything done on this show lol. She ends up calling Anna and told her she killed someone and to call Sloane. Welp, no problem, he's there at her hotel room! They go over. Sloane says the dead guy is Duke's bodyguard. Anna looks stricken. Sloane badgers her into giving up Duke's location but she runs! Wish she would have shot Sloane first.
Anna goes to find Duke. Duke isn't there.
DUKE comes in last minute and is shot, falls. Anna cradles him.
Local news interrupts with a verdict here.
:whistling: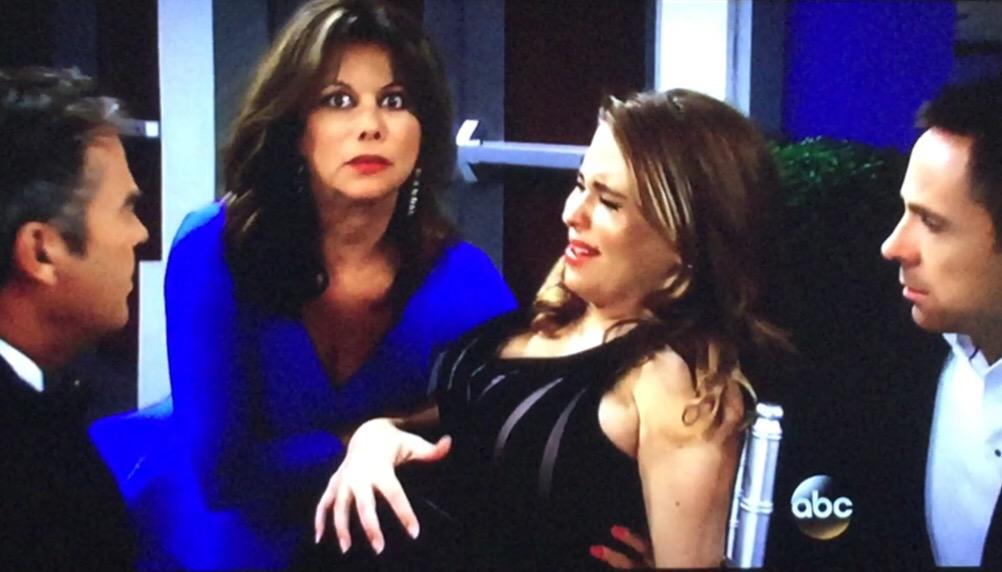 And... Olivia had her baby. It's not well tho. No crying. This is a hilarious pic NLG tweeted today lol