Oh I pity the fool. And myself now included!! You never should get invested in a soap couple (not even Ruth and Joe Martin!) because....well...it's a soap!
So this week broke my heart a little bit but I'll be fine. I'm not going to start a postcard campaign or petition or whatever. It is what it is. At least I've learned that the hard way over the years.
Ok, to drown my sorrows, I'm doing up a Bloody Mary Fest and having Pee Wee's Mr. T Cereal. Because..you know
I PITY THE FOOL!!
So, Nico is now done. Not only is Nico done, Franco seems to be back on his monkey-train to cray town. Don't get me wrong, I know a lot of people hate Franco anyway so they don't really care. I care because I love what Roger has done with "Franco" --which is basically turned him back into Todd. BUT NOoooooooooooo. Why have a quirky fun couple on GH when you can go full on decent back into madness? Right?
I know Roger will run with this and be spectacular. The writing for Nico's breakup was soapy and heartbreaking. Nina's smudged eye make up proved that.
Still doesn't mean I need to totally embrace it all. Not. one . Bit.
By the way, I blame that damn puppy for starting this all. LOL. Poor Jake, had to give it to Monica's gardener. That's NuJake up there. Looks like he de-aged.
Jason got a little testy with the puppy gift and about choked Franco in the hall. Back to Full On Stone-Cold mode!! Sam and Dr. O manage to stop him. The feud between these two seems to be on again. *sigh*. Great.
With that over with, I'm going to turn to Dr. O who in one fell swoop, got pushed out of chief of staff and demoted to "just doctor". Will she swallow her pride and take the job? Hmmm, Probably, but it also means we'll see her less and less. Dr. O will be the new Diane. Monica is back up at the top and everyone seems thrilled. I'm glad--but only if they are going to show her ..ON AIR. Oh, first order of business was getting Hammy Finn in on staff as the infectious disease man. Does that mean some kind of sweeping virus will hit the town soon?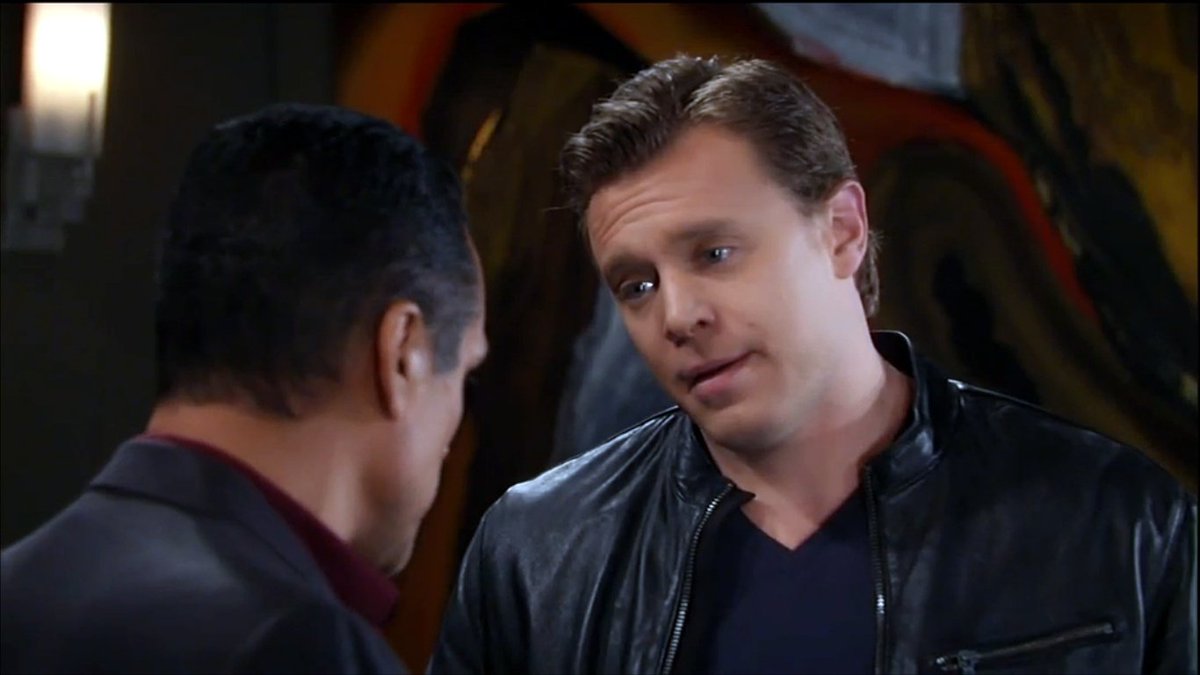 Over at Sabrina Central, Michael is back from Puerto Rico and desperate for answers from Carlos. Carlos tells him they had a boy and are happily married. Why do I think he's lying about the married part? Sonny asks Jason to go back to being his strong-arm all under the guise of "helping out Michael". Jason balks but does go to the PCPD to talk some sense into Michael. Later, Sonny and Carly cry about losing "their Jason"--you know, the one that did whatever they told him and didn't question anything. Buy a robot.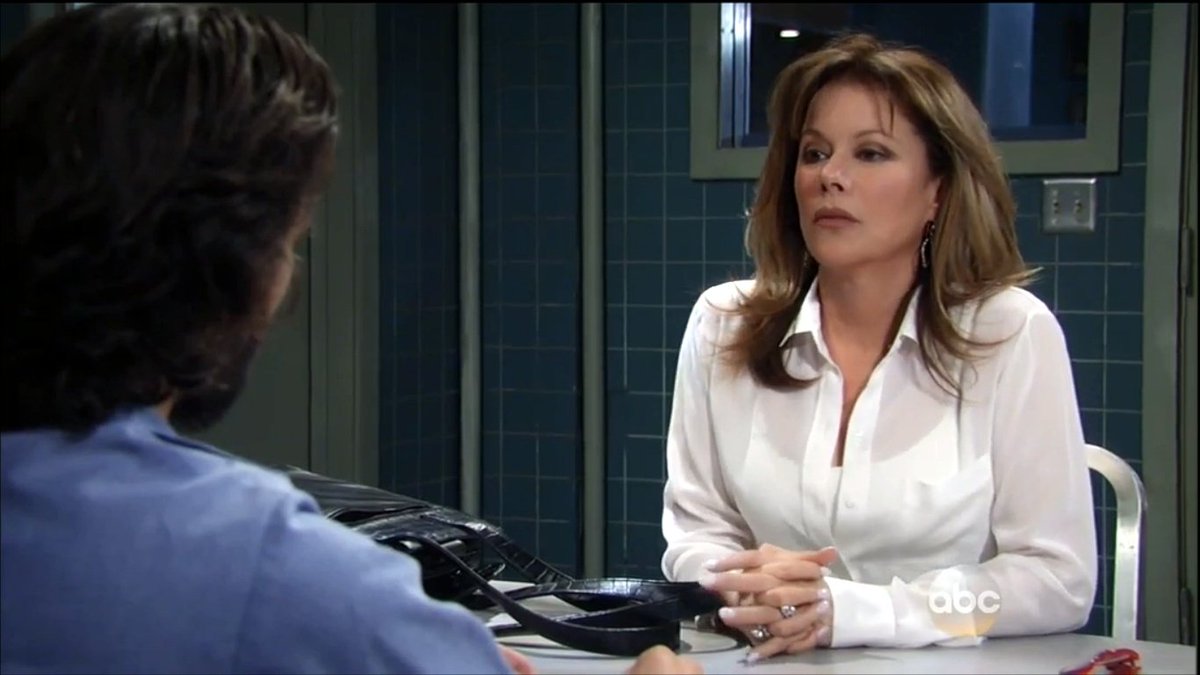 Hey, speaking of Carlos, Alexis was bamboozled into representing him by Jules. I know she loves Julian but he's not telling her the whole truth. So, she's blindly helping Carlos thinking that she's going to help Julian.
In a wonderful scene, Molly confronts Alexis about all this and giving up her principals to help Carlos. Very well acted--I love my Davis girls.
A fly in the ointment shows up: Hal. Poor Hal...some junkie (or not, who knows) that is sent by Sonny to say he saw Carlos shoot Duke AND that Julian ordered it. Julian orders the kid to be "taken care of". Yep. Jules is back to the mob--and in a huge fashion; already ordering the death of some kid. Nice. Why didn't they just keep Ava as the head instead of being all scared and shaking in her boots? Stupid if you ask me. Ava would be the perfect leader.
Oh, by the way--that's RIC up there! See him?? Do you?? Because that's probably it for awhile. He is searching for 5 year old organ parts you know.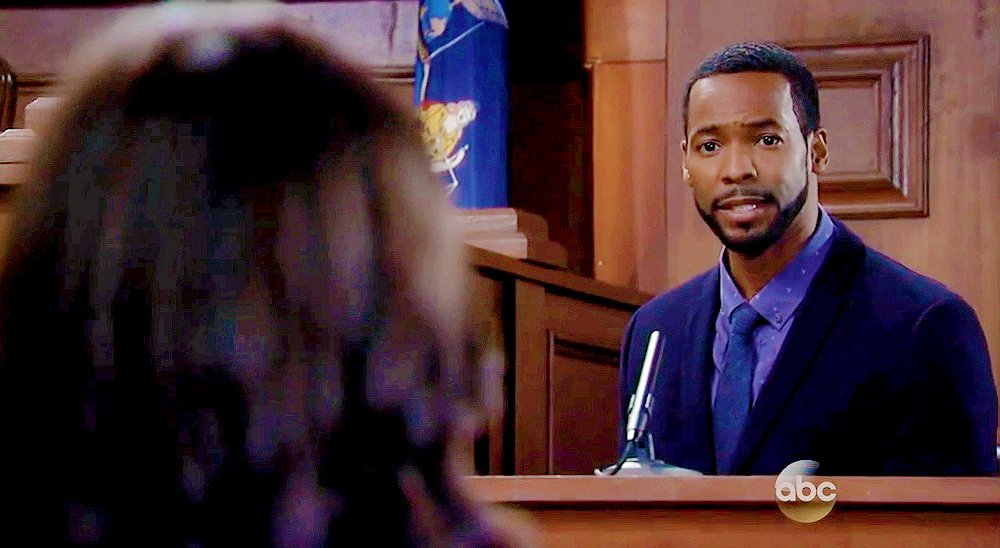 The Anna Mess. Mess. MESS. She's on trial now with Scotty by her side. Paul loves her, tells her that she should go visit her daughter in CA. She wants to proceed with the trail. Dr. Maddox comes in to plead for bail because Anna is sane and loyal and well...wonderful. Awww. Of course Jordan hears it all and is jelly.
By the way, Anna is just out on bail. She's still going to go to trial. Oh How I hope this is just glossed over and forgotten!!
Josslyn's kidney saga is again at the forefront after all this time. Poor Ric was back on and then...Sonny sent him on a kidney-chase. (aka; Wild-Goose-Chase) Bye Ric! Ham hells Carly that he thinks the kidney came from the black market. She's appalled. She's also now BFFs with Hammy!! Just like when Jake came to town. Just like when Todd came to town too! Carly just has to be in every story with every person on canvas. *sigh* Carly also said that when she first came to town she needed a friend that didn't judge her. It's the EXACT same thing she said to Jake when he came into her life!! LMAO!! Exact same thing. Good lord.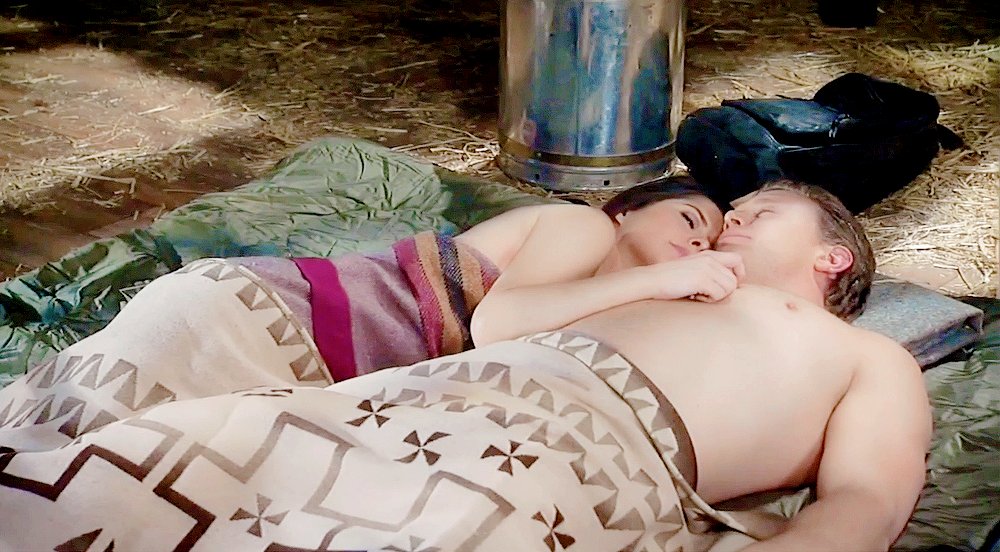 JaSam got caught in the rain and made love in a barn. How 1980s of them! Someone was skulking outside though! Who could it be? We are led to believe it's Franco when his muddy boots are shown going back into his apartment. Why do I think this is a ruse? Why don't I actually care who's watching them?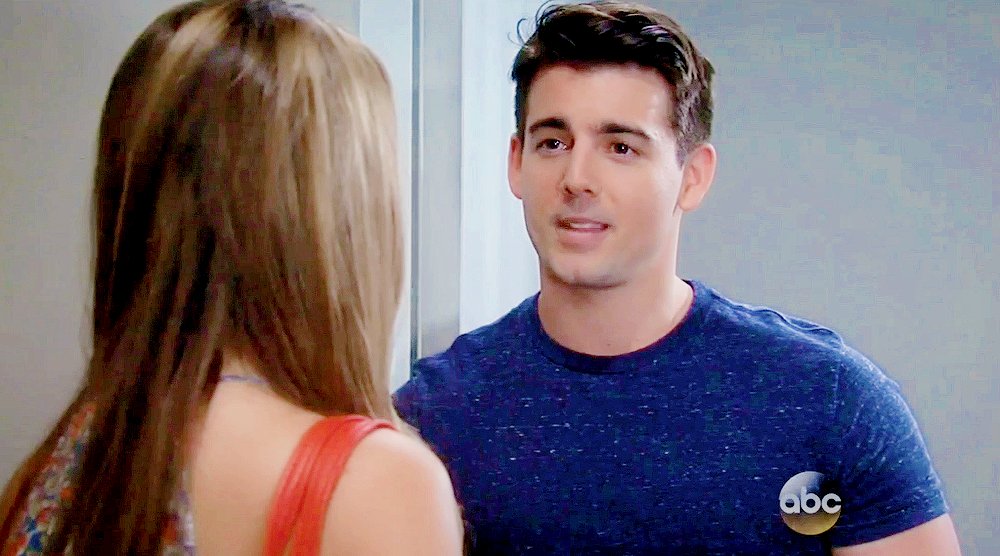 Um, could they cast a MORE bland 'interest' for Krissy? NOPE. This guy could be a Ford brother fro OLTL. Kristina wants to see if she's 'really gay'....or 'just curious'...or 'bisexual'. Morgan actually said "Don't all girls experiment in college"? Giggle. Yeah, Moronigan. Yeah. I guess that's all we get of the Parker story for awhile? SMDH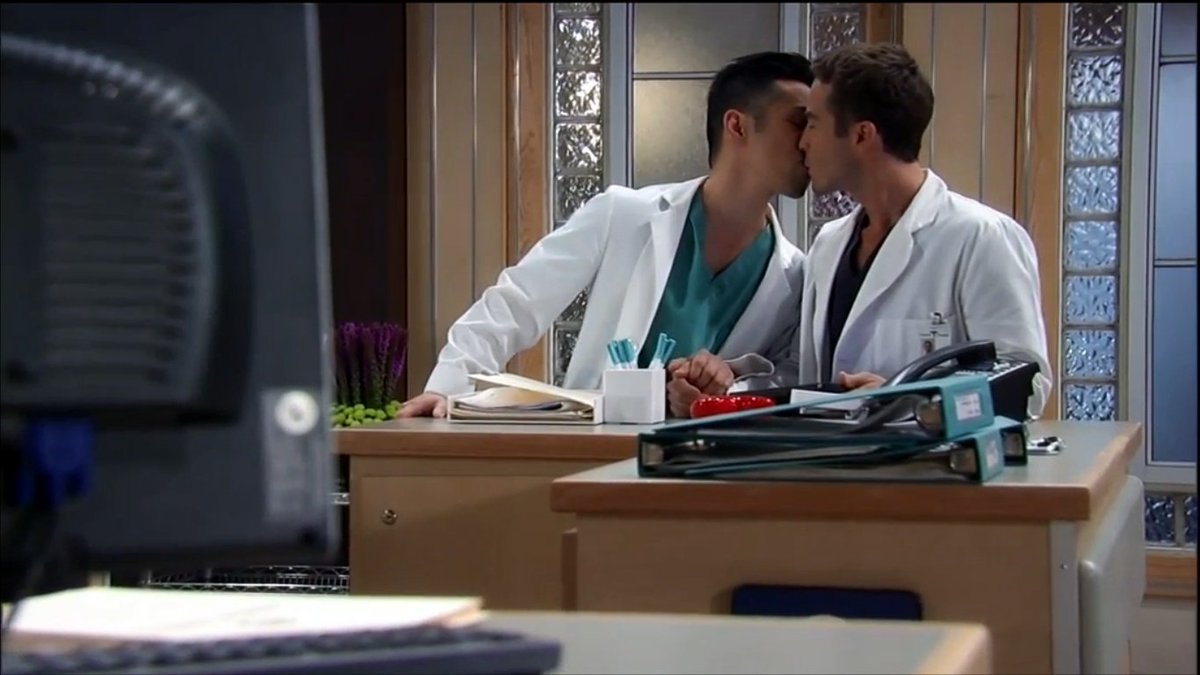 Brad and Lucas were on a hot-minute again. They actually talked about their wedding. I think they'll get married at the Nurses' Ball.
Paul and Kiki changed a tire as part of their on-going chem test. They passed.

Maxie wants Sam to find out more about Claudette. Why ask Sam? She'll just call Spinelli!!? LOL



SCENE OF THE WEEK:

Monica and Tracy in the elevator after Monica gets chief of staff back. It was everything



FAVE MOVE OF THE WEEK:

Franco doing his cartwheel. Wish I could have grabbed a gif of it but I couldn't--so..static it is. BUT! The real thing was a glory to watch.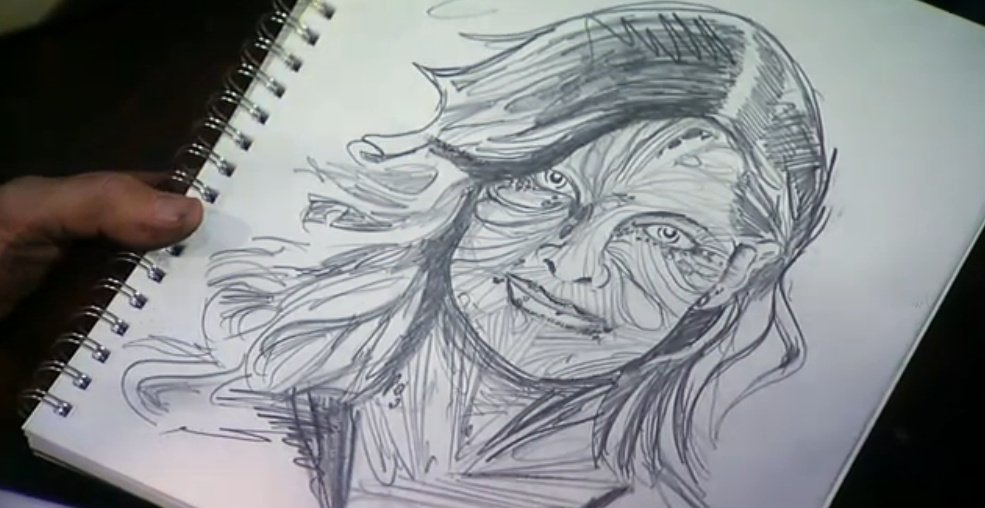 PROP OF THE WEEK:

Nina's Portrait drawn by an angry and stoic Franco. I think she needs some coconut cream Michelle Stafford sells!!




RUNNER UP:

Adorbs baby Giraffe.




FACES OF THE WEEK:

Carly and Sonny scold their 25 year old (aprox) son about going after a woman he loves and trying to find her. Because you know, they haven't ever done anything like that in their lifetimes. Nope.


GRADING THE STORIES

(by Wubs Interest points...5 being the highest)
Hayden being Rachel: 2 Laura's Key: 4 (but rapidly dropping) Anna's Mess/Julian Mob/Sonny Crap: 1 Sabrina/Carlos/Micahel: 2 Franco going full on Franco: 4 Brad/Lucas Wedding: 4 Naxie/Claudette: 1 Curtis: 3 (away from Hayden) Killon: 4 Lante: 2 ELQ: would be a 5 if it was ever shown Kissy's sexual journey: 3 (if written well 5) Morgan's rehab: 0 Hammy Finn's Needle substance: 4 Crimson: Was a 4 now a 2 (way to go, writers) Joss' Kidney: 2 JaSam: 2 Liason: 2 (see what I did there?) Nurses' Ball: 4 Ava--what IS she doing again? Olivia's boobular drama: Is that over or are we suing the mayor? AVERAGE INTEREST RATING: 2.4
So, Laura was on a total of THREE Days this month! WOW.. I think I counted correctly. How's that Helena's Will Story going? I can't deal with the "let's find Joss' kidney, get stuff on Claudette and never-ending mob crap' when there are so many other stories hanging out there!! Julian's turned and that will be the end of Julexis and I'm wondering if the character of Julian will survive. Franco will have a summer of Crazies I'm sure-- and other than that--? Who knows. May sweeps is coming. We'll have the Nurses' Ball to look forward to. So I should be happy, right?
Right.
I was ill on Friday and didn't get the blog up. I'm sorry! Hope you all have a great weekend and May DAY today!!