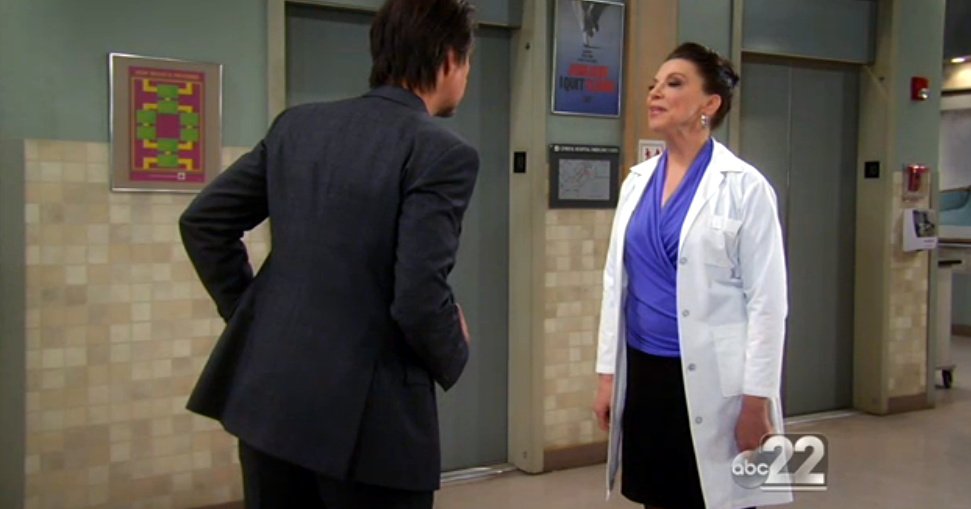 Dr. O and Hammy FINN! :) Love them.. lol. She tells him she's tracking down his "past doctor life" (photo thanks to @daytimespoilers on twitter)
Hayden walks by "Can I talk to you for a minute"?? She gives him a check for $10K and he's like "What's this for"?? She wants to make up for her Dad's crap that effected his funding.
Michael, Sabrina and Sonny. Sabrina is saved! Sonny makes the guy holding her get on his knees and then sticks his gun out and says "Tell me about Julian Jerome". The guy knows nothing...and Sonny pretends to shoot but he really called the cops.
Sabrina and Michael talk. Yada yada. Geesh, her hair grew. Figures, MINE fell OUT when I had my kid lol
Alexis calls Diane when Julian goes to the hospital. She tells Diane about Julian and her involvement. Carolyn and Nancy are always good together. Diane tells her to turn the shirt in and the police will be so happy to get Julian they'll overlook her part. Jules comes back home, startling her. They say they are going to get their nails done together. Diane gets on the porch "Are we going to the Police Station"??
"I can't turn him in on the eve of Lucas' wedding"
OH HELL

Bobbie and Brad. Should have had about 90 more scenes with them this year but.you know, Sonny Hospital, Not possible.
Julian tells Brad he can't be his best man because of the Carlos crap and it would over shadow the wedding.