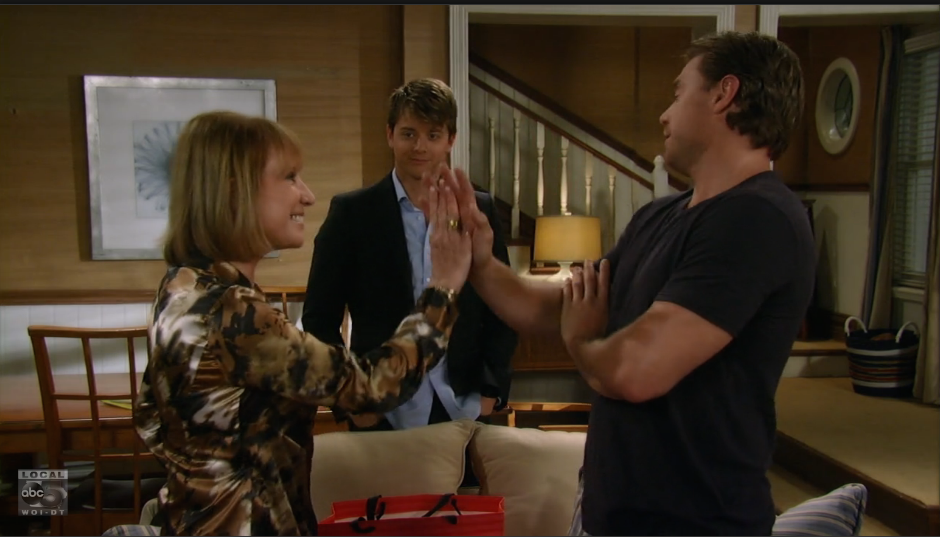 Q's all around!
Look how quickly 2 days put me back in the GH mood! Seriously, for the first time in forever I wanted to get home to watch the show Friday. And it delivered!! Monday was a bust with the TG "Extravaganza Must-See TV" let down and Tues/Wed were weepling dull. Then? What!!?? What is this miracle?
Not sure, but I'm pretty happy right now.
That's not to say there isn't still problems but for this moment, the show was pretty soapy-fun.
I'm celebrating with some champagne and cupcakes!!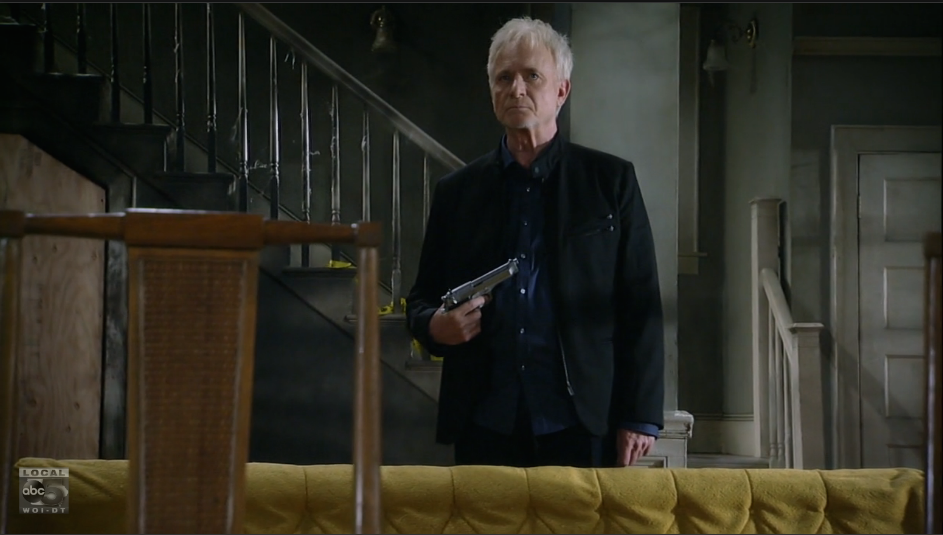 I wrote an entire blog on Monday's "Farewell Show" so you don't have to hear it again. Just know it was a complete let down and probably the most missed opportunity ever in soap history.
Now that the show is free from that albatross of a story, it seems a corner has been turned. Take a bow Geary, you're done.
Perhaps Ron felt the weight of the "exit story" and Fluke mess for so long that finally when it was over the entire team could buckle down and write for other characters? Who knows! I'm just happy they did.
Tuesday and Wed were mind-numbingly BORING. Little movement or charm. The highlight was Laura talking to Sonny and Carly. Carly still doesn't like her Aunt Laura much, that's for sure. Valerie and Dillon ask Dante and Lulu how they 'feel' about them dating each other. That was probably the low point of the 2 days. I mean, seriously?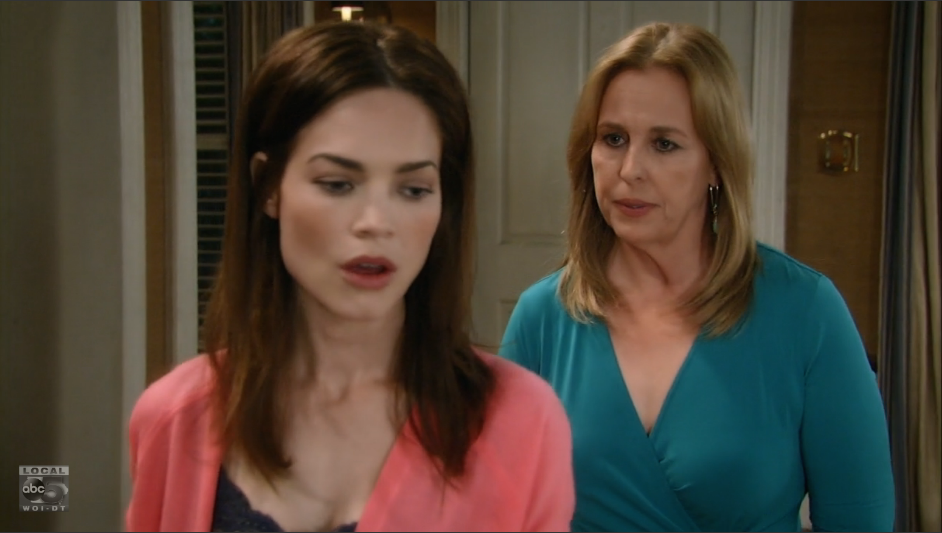 By the way, I'm going to say this: Genie doesn't look quite right in the standard GH "Wrap Dress". She looks the best like she was before; casual. She either should dress up for an event or wear everyday clothes. That monotone aqua didn't do it. Look at Ava vs Nina. You'll see what I mean. Wrap stretch dresses? bleck.
Ok, so my 2 cents on the wardrobe. I'd also comment on the male wardrobe but didn't see anything that really offended my sensibilities this week. I'm not a total sexist!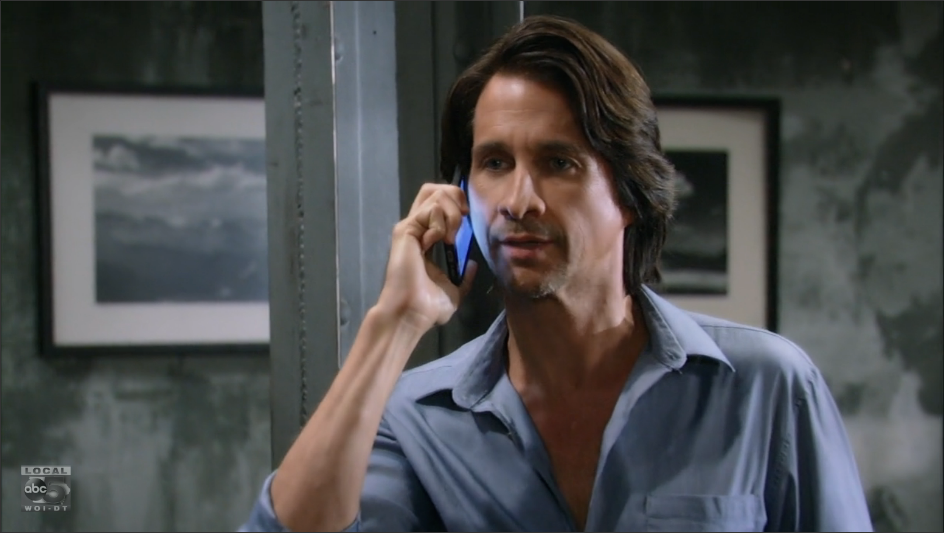 THURSDAY AND FRIDAY: Rollercoaster Ride! Nice!! I guess all those stories that were languishing in "the Shadow" were unleashed. Which is sad for RC in a way. I think JP's material may be airing now in conjunction with Ron's. I so wish he'd stayed with her. The two could have made a great team
Ok, on with the scenes:
Nina/Ric/Donna/Franco: Nina goes to talk to Ava who tells her that Franco loves her and would take her back if she asked. Ava is doing this so Franco will get her the evidence that Scotty has of her confessing to Connie's murder. I love Maura and Michelle together. You can tell they just 'get' each other. I also think Michelle played Nina perfectly this week. She was a woman on the edge of everything. I also see the woman that was put into a coma that never really matured in there as well. Vulnerable, scared, elated and horrified was all written on her face.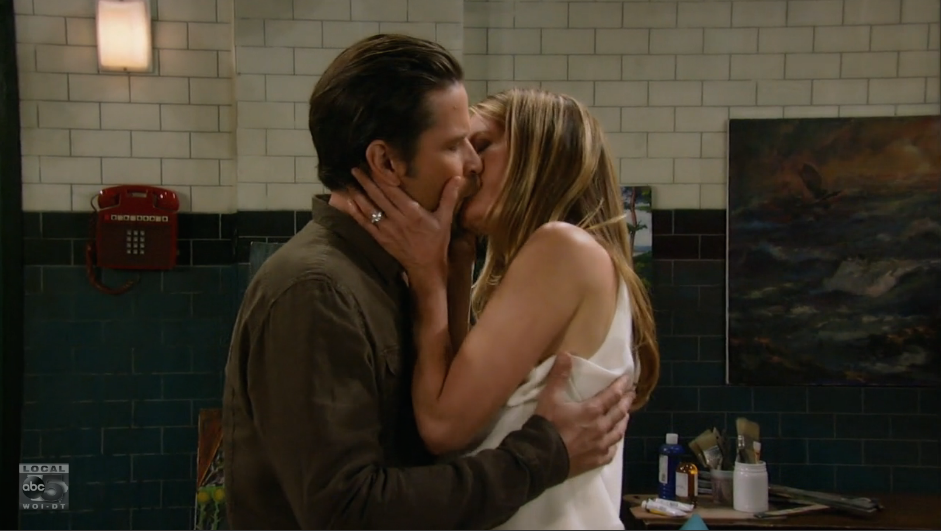 Ric stepped it up. Took her to the mental hospital and made her sign commitment papers. Oh, he's evil and wiley, that one!! BUT!! Franco came in on his white horse and rescued her. Such a good scene and so well written. Roger lot a little teary. Todd does it so well when he's in 'rescue mode' *yes, that was a total Todd move. I'm such a sap for the guy coming to save the trapped, scared woman. Sniff. Or, the woman saving the scared trapped man. I told you, I'm not a sexist!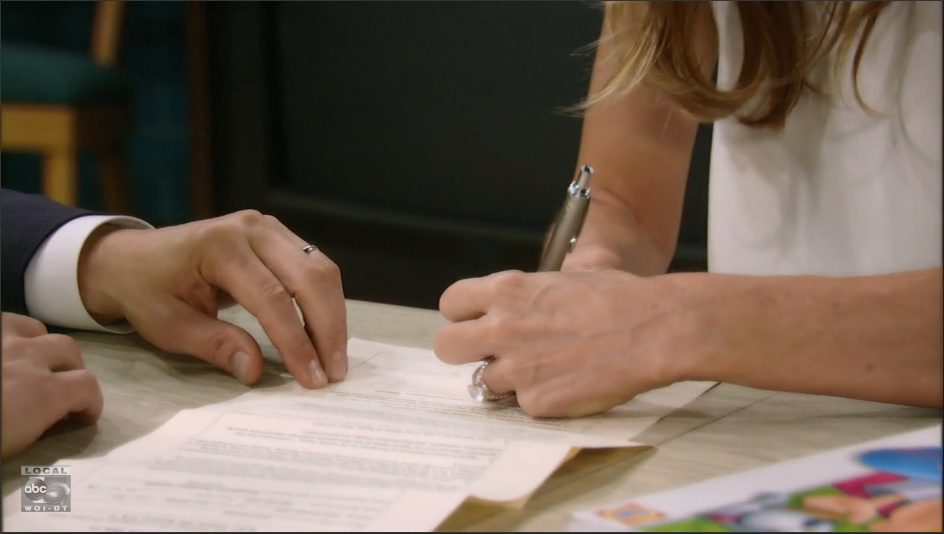 Oh, btw, the papers didn't mean much, btw..because Nina just ran out of the clinic in the end. LOL
WELP! Silas catches Ava and Morgan together and just SLAYS it. On his last full day, ME got some material with teeth. WTH?! This is Carlos all over again! I was so into his stuff that I was thinking: Don't kill Silas off now! And you know me, Silas has been a dull boy for so long I normally wouldn't care. ME and MW were perfection. Ava was desperate to stop him. He didn't care. Loved all the crap he said to Morgan about being a horny idiot. LOL. Ava and Morgan talk after. She makes him promise not to go see him. Of course, they both do.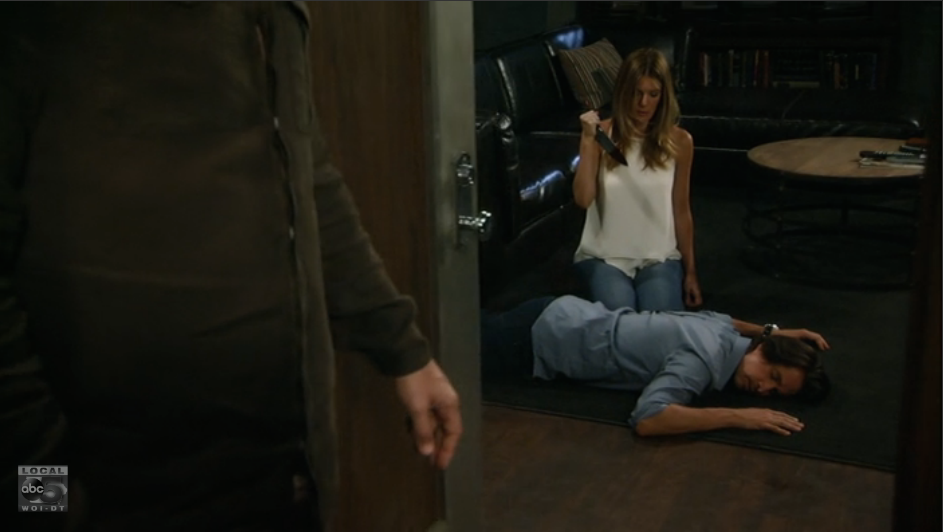 This brings us to the end of Friday's show for this storyline. All three, Morgan, Nina and Ava are shown after the murder. I loved the music playing! Reminded me of the Valentine episode of "ER" where Lucy and Carter get stabbed (my Fave ER ever!). Ava is shown coming home and grabbing a drink, shaking. Morgan is shown at the Metro grabbing a drink and shaking. Poor Nina is shown over Silas' body with a bloody knife.
I don't think any ONE of them did it. I think that Morgan and Ava found the body separately, panicked and ran. I think Nina found the body, picked up the knife and froze. My guess? Ric or Donna Mills did it. Just my 2 cents. Very well edited on Friday!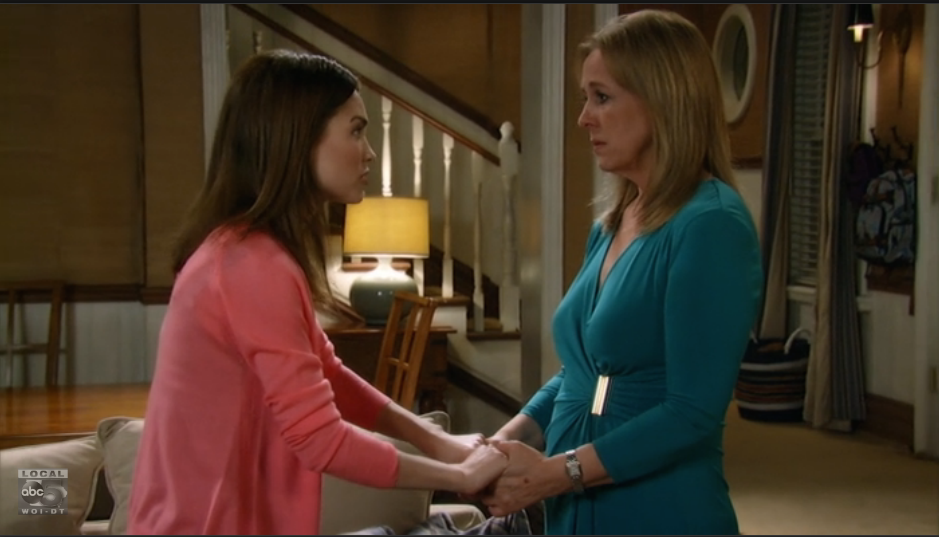 The other major story was of course, Laura Knows the Jake Secret. Oh DELISH!! So much happened during this it was hard to keep up. Becky Herbst had to memorize a billion words to say in under 2 minutes I think! LOL. Monica shows up with Michael to see her grandson! Wow. Miracles never cease!
Laura goes to the Webber house to talk to Liz and Jake. Liz is already wary when Laura starts playing cat/mouse with her. I bet she wished she had some Xanax laying around. Next Patrick stops by to make sure little Danny can see Little Jake. Why this is such a huge deal, I'm not sure. Geesh, they could wait a few months, right? Well, that opened the door for Laura to talk to Liz about keeping her sons apart in the olden days.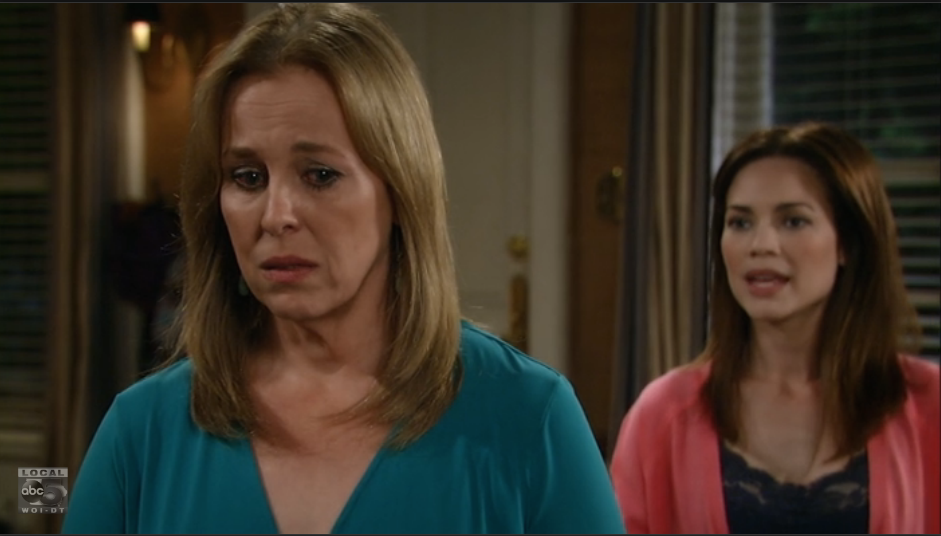 The Liz and Laura 'talk' was great. Laura was in full -Momma mode sprinkled with awesome hind-sight from her own life experience. How was she going to keep this secret? Well, with a little good old fashioned 'almost' blackmailing from Liz. You see, Liz figured out that Nikolas had Hayden shot. (how, we don't know..but she did). She tells Laura that if it comes out, Nikolas might go to jail for attempted murder. Laura is shocked! Not HER son. But then..oh, yes..she realizes Nikolas is totally capable of this. In fact, he's a Cassadine and probably evil. She didn't say any of this, but her face showed it all. Just about perfect acting there. I'm so glad Laura's back and there's no Luke looming around to distract me.
Oh? And BTW--will any of this really matter? Hayden is waking up! Yep, Paddy tells Sam and Jake this at GH. All of this might be moot. Everyone is going to be in big trouble soon! I wonder if they'll still pair Nik with her even though he had her shot. If she doesn't know that, maybe they will. They did have great chem together. And Becky and Genie in Wyndemere together? Oh yes, please!!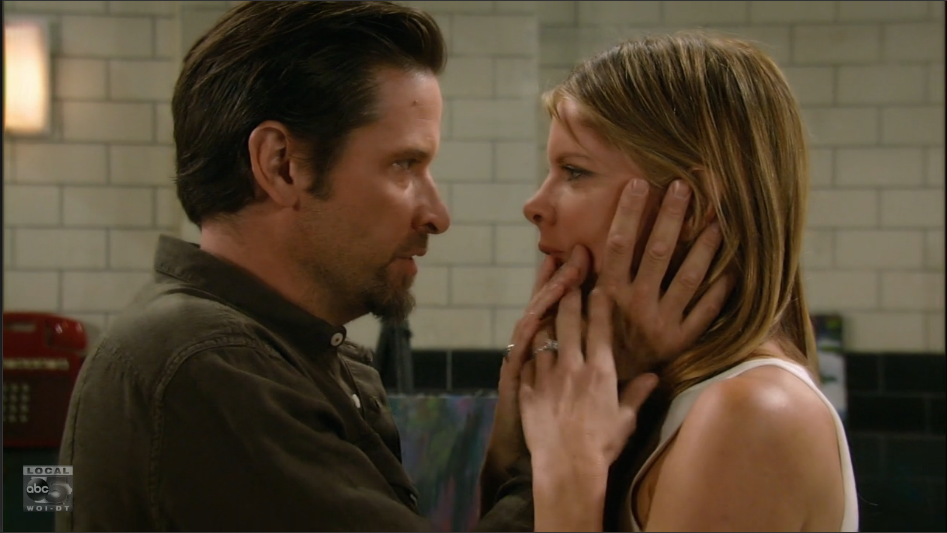 SCENE OF THE WEEK:

LOVED this. Even with the gloriousness of the Liz/Laura scenes, this just stood out. "you knew we'd always be together right"?? EEE! and the chem these two have? Off-the-Charts. Now get them more connected with the canvas and somehow stop reminding us of the "Franco" thing and we're gold.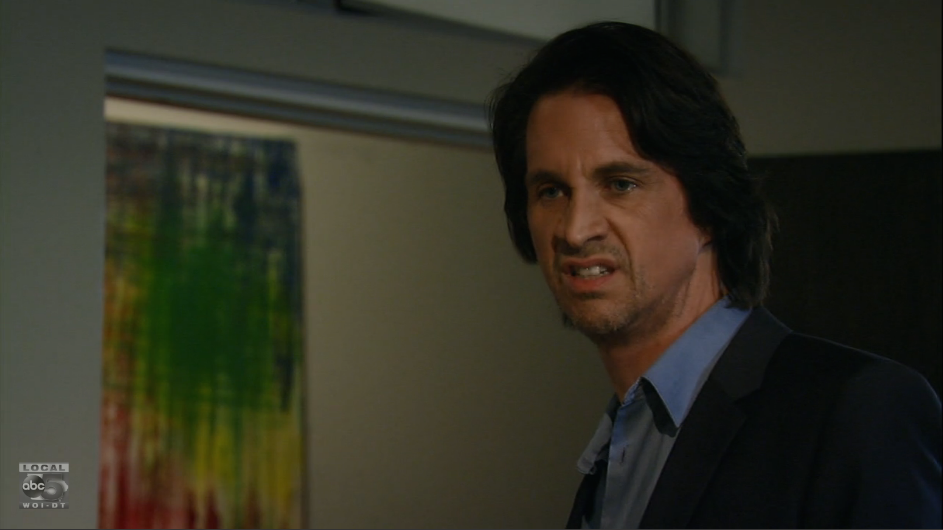 FACE OF THE WEEK:

Silas sees Morgan and Ava. Looks like the entire audience in this snap!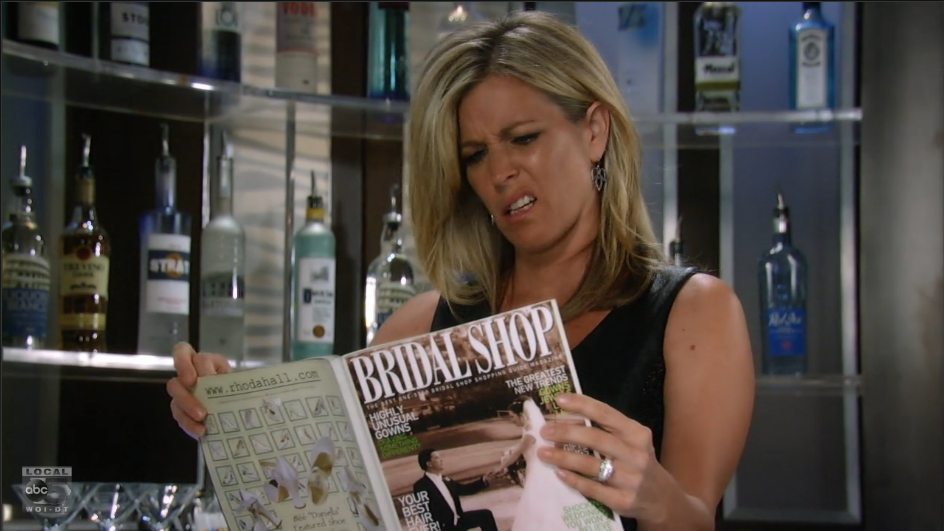 PROP OF THE WEEK:

"Bridal Shop" Mag. Carly shopping for her 5th wedding dress (just to Sonny, btw). Her face is also priceless. She and Silas practiced together. Giggle. At this point, she could get married in a nice cocktail dress from Lord and Taylor. Who'd care?

So--what did you think? Did you notice a giant shift in the show? I'm not crazy, right? Maybe we ALL (writers, cast, crew, audience) let out collective, huge sigh of relief and moved on. I hope this keeps going. Friday I actually wanted to get home and start watching!
Big thx to @SourceJenn for these cappies. I wouldn't have had any photos if not for her!
One Last Photo! Thx Paul!!