Laura and Kevin. Yep, they are still in the broiler room. Oh boy, Kevin's going to tell her he is the one that brought Ryan to Ferncliff. Nope, she finds the name "Danginzer" carved into the brick. They figure out he was a serial killer long ago locked in the basement and has left clues for them to get out. Escape Room from Mental Hospital! Cu for Copper is written too. They find a copper pipe. When Kevin turns it, it opens a secret door!!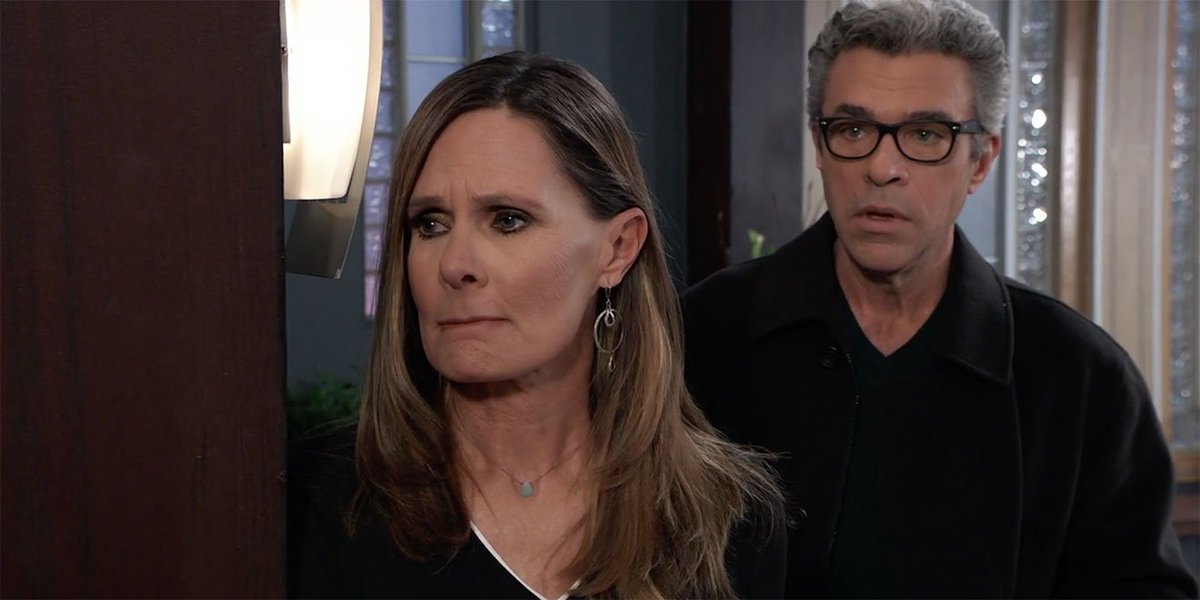 Felicia and Mac talk about Ava marrying "Kevin" tonight. Lucy overhears and drops stuff. Lucy's not happy. They talk about how Kevin hasn't been himself and he'd never do anything like this--not this fast. Felicia says he's not been himself for awhile. She's going to "do something about it". Lucy is crying to Mac about Kevin..good scene.
Carly and Ryan."I saw what you have there in the trunk"..oh she saw the suitcase not the box. Dang. She wants to know about the Patient in his room. He gets mad. Carly thinks she saw Ryan at Ferncliff. "Kevin" says, no, that was me..not him. Carly is like "ok but I'm going to keep searching".
OMG So.. he opens the trunk..then the next scene, he's getting blood off the tire iron and Felicia comes in "Kevin, it's about time I got some answers from you"!! So they talk and he says "Life and Death" at some point and Felicia's face changes. "I've heard that before..."
Ava walks in and Felicia leaves but knows something is wrong.
Felicia goes back to Mac and Lucy. She has flashbacks of RYAN !! SQUEEE!!
Curtis and Chase. Curtis wonders if Chase knows who "urgent" is...Jordan's phone is passworded. Curtis tells Chase to call the PCPD to hack it. Curtis listens, hears Franco say Ryan Chamberlain is the killer! They try to figure out if it could be true or not. Anna and Finn come along and they tell them about Ryan/Franco. She says she's heard a dead man's name way too much lately. Hmm??
Sonny in Turkey. You can tell by the smoke, Turkish coffee cups, music, rugs-- LOL. hey, there's a hottie playing poker and Sonny wants in. He starts playing. Oh, the "Turkish" guy is hand-some. They think Sonny's a cop. So, Sonny is cornered and he flips the table over. He gets a guy on the ground with a gun. Then the Turkish guy gets him with a gun..then ROBERT comes in and gets the Turkish guy with a gun!! Sonny asks about "his son" (Dante--which is stupid to tell them he's his son). The guy doesn't know. They call it a draw and Robert and Sonny leave. Robert wants a dry martini...Sonny says "Why you doin' this"?? Robert says Sonny was there for Robin when he couldn't be and he repays his debts. Robert knows something about Dante and will tell Sonny in the morning. They need their rest lol.
I liked these scenes believe it or not!
Anna calls Dr. Maddox to tell him about Jordan and to ask him about her memories. She leaves a message. Anna cries to Finn about her memories. She wants to know if her memories are her's and not Alex'.
END: Ryan put Ava's suitcase in the trunk and we see Carly duct taped in there. Ava and he leave.
MY ARMS ACHE WHEN I have to type so much up!! LOL... They just hurt in the upper part!! I live tweet too so I'm spent!! PHEW!