DID I EVEN TELL YOU THE LATEST!! Did I?? CARSON is going to get PREGNANT ??????
Not Molly and TJ
Not Jordan and Curtis
Not anyone ELSE ON CANVAS...BUT CARSON!! And I'm just saying that SORRY-- ughhhh we do not need this ish. Nope. All I can think of is Laura Wright is pregnant in real life-- because WHY WOULD YOU DO THIS??? I will have a LOT to say about this later. This better be a menopause story.
YEP MENOPAUSE, that's what I'm going with...because I can't fathom why they'd have a baby story now.
FRIZ WEDDING CAKE! lol
TODAY'S SHOW:
CarSon in bed. Maybe this is when he plants the seed? Ewwww ..Oh no, Carly's acting like she has something to tell him. They go to the Metro for dinner. Sonny has plane tickets. She's hesitates. When they are back home, she tells him shes' pregnant. He just looks at her @@
Olivia and Ned going to the Metro overnight.
JaSam make out in Jason's place. Then Spinelli comes over. With "Dire News" about SHank. He thinks he murdered someone.

Sam goes to the Valentine's party to try to get info out of SHank. He massages her head and says mumbo jumbo about the "here and now". She leaves.
Kristina tells him seeing him with Sam bothers her and she's not "Enlightened" enough. He tells her she has to take more classes. Krissy doesn't have the money-- and Shank says "Well, if you needed an operation, she'd get the money".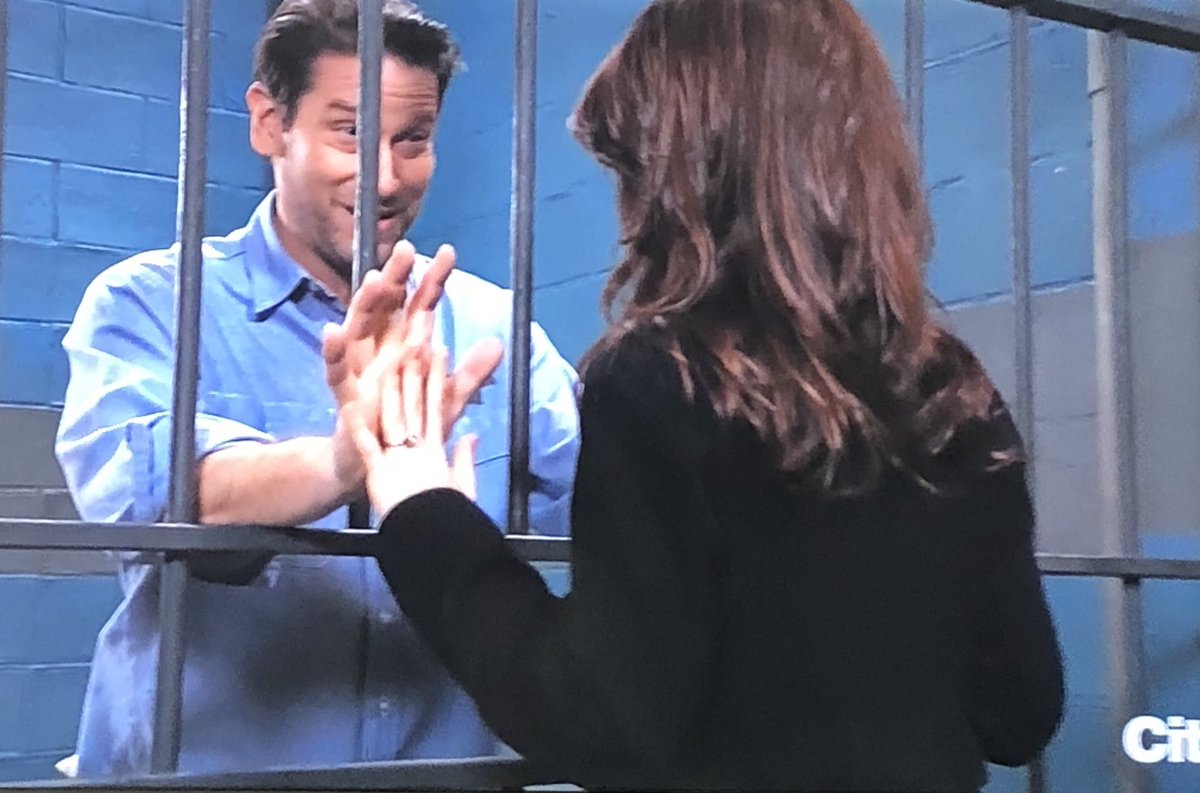 JAIL HOUSE WEDDING!!!!! On the anniversary of Liz' rape day!! I mean, seriously? I've been waiting for MONTHS for this and it's on this day IN THE JAIL? Drew is going to marry them. They get married. No kids. No family-- nope.
That Dr. guy that is blind thinks Anna is Alex. Then he realizes she's really Anna. I guess they are going to fly him to Port Charles to get his viral thing straightened out.
Valerie is on.. which I don't even CARE because Brytni is leaving. Whatever. Kristina tries to push the cult on her. Valerie leaves.
NEWS: INGO'S BACK AS JAX. Not sure when.