Hello! Went to Urgent Care today (so much easier than doctor's office). Have a sinus infection and a sty in one eye and a sore in the other, on the bottom lid. WTF!! My eyes are a MESS. So happy this is my VACATION for FS. ugh. So, I am going to blog a bit (I'm out Wed and Friday). but not sure how long I will last.
I had a viral cold for 15 days, then it started to go into this ish.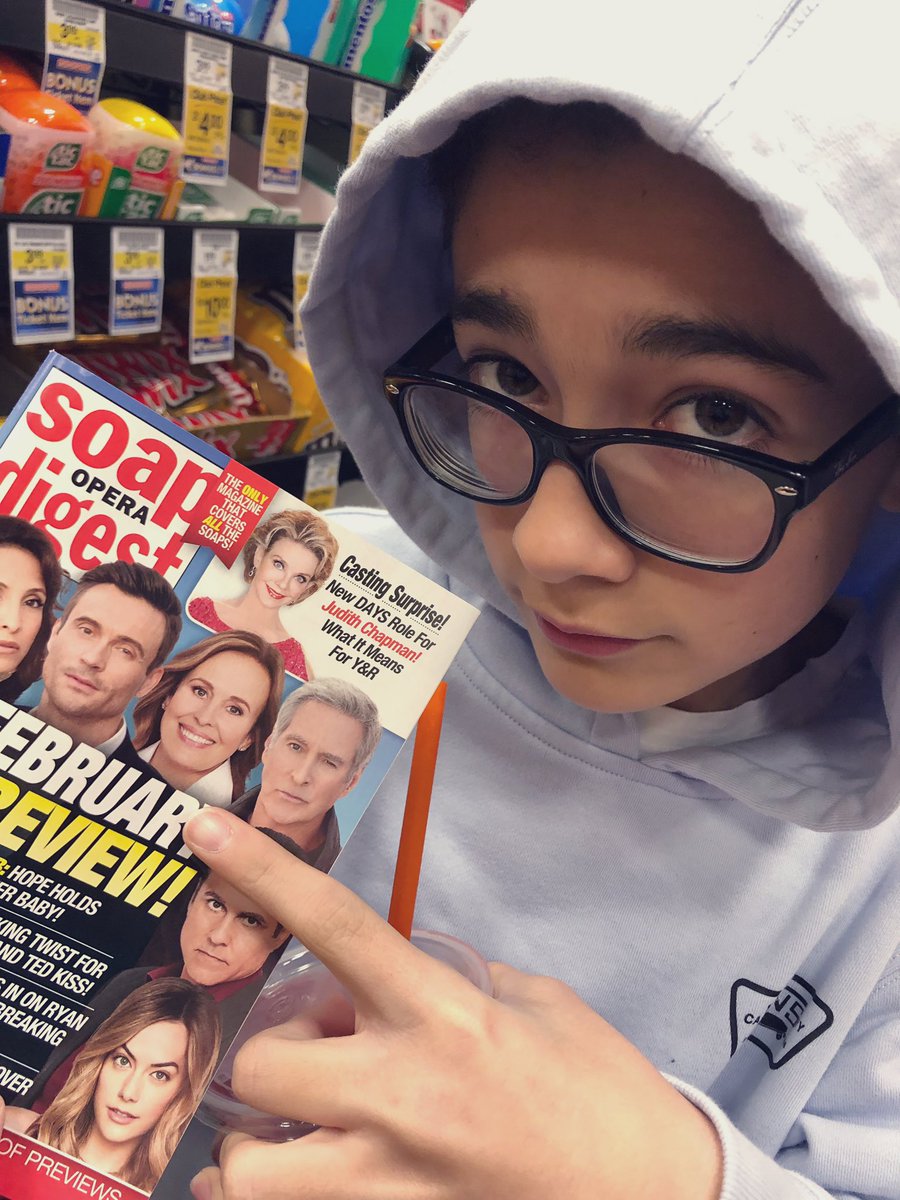 TODAY'S SHOW:
ALL AT THE FLOATING RIB:
Willow and Chase. She keeps looking at Brad. Chase wants to know why. She dodges the question. He thinks she's brave to have given her baby up for adoption. Then he gives her a prezzie and they are nice gloves because her hands are so cold all the time. They kiss.
Brucas. Out on a Date. Brad talks to Julian about The BayBay
Kim and Drew and Alexis is there. She says she and Diane were going out since Max was busy. Kim talks to her about being "cool" with each other.
Neil, Alexis' doctor walks in as she's walking out. (see below)
Michael is there too, waiting for a date. Geesh, who would that be? Oh MY GOD. Some chick named ZOE who he met on something like Tinder. She looks like a Davis girl...or Willow. Nothing DIFFERENT THAN EVERY OTHER CLONE on this show. Same body type, straight long hair. YAWN. She could have had really short purple hair or something and be of normal weight. But.. zzzzzzz. Zoe lied on her profile... she doesn't really teach migrant kids english, she likes to scroll through IG on her free time. Michael is not happy. Zoe is on the phone the entire time. Then she tells Michael that he's her third date that evening-- and she has another one.
On the way out, she sees Neil with Alexis and says "Neil"?? He doesn't know her. She said "oh you messaged me a few times, but you look way younger in your photo"!! ahahha. Neil goes to get a drink. Julian asks Alexis if they are 'seeing each other'. Alexi says yes.
FERNCLIFF:
Laura gets stopped by the orderly. She says she's there on an unannounced visit as the mayor.
Ryan goes into Kevin's (who's still blind) and says: HEY BRO, YOU LIED TO ME! Ryan is pissed off and tells Kevin he forced his hand with Laura but first he's going to deal with him. Kevin says the prenup is real, it's in his safe behind his credentials in the office. Ryan doesn't believe him.
Laura is still skulking around. Ryan leaves, locks the door. Laura looks in the window and sees the back of Kevin's head. Then he turns around!! She sees him!! She says "MY GOD".. They are going "Kevin..Laura"!! And she sinks to the floor. Ryan gave her the needle!@ SHE'S OUT LIKE A LIGHT!!!!!AHAAAAAA
LULU'S HOUSE

Nina and Char jump out to surprise her. She almost loses it. Spencer sees that Charlotte is there and wants to go, he said he called a car. Lulu tells him to cancel it. NB is getting older, just turned 14 and he could be on the show again fuller time. Joss and the rest are 16, so he could be the Freshman to their Juniors. I love his Cassadine Vibe. Curtis finds out Nina is marrying Valentin again.
Charlotte trolls Spence about his tampering with the election.
Lulu's mad Nina's getting remarried to Val--so is Curtis. Nina says she thinks she got Franco wrong.
JAIL:

Jordan wants Franco to plead guilty so that the real killer will come out because they are jealous. Although come on --she didn't take into account the killer MAY be framing him for a reason? The evidence was planted so....
ugh, they need Dr. Maddox who was a forensic profiler for the WSB.
Franco is freaking out and says he won't do it. She keeps saying he has to. He wants to talk to Liz about it but Jordan says NO WAY. God, I hope he gets something in writing.
She tells him if he DOESN'T DO IT, he'll go to jail for the rest of his life!! The HELL!! OMG! He'd better get his lawyer in on this. This is bullshit LOL
THOUGHTS:

I think Willow's baby daddy is SHANK
New girl is white, bland..she doesn't even have interesting hair.
RUMOR has it that Neil is a Cassadine. (he was reading a book on Russian history)