Watch me while I ravish this woman!
Karen has been so frustrated with the show this week, that I know she is having trouble starting this Sunday Surgery. So many times she says "where do I begin?" So, being the good guy that I am, I thought I would help her out by recapping this past week and then maybe she can take it from there.
Isn't Dave awesome!! ? I've decided to read and weigh in -- you can see my stuff in the red :)

NOTE: Ryan really needed to Windex off that desk when Laura was watching lol..
This is what happened:
No A-list family members came to visit Lulu. To appease the masses, some C-list family members visited her OFF CAMERA.
This was very peculiar.. I suppose it's for budget sake but it really was glaring that even Bobbie didn't stop by...Maxie should have been all over it as well!
Franco and Liz got married in jail. Because, nothing says true love like getting married in a jail cell on the anniversary of the day you were raped. True to form NO Webber family members attended the ceremony. I doubt they even sent a card.
The policeman behind them however, continued to do work, just looking at files on his desk for what seemed an eternity lol.
Carly is pregnant. In theory only at this point. No one knows what will become of this storyline. Menopause was mentioned. I'm sure the writers will do it justice. (sarcasm)
NOTE: SoapJenn on Twitter has an idea that Carly will lose the baby at the hands of Ryan-- and that will start discord between CarSon and then: ENTER JAX.
Laura walked around aimlessly with nothing to do-
Although KUDOS she's finally following Ryan! She also confronted Franco in jail..so.. there's that!
Robert walked around aimlessly with nothing to do
Yeah, this is not going well. I adore he and Michael Easton together but-- he should be all over town and all over the Ryan mess and seeing Lulu, Flea and Mac/Lucy et al.
Drew walked around aimlessly with nothing to do
Which is his MO now...and suddenly he can marry FRiz but couldn't go to Curtis' wedding because of Oscar? I guess Oscar was in hospital then but still--:hands up: So, actually Drew DID do something this week. He married people!
Julian walked around aimlessly with nothing to do
Dave, he DID wear his flannel shit-- and he DID get a bit jelly when Alexis talked the the newbie at the bar. I do like Neil and maybe they will "click"??


Jax walked around aimlessly with nothing to do
(that's not a typo. I am just preparing myself for next month)
HA HA... good one!
Kim wasn't on this week. No one noticed. (No one cared either. and if she WAS on this week, well... you get my point)
I ..um.. didn't notice!! LOL
Dr. O was on because.... frankly I have no idea why
We'll have to disagree on this one. She's actually becoming a part of the Nina/Maxie/Val and Peter "Family" and knows about Sasha. Plus, I really loved her singing in the Floating Rib. She should have gotten a job as a nightclub singer!
Peter and Maxie. Nina and Val. Yeah, super-couples. Going to be on trading cards in a few months. Complete with a stick of gum.
Problem is, I can get on board with Val and Nina-- just have them be together and run Cassadine Manor and Crimson. BUT NOPE--we have the "Sasha Secret" that's going to kill them again.
Anna and Finn were in France with Robert. Your guess is as good as mine.
Dave-- IT WAS SWEDEN!! Geesh, you couldn't tell!!?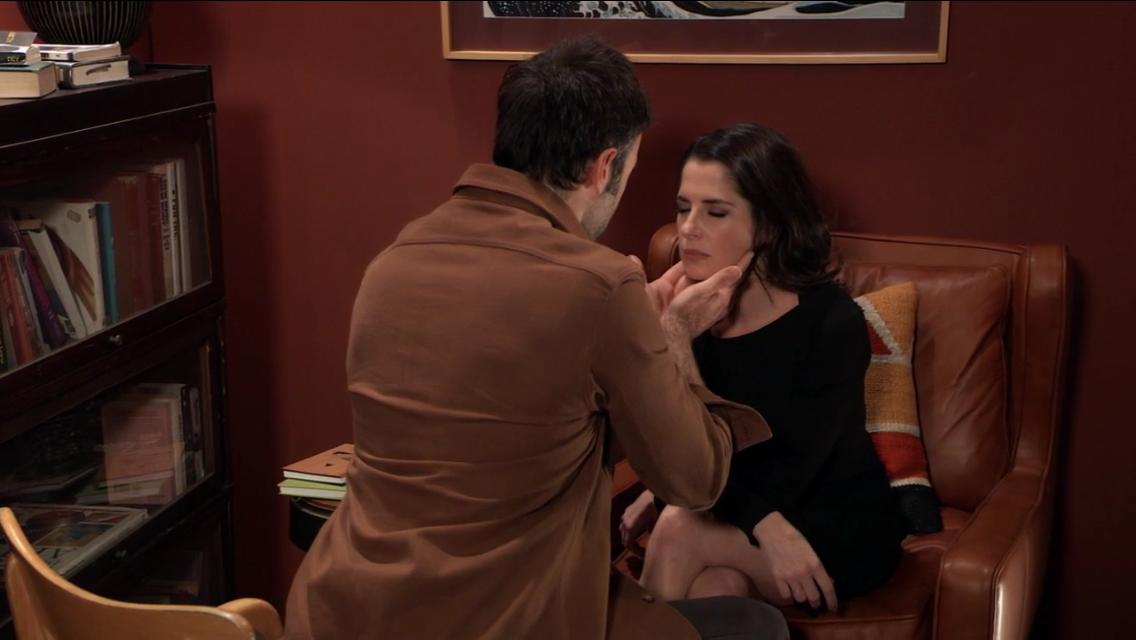 The cult storyline is moving forward. Can't go fast enough if you ask me. Sonny is known for hiring people to "influence" people. I cannot understand for the life of me why he he hasn't had one of his goons scare the crap out of Shiloh and make him leave town.
Ditto. Although Kelly has great chem with SHank, if you ask me!! I was happy to see Valerie at the cult but I know she's leaving. Damn it. She could have gone undercover to expose them as a sex ring.
Beecher's Corners mention. And while I get the fact that Jason went there, I secretly wish Laura did and had some flashbacks.
Oh, great idea. Harmony looked like a BRAVO Real Housewife. I really don't understand why she was introduced.
And, finally, the Ryan storyline. Still dragging out way too long. way, way too long. No one cares anymore. Its not even compelling like a murder mystery should be. Reminds me of the movie Clue. When the actors went from room to room and there was a dead body in each room they just shrugged their shoulders and shut the door and walked away. That's how i feel. Everything that happens in this storyline makes me just shrug my shoulders and walk away. (flames. flames out the side of my head...)
Hmmmmmm, not sure about this.. I am still loving the story-- and the greatness that Jon is bringing. Ava's falling deeper into Ryan's web which will make the realization even more traumatic! Laura's following him and Jordan (A PCPD PERSON!) is also figuring things out and planning something with Franco. This story is the main reason I tune in at the moment.
That's all I got for the recap of the week. I'll let Karen take it from here.
Thank you!! :) I just have a few more tidbits to add--- and since David didn't offer you breakfast, I'm handing out some good old fashioned donuts...all kinds!
PROP OF THE WEEK:

Kiki's Crime Scene Photos: Jordan offered Franco a chance to catch the real killer. She realizes it can't be him because well, he now has a good "soul". Anyway, they'll be up to something soon.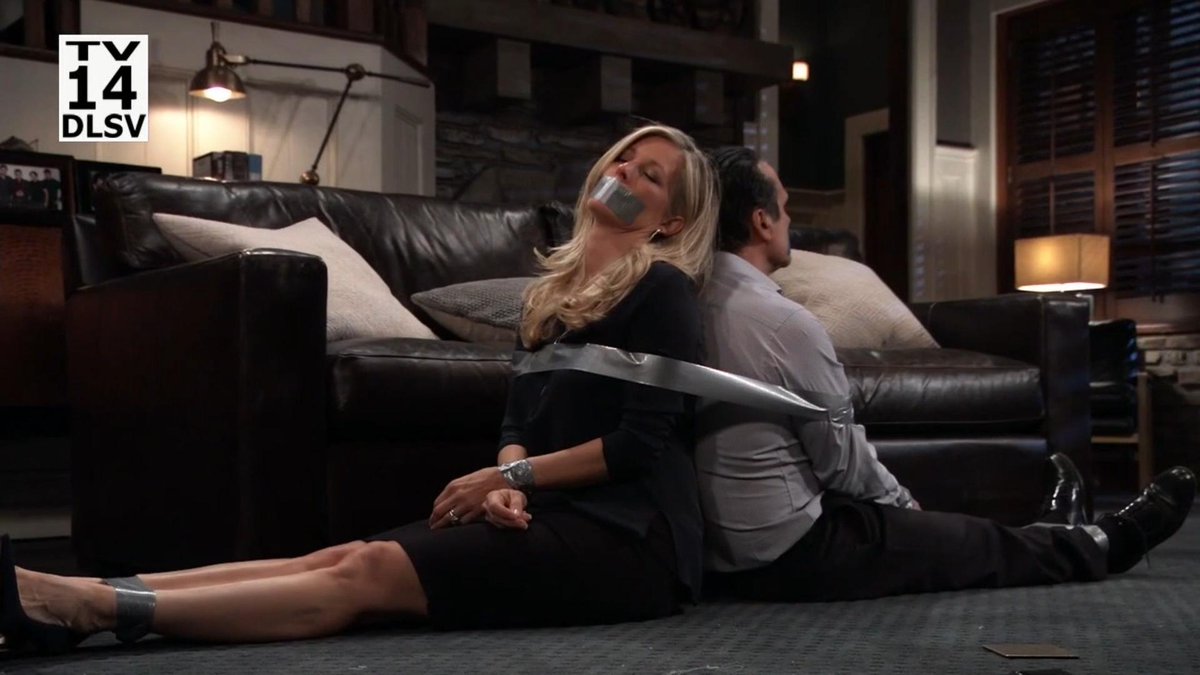 BEST SCENE OF THE CENTURY EVEN IF IT WAS A FANTASY:

Twitter LOVED this. It was such a great surprise. Plus, who didn't think for a split-second "what is this is really happening"!!
FAVE SCENE OF THE WEEK: Liz explaining to the kids about Franco. I loved when Aiden raised his hand!! SO many kids do that!! LOL..And Cam being pissy was good as well. Drew dropped by --which given how close he was to the boys, was a nice touch.
FACE OF THE WEEK: What you talkin' about Carly!!??
Hope you enjoyed something a bit different this week!! Thank goodness for Friday's show! It saved the week for me. I have next week off so I'll be in and out. Going to Ithaca and Buffalo-- no where tropical I'm afraid!! Have a good one.