Carly is at Kim's. They talk about Drew and Her KNITTING.
Schlub DREW goes into Julian's to tell him to stop the nice stuff he's doing. Like the cleaning service and meals. Not sure why other than he's being a dick.
Lulu has a nightmare. She sees the door almost open, then wakes up screaming. Jordan wants to use hypnosis.
Brick is on with Sonny--he's that sports guy that makes a cameo now and then. Sonny's expounding on Mike's story.
Ava wants Olivia to see if she can use her "LSD POWERS" to help her catch Kiki's killer. It's actually a good segment. Ava's desperation and she knew olivia helped the PCPD once. Olivia's hesitation because she's scared. Olivia gets nothing from the photo. Sonny steps in and Ava leaves. Sonny is going to get Brick to look for Dante. At least Olivia and Sonny had a scene.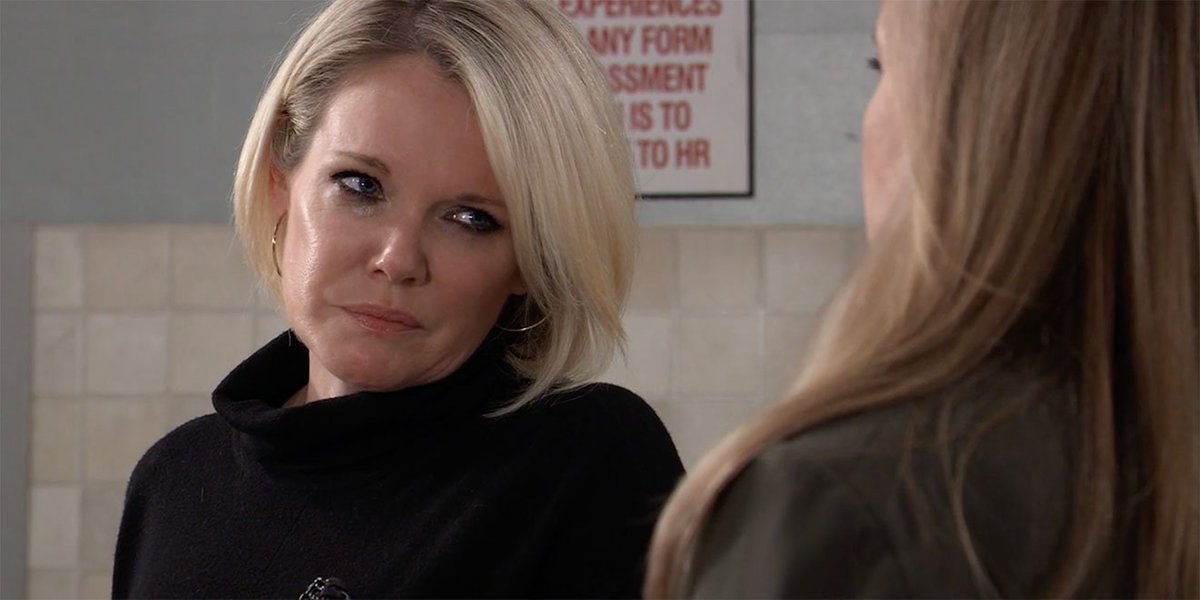 Ava goes to Lulu's room. She wants to know if she knows anything. Lulu pleads with her and tells her she doesn't know. Ava snaps 'TRY HARDER" and shoves Kiki's photo in her face. CLASSIC AVA MOMENT!! She gets thrown out of the room. She and Laura have a nice moment in the hall about Ava's pain!! wow.
Alexis and Kevin ..Kevin says he wants another copy of their prenup, he lost his. Alexis wants to start up sessions again.
Julian goes to Kim... then Carly finds Drew at Charlies. Julian says he sees the way she looks at Drew, so he's bowing out. Carly tells Drew he and Kim should be an item but he thinks she's only saying that because she likes JaSam.
So, Kim I guess decided to take Julian back..in the weirdest scene ever.
Kevin is told Franco is a suspect for the murders. He decides to see Franco as a patient again!
On Twitter today, I saw a tweet from Eric McCormack that Travelers is ending this season. No more after 3. WAHH!! I loves that show!!