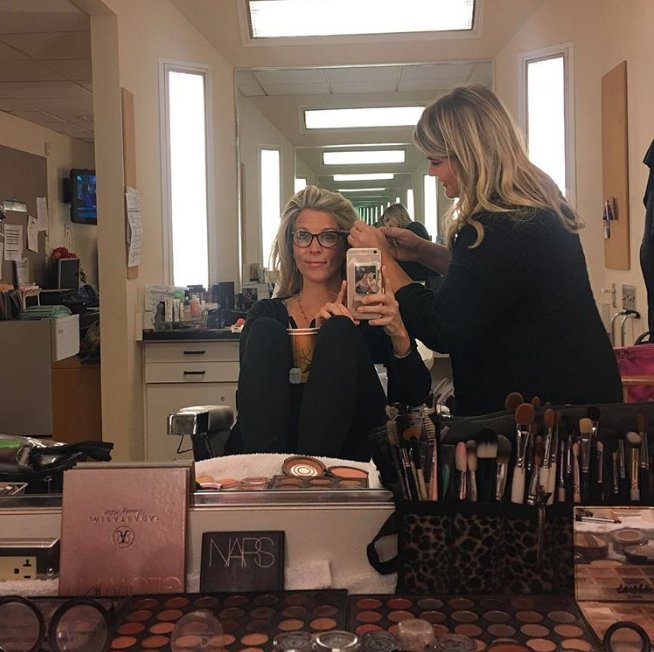 Laura Wright getting her Hair DID
Carly's dreaming about Mary Pat's floating head.. I wish her eyes were open tho!! Mac is talking to Laura at the Rib. She wonders where Kevin in. He walks in later just as Laura is saying "I wonder who could have done this".

Scotty and Ava ..he's like "you're seeing that Quack Kevin Collins"!!?? She says he's brilliant AND exciting!
Kiki, Sasha and Griffin are jogging on the riverfront. Sasha gets a cramp, Griffin fixes her.
Nina slept on the couch. Valentin brought her tray of coffee and breakfast.
Nina meets the group on the docks. Kiki says she's doing a walk of shame-- Nina's like NOPE didn't sleep with him!!
At the Floating Rib, Ryan gives his statement about seeing Mary Pat the night before and that she was scared of Carly. Then he tells Jordan and Chase Ford their history and said Carly basically said she wanted her dead. Laura is trying to tell them it was in "context" but Ryan did the damage! Carly's a suspect.
In Ava's office, there's a bloody pumpkin face/body thing behind her chair. She screams and throws it. OMG It's MARY PAT'S BODY!! WOWZA, Ava's grossed out, Nina calls the police. Ryan is so smart, he knows Carly hates Ava and would "Frame" her!!
Ryan is skulking around the docks with the hook. Laura sees him... but not put the hook
BACK..she thinks he's just lying to her. He says he has been and he's a coward. He wanted to tell her his feelings have changed and he wants a separation. Laura cries and pleads with him..he's like NOPE. Ryan tells Laura he's moving out!!
OH!! It came out today that Sasha isn't really Nina's kid-- Valentin said " The longer you stay, the more likely the truth will come out"!!