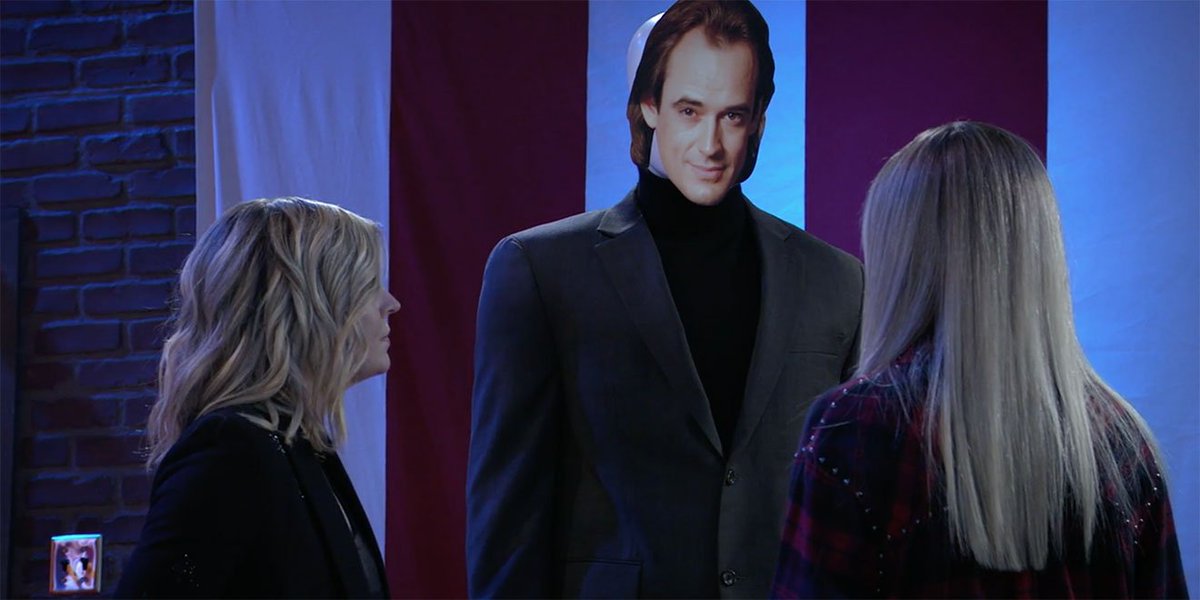 The Escape Rooms!! ahahaaha OMG!! Ok, so the pre-wedding partiers are in escape rooms: One group is in "Serial Killer Room" and the other are on "Cassadine Island"!! They have an hour to escape--
There are cut outs of the people (Helena, Stavros-- Ryan etc) in the rooms. Hysterical.
Cassadine Room: Valerie (yeah!) Krissy, Molly, Alexis-- Jordan... Lulu and Maxie.
Serial Killer Room: (With Text Message killer Diego Franco, Heather Webber and Faison): Anna...Curtis Sam, Peter, Nina, NuTJ and Chase Ford, Finn.

A lot of fun stuff happens in the rooms--just watch it!! I can't explain it all but Alexis "talks" to Helena at one point! "Giggle".

They all want out because they have trauma with the "people" in the rooms but the kid falls asleep at the desk and can't hear them so they have to unlock the doors within the hour or be trapped all night. You'll have to see if they make it!
Laura tells Kevin she's releasing a press thing to tell everyone about their divorce (because of her mayor race). He's like SEE YA! PEACE OUT! Laura still doesn't get how he can be so cold.
Carly throws Ava out of the Metro, just "Because"... Ava goes to Kelly's. Talks to Ryan, says she's going to "sleep like a baby"!!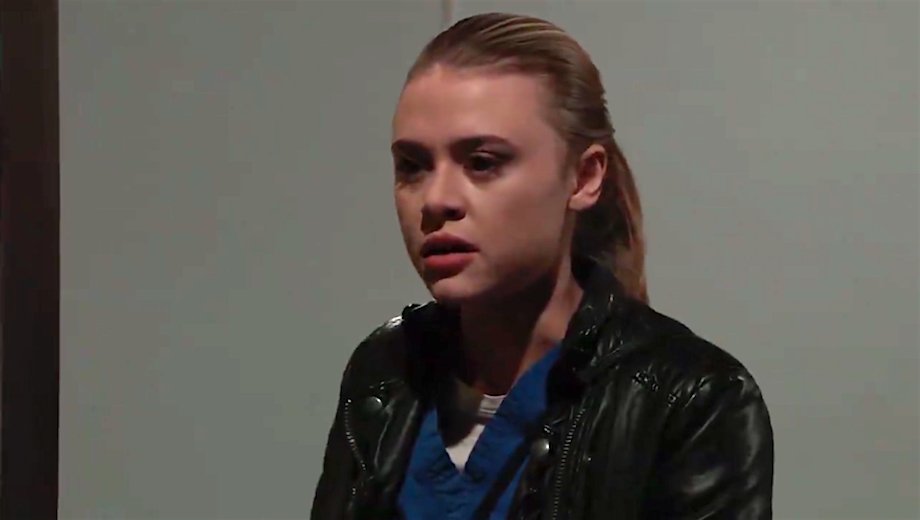 Kiki sees Griffin who jumps out of bed naked. She runs. he runs after her. Sasha wakes up and just falls back to sleep! LOL They go into the bar where Kiki's doing shots. He wants her to feel the bump on the back of his head. They go back up to Sasha's room and he checks her out and realizes she's been drugged. Kiki says "I bet I know who did it". Kiki goes to Kelly's, sees Ava and accuses her of doing it. Ryan just smiles.
Kiki tells her she was a permissive mom and she always thought she was so cool... but "you never wanted to BE a Mom". They fight, Kiki storms off.
Carly and Laura stand with their mouths open to watch them. Then Laura cries because her marriage is breaking up. Carly hugs her. They talk at the bar. Talk about the patient in the room--and how weird "Kevin's" been acting.
Spinelli calls Carly on the phone and tells her the name of the patient is "Wilson" (which was Ryan's alias in Texas when he was first on the show).
In Kelly's Stella talks with Marcus about Tommy-- and him getting killed in the war. He says it's hard not to try to blame it on someone. Nice scenes.
NOTE: NuTJ seems good
GOOD SHOW TODAY !!