So, I saw yesterday's show... and...LOVED Sonny and Mike of course...I really like Sonny like this. Glad Carly wasn't there too...it was just a nice change from hearing her mouth lol
OMG How stupid IS Peter "So, Anna, you're undercover"? DERP. This after delivering our Maxie's baby? Go Away.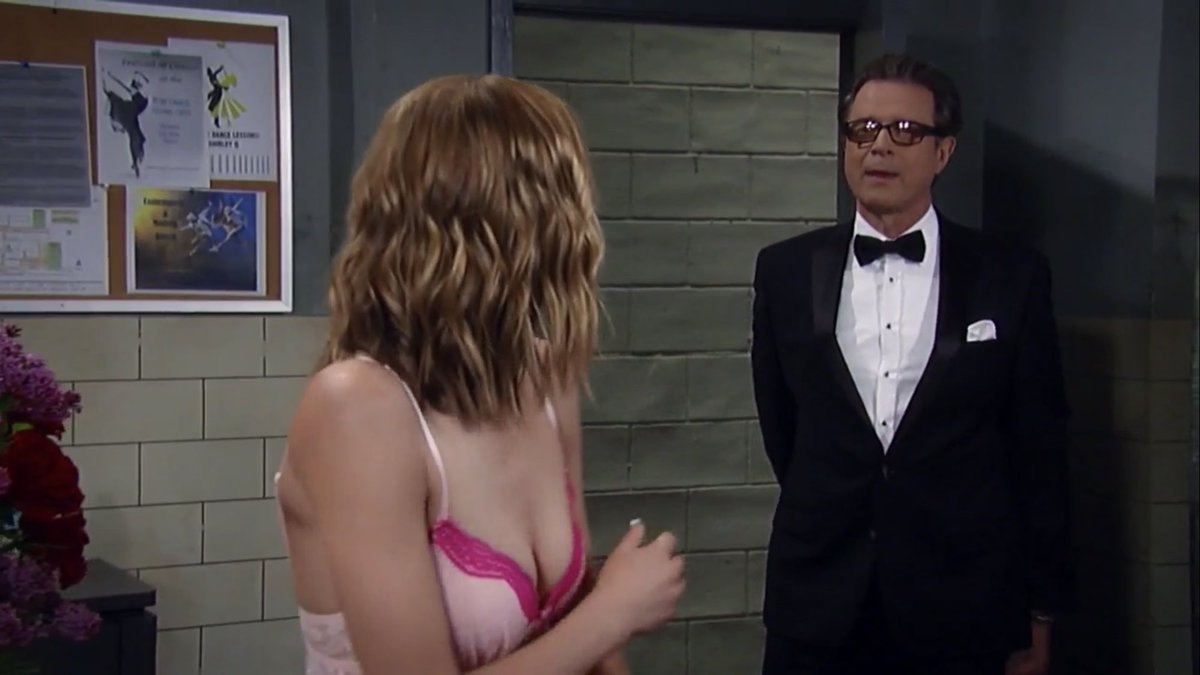 Griffin should never have walked in on Kiki and Bensch. It should have been a leering moment ...a lingering stare..then he walks out.
Ava's number? Ok...but her backup dancers were fabulous! LOL
Valentin--Welp. I really don't care about him so whatever happens happens.
I will give my thoughts on the overall "Ball" during Sunday Surgery. Let me just say: Tons of holes in this year's!!
TODAY'S SHOW:

Tillie got some meds and is so much better!! Yeah!!
I am going to miss The Middle, btw--I'm a total Sue Heck fan.
Anna and Peter: St. JAYSUS TO THE RESCUE!! He gets Peter's gun away-- slams him around (not enough tho). Anna tells him to put the gun down. When Jason won't-- Anna pulls a gun on JASON! He won't stop pointing the gun...and she says "I am your real mother".
Spin and Sam are looking for Maxie in GH and find her walking around delusional. They tell her they'll call Flea and Mac. Finn overhears them say Anna is at Pier 55.
Robert is being rough with Valentin. He talks to Dante ...
BACK TO THE PIER: So, Anna says she's his real mama band Jason keeps the gun on his head. She tells Peter all she knows about his birth and Finn overhears it all from the sidelines. Anna cries, Pete cries, Jason stares and Finn basically rolls his eyes LOL, He calls Robert -- and then Peter says "You aren't my mother ....you're just the bitch that gave birth to me"!! OMG The entire cast was like @@!!!!!!! Then Peter tried to get Jason to kill Anna OR Anna to kill Jason. Robert shows up then-- and then arrests Peter as a WSB agent. They are going to send him to Steinmauer in Germany. He is led off and tells Anna "Don't worry Mommy Dearest". Jason says he's sorry. Anna is crying. Finn is there to comfort Anna.
Nina brings Charlotte to Lulu's for a sleep over. Nina tells her that Valentine knew who Heinrick was all this time. She cries and says the secret cost him his marriage. Then Spin calls and tells Nina Maxie had the baby. Lulu's all verklempt. Dante tells Lulu that Peter August is Faison's son!
Nina goes to see Maxie and baby--- the baby is a premie and in the NICU. They have to tell Maxie that Pete is Faison's son. OH boyyyy
Ava pushes Griffin away-- because she saw him hugging Kiki ...You know Ava. SO INSECURE. Griffin leaves then Ava goes to find him and bangs on his door. He's not there. He's at the Metro where Kiki is getting drunk. Oh, Kiki told Michael that Dr. Bensch is hitting on her, forgetting he's on the board.
I hope Maxie names her baby: Scorpio. JUST Scorpio. LOL Why not? We've had a Stone..a Rocco and hell on AMC...a Spike. But wait...guess what she WANTS TO NAME IT?? PETER!!!!!!!!!!!!! JFC. OMG!! GROSS. Oh, only middle name. PHEW.
END: Griffin and Kiki drinking in the Metro Court ( I think they'll have zex, btw)
Peter is arrested by Robert. VALENTIN gets let go by some idiot cop. :eyeroll: