So Carly tells Portia that Dev and Joss are being homeschooled so why doesn't Trina join them? LOL She's not sure. Carly and she proceed to trash Ava for the whole show.
Harmony walks into the garage and Jason and Brando are there. She's really nervous. I thought she knew Brando..but looks like not. I think he might be a Fed?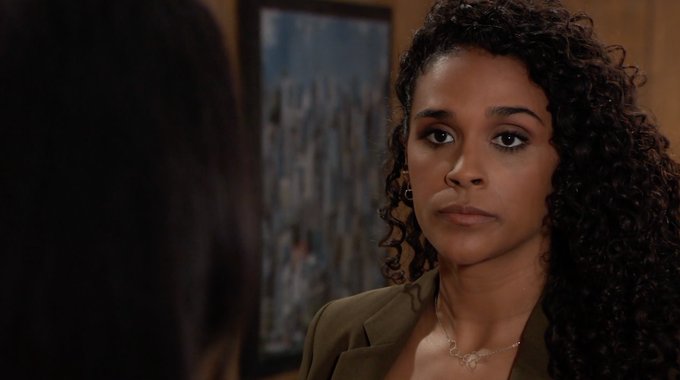 Sam goes to Jordan to talk about TJ. She says she knows where his phone is. Jordan says she'll find him. Sam is like, I CAN DO IT! Jordan says, um, you're a felon and Spinelli hacked into his phone AND I'm his mama so...step aside.
Jordan turns down Curtis for dinner. She's GOTTA WORK!!
Cam and Joss are at the Corinthos...being mopey. Laura stops by to see Sonny but he's not there. She hugs Cam. Then Trina walks in
Jason talks to Molly and asks her where her Mom got a new car... she's like: Um, she can't afford a good car!! Jason thinks something is up.
Dr. Neil is in GH... working. Alexis runs into him. Of course she does. They say they don't regret a thing.
At the Q house: Nelle visits Wiley and Michael wants Chase to come over for another set of eyes. Nelle doesn't like it. She leaves. Chase and Sasha suggest Michael marry Willow
LATER:
Nelle goes to the Metro, rubs in Carly's face she saw Wiley.
END:
Jordan is stopped from leaving her office by Harmony
Tomorrow: Everyone thinks Willow should Marry Michael