LOTS going on today!!
Mike is reaching end-stage. He's just laying there. Portia talks to Sonny. He's not using his legs. He's scared of falling. Wheelchair comes with Liz pushing it-- but Mike won't get in. Sonny realizes he can't help him. Cries in Joss' arms.
Jordan has to go to internal affairs to throw her team under the bus. She talks to Jason about what she's going to say. THEN SHE goes to her office and gets out a SECRET PHONE!! "I know I'm not supposed to call you"... I SWEAR IT'S TAGGERT!!!!!!! I think she's asking him if it's ok to do this.
The internal affairs guy comes in. Sits. Jordan is going to tell him everything.
Trina goes to talk to Ava at the Gallery. She's trying to talk to her about Cam. She thinks Cam loves Liz, not her. Ava says that she shouldn't be second best.
Portia and Curtis: She tells him she's sorry she had an affair with him and didn't tell him she was married. She also said that Trina will be so happy and proud to see her Dad's award at the PCPD. She thinks he's a hero (dun dun dun) . Then she tells Curtis that Taggert told her some of the things he was working on with the DEA-- and Curtis gets antsy knowing what Jordan is going to bring up.
Sam and Molly in the park (we are "outside" in California now LOL) We have NO leaves until like May here. but ..okay! Weren't they just ice skatin!!?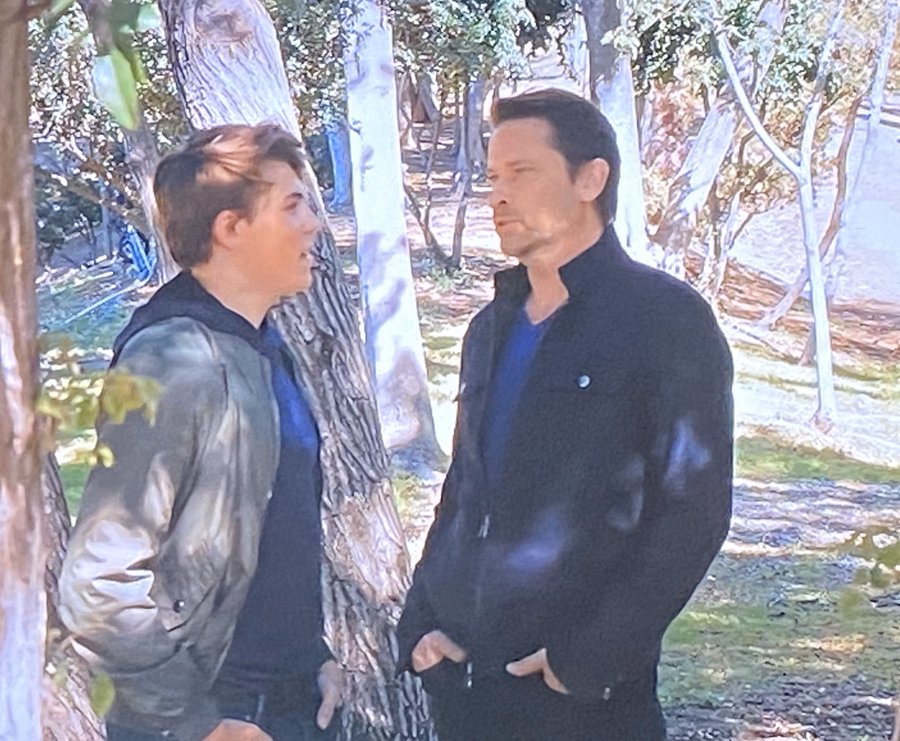 Franco and Cam in the park talking about his appointment and tells him he kissed Trina. He likes Trina now!!
Willow, Carly, Bobby, Michael Sasha waiting for Wiley to get out of surgery.
OMG!! LIZ goes on the ROOF AND Nelle is under a tarp to keep warm and she's all blue and passed out!! She wakes up says she was locked out ALL night. Liz wheels her down and she sees Michael. Nelle: "Bitch tried to kill me"!!
Chase is there, she says arrest Carly. He says why? She tells him what happened . He said, Oh security must have locked you out there. Bobbie says: Anyway, I saw you down here after you talked to Carly.
Nelle: What?
Bobbie: When you signed the consent forms!
BOBBIE IS LYING! WOW!
I'm so team Nelle on this. Carly's a damn bitch
Bobbie goes to find the permission slip-- and it's NOT there! MISSING!!
Monica comes out to give an update. She says he's doing well but will need another procedure in months to put something in the heart to stim growth. Nelle flips out. Says there is no consent form. Bobbie shredded it!! (we see it in a flashback!)
Monica covers too in a way, is like Oh well, too bad...and she and Bobbie fist bump at the end.

Nelle calls someone--she's got a plan. Michael says he will do whatever it takes to get custody. Which I think means marrying Willow.
MAC IS ON TOMORROW!