Welcome to March.. first day of GH broadcast in this 3 month of 2020
Michael and Willow..she's still sad. Still saying she wants out of Wiley's life. yada yada. Boring part of the show.
CarSon's house Sonny tells Brando that he and Dev should stay there under his protection. He says no, he has a job in Chicago. Sonny says Oh, we'll open a garage here for you! Lol. Brando doesn't think so.
Sonny gets a call about the shootout from Jason. HE leaves for GH. Because you know, he's IN THE LOOP!!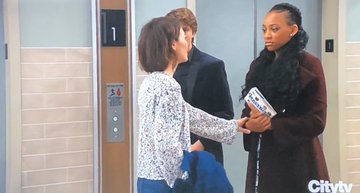 Hospital... Everyone is there. Taggs is getting into surgery. Jordan comes in and gets into it with Jordan and man, she's ruining these scenes. I'm saying it. UGH.
Laura comes to check on things.
Trina goes in with Epiphany to see her Dad, she holds his hand. He wakes up. Trina leaves as Lucas checks him and then Jordan talks to him before surgery. He talks to Curtis and Jordan. Thanks him for saving Trina.
Sonny comes in later and they talk about Trina and that they will work together. I liked the scene. Don't come for me.
MY TV WAS A FOOL TODAY... stopped so many times! UGH
I SAW on twitter what happened and I REFUSE TO BELIEVE MY TAGGS is dead. Let's go with he's faking it. Ok?
Ok? because I can't deal if he really is. NOPE!! and Jordan resigns? Oh this is a set up. Yep.
My TV gave up at the end sorry!