Franco is in Kevin's office, talking to the camera--and Kevin's not there!! LOL, he's practicing. !!! AHAHAHAH Liz walks in and and says: You can practice, but he's back. Oh that was funny. Franco leaves for an appointment.
Ok, so..nurse Mary Pat is putting lotion on Carly's hands and
IT'S SO CREEPY GOOD!
ewwwww!! Mary Pat says that she is going to see a new Dr. --Lazarus..."Like the Bible" . Then Carly has halluncinations of Nelle in her face. Mary Pat opens the door and tells the new person to make themselves at home. I think it's Dr. Laz but OMG IT'S FRANCO! that surprised me...lol. He has a grant to do art therapy. He sees Carly and is like: HUH? She thinks she's hallucinating him too. "Carly a good way to express your feelings is through art"!! LOL. She says "Franco get me out of here...tell Jason and Sonny they are going to hurt me".
I love Laura and Roger together as actors so--this was great.
Mary Pat tells Franco to stay way from Carly.
Sonny is talking to Kevin, actually--at Sonny's house with Jason standing Guard. Sonny's being weird. Asking about Spencer and Laura. Kevin says Laura wants to come home. Sonny says HE misses Carly so GET HER BACK. Kevin said Carly was an idiot to dupe him and escape and he's not sure he can get her back.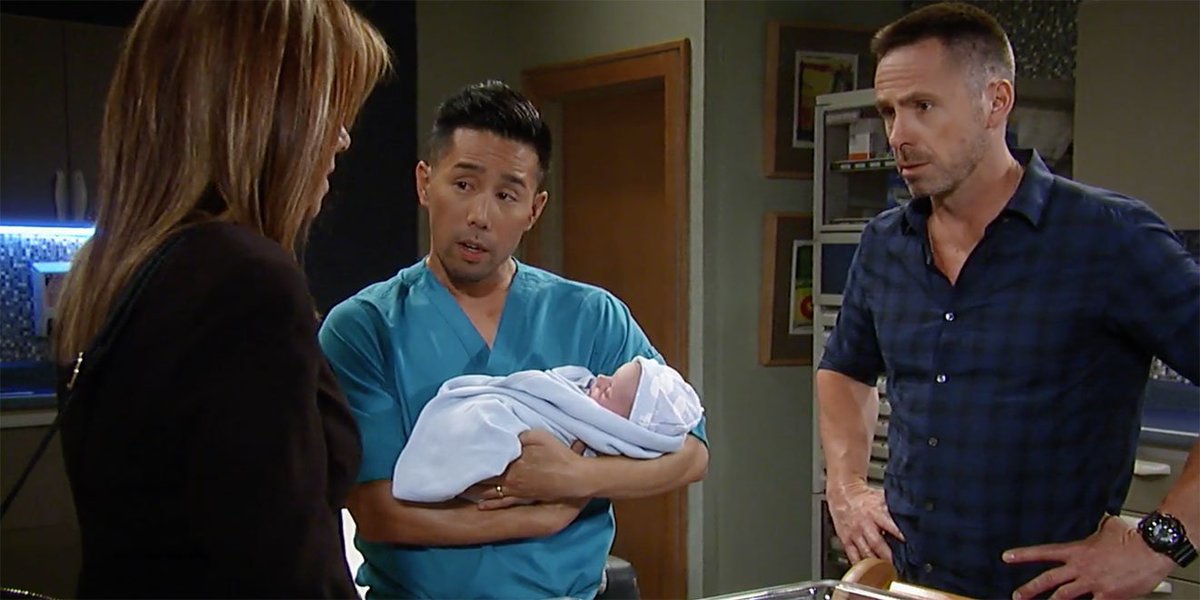 Brucas Baby is born! It's a boy---
OMG OMG!! Wait, so Nelle will get a car accident, she'll die and her baby live but Brucas' baby will get sick, die and Brad will switch them I BET....BOOKMARK THIS! Those babies will be switched one way or another. Heather Webber isn't there to kidnap them so, something has to go wrong.
Lucas is in surgery for hours. They bring the baby in and Julian and Brad gush over it. (I think Lucas is not there so the baby can be switched with Nelle's soon)...
They were going to name the baby Cher after Cheryl if it was a girl-- But since it's a boy it's WILEY. :) Because it took AWHILE!! :) AWWW.
WOW--- Ok, so Carly's being taken in for electro shock treatments and she SAW SOMEONE THAT LOOKED LIKE KEVIN in a straight jacket in the hall!! THAT IS TOTALLY KEVIN and "Kevin" is Ryan. I mean, Kevin sat there and told Jason about Carly's electro shock treatments. Casual like. He'd never let that happen as a professional, he knows she's sane!!
Nelle: Chase is going to tamper with the car-- and the reason they are doing this is to get a confession from her that she framed Carly. Which makes sense now.