So, Contractor guy came to try to make Sonny's house handicapped friendly. THAT didn't go over well. He throws the guy out. Tells Carly if she doesn't like it, she can move out. She then "Goes home' to her other house lol and talks to Lucas. Sonny tells Morgan to "Stay AWAY" from Ava. Later, he throws his wedding band and tells Carly since "they only married for Avery, they can just get a divorce".
Carly mentioned she was glad he couldn't reach the barware LOL

Hayden and Tracy. They argue about who's "plot' really is and who's taking control. Tracy calls Nik "Euro-trash".
Park lady tries to get Emma to look for puppy "Bella".. She shows her a photo. She tries to grab Emma but Emma screams like she's been taught and Tracy Q runs to her aid. She calls Patrick.
Ava and baby Avery are in the apartment. Paul comes in with a stuffed bear. He tells Ava she has to get to work for the mob. They kiss. Interrupted by Morgan trying to get in.
Jason is all GRRRRRRRR to Nikolas "I know you know my DNA was Jason and you changed it" Nik says Helena did it, not him. Jason says he's going to bankrupt Nik by exercising his rights as a "Quartermaine" and taking his shares and voting!! WHOOT!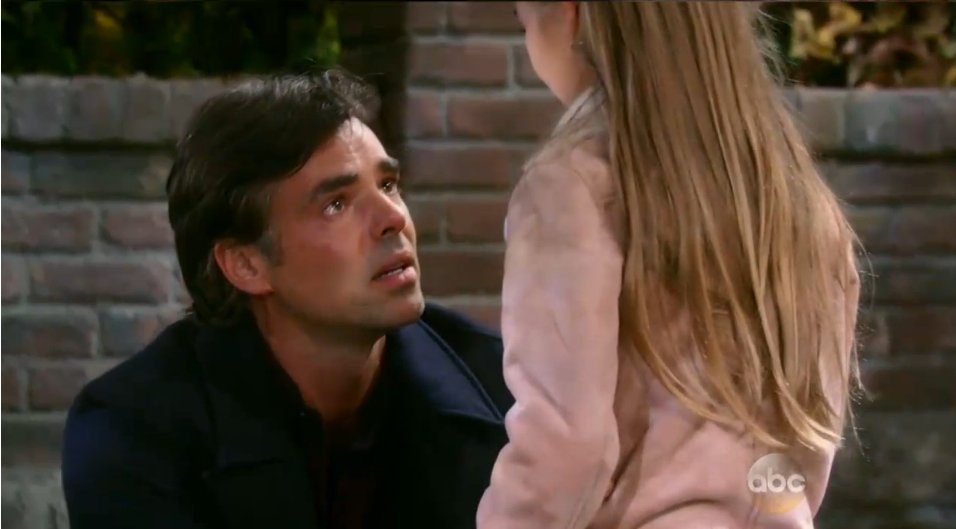 Sam tells Patrick she kissed Jason. He's mad. They don't even talk about when Robin came back. I mean, he went through the same thing!! Geesh!! When Tracy calls, he won't even tell Sam what's wrong, just leaves. He finds Emma, they both tear up talking about Sam. "I found out Danny's daddy came back.:" They both cry. Awwww. very touching scenes.
Robin tells the guard that when Jason remembers, he will come for her because he knows she'd never willingly leave her family. I guess Partick and her mother do?
OH YES!! WOW... Liz and Sam go at it. Liz is telling Sam to leave Jason alone. Sam is like Um, he's my husband...yada yada..

Meanwhile. Jason rides off into the sunset and leaves Port Charles.