Well, I'd rather be giving him a sitz bath but... ok
Well, the week ended in a bang and I have to say, I enjoyed it!! It seemed like the pace was going faster and things came together. There were also many scenes that were just powerful. Never fear tho, I still have some changes I would have made. You know me, Can't keep quiet all the time.
I'm really hoping the drama brings people back to GH. Get them on the phone or whatever and tell them to watch!! I really don't want to lose this soap and have it be gone forever. Ratings have been down for all of them since the whole Pandemic thing. Let's SAVE OUR SOAP!
CHARACTER OF THE WEEK: Ned Quartermaine. Maybe people have forgotten his real name is Edward but I haven't! The nod to history was so good and deep that I about fell off my chair. Ned is starting to embody all that Alan and Edward were, which is pretty ironic given his past. Years of trying to break free of the Qs and being "Eddie Maine" and now? When faced with a betrayal and a company break up he behaves like they would have. Brook Lynn was behaving like the old Nedly. Ah, the things that happen when we age!! Great scenes by Wally and Lisa. Loved them bringing up Tracey's history as well. Ned is such a lynch-pin for GH I really hope he's on quite a bit and DAYS lets him be with us!!
"DEATH" OF THE WEEK: Nelle went down that cliff without a scream?? I really give credit to Laura and Chloe; they had looks on them like: "Help me... I'm your sister"... and "Oh my god, I have to help you, you're my sister". Reminded me of old OLTL Scenes back in the day. Of course, Nelle isn't dead. Because-- it's GH. When will she be back? Who knows. But here's how I'd write it:
Nelle walks into the Metro Court on New Year's Eve with..MORGAN on her arm!! Morgan met her in the small logging town he's been living in and is in love. Has no idea who he is or was. Oh, and Nelle has a baby with her. Named? Caroline. ahahahaa. OMG Please make that happen soapy gods.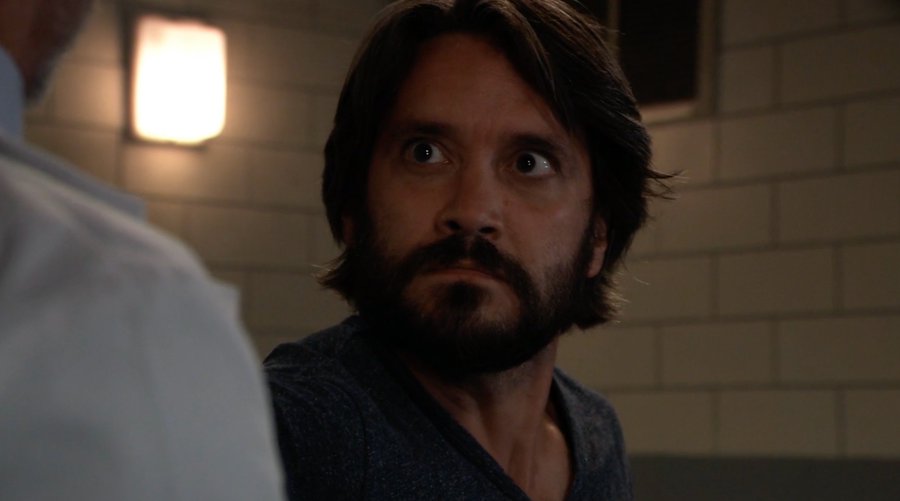 WILD MAN LOOK OF THE WEEK: Dante! You'd better shave before going home ! Or keep some scruff and just comb your hair. Side note: That's Dr. Kirk with him. I love the actor. Here's hoping he has something to do with PC.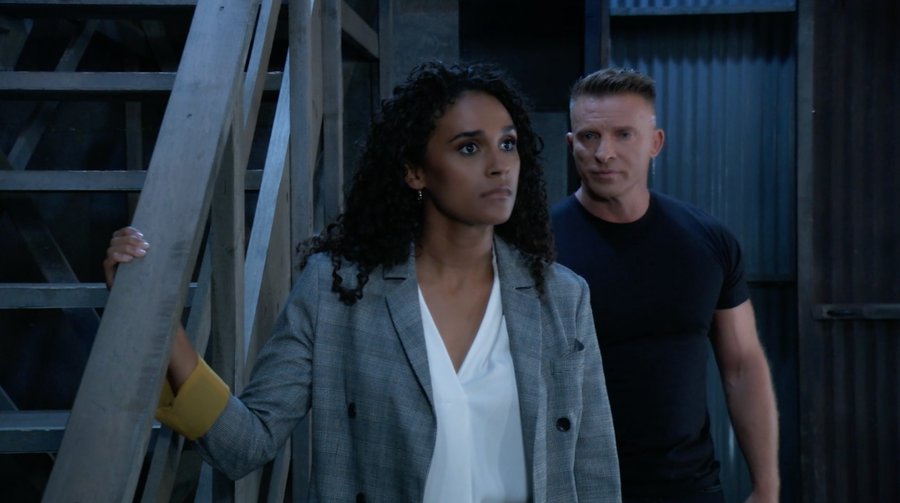 BORG LOOK OF THE WEEK: NO! It's not Jason this time ...it's Jordan. She just doesn't do it for me. When Taggert said he wasn't killing Cyrus due to Jordan's pleas, it just didn't ring true because the delivery of said plea was just flat as a pancake.
MYSTERY OF THE WEEK: SO... something is going on with Alexis' wrist and.. I'm not quite sure what the deal is. ?? They've mentioned it several times and she's had "ice" on it. No cast or brace or anything. It's not like NLG has a visible injury to explain so why put it in there at all? Did Alexis do something to hurt her wrist that will come up later? I'm just confused.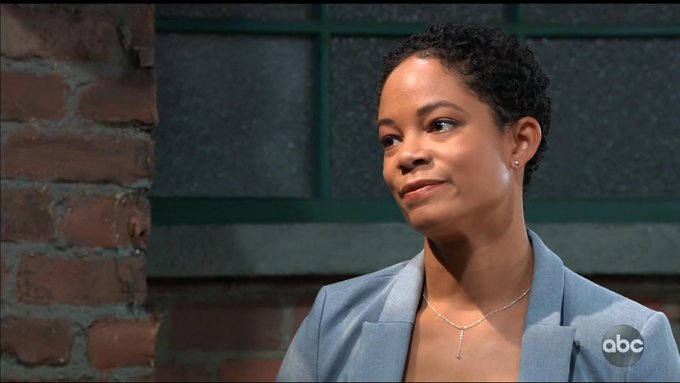 WTF OF THE WEEK: Valerie? Um.. what? Yep, that was Valerie doing some police work during the Wiley kidnapping. But--but.. we haven't seen her in ages. I was having trouble remembering who she was!! Yes, this is an older photo but couldn't get one of this week. She had some weird hair going tho. Bizarre insert if you ask me!
SCENE OF THE WEEK: Oh I enjoyed this. I do like seeing Angry Michael. Gives Chad a chance to flex a bit. The best part was Nelle reading him for the complete wuss that he is. She perfectly invoked what we've all seen. Then, Carly was the first one rushing in to find him!! MOMMY to the rescue!
WUBSHELL WEEK:
Dante's going to be sprung because the WSB says so
Nelle hung on for dear life and... fell.
Jax tells Carly to lie about events
Brook Lynn strained her voice telling Michael about the GPS tracker
Liz and Franco outsmart Ava and Nik. Or do they?
Ava and Nik...the attraction is there!
Epiphony patches up Taggart
Taggart leaves town without killing Cyrus. Tells Jason to do it
Trina tells Joss she and Cam kissed
Wiley is safe
Note: Carly saw Nelle wearing that necklace that Nina has the other 1/2 of ..hmmm...
SPOILERS FOR NEXT WEEK: My fave: Alexis and Ned "reconnect" YEAH! Gatekeepers! Will Chase confess to Willow?? How will Carly keep her secret?? Get all your scoops at Diagnosis Daytime.
WUBS NEWS YOU CAN USE:
Kelly's on her way back to GH as Britt. Here's hoping Sasha goes away to rehab and she can stay for a long time. Bring back Dr. O and Brad too!! Sept 10th is the airdate given (could change as you know!)
Nancy Lee Grahn tweeted that GH will give the day 'off' on election day and air a repeat episode.
The actor that plays Dustin quit twitter due to it's "toxicity"
Sad sad to hear of Chadwick Boseman's passing. What a national treasure he was.
That's it! I did enjoy the week. I watched Thursday's show on Hulu and it was so good without commercials. Did you know each episode was only 38 min long!!? No wonder I'm wanting it to speed up! Predictions: I think Dr Kirk might be part of the WSB mind control thing with Jason and Drew?? He has to tie in someplace, he's too good of an actor to be just an extra. Maybe he'll bring Dante home and ??? I will also enjoy seeing Valentin take over ELQ and making a mess of things.
Have a great Sunday. One more week before my work starts up again! Things are going to be very different. I won't stress too much--YET.