Jason calls Epiphany to come and patch up Taggert in the safe house!! She's a mobular nurse now lol --Oh, she KNEW ABOUT TAGGERT'S FAKE DEATH. !! She helped. She won't tell anyone she saw him. His gunshot wound is thru and thru btw so he'll be ok. She leaves. Jason calls Sonny and says he's handling it.
Carly then tells Sonny to go help Jason "it must be important".
Taggert wakes up.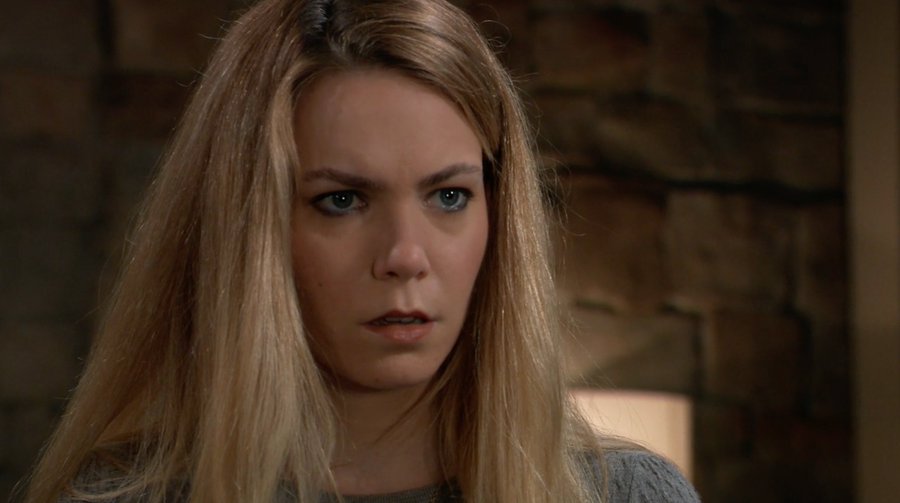 Brook Lyn wakes up, remembers Nelle talking to her in the dressing room. She gets all aggitated. Ned gets a doctor. She can't talk, so Sonny tells her to nod about Nelle. She nods yes. They get her a pen. She's too shaky to write. Doctor comes in, everyone has to get out. He tells Brook Lynn not to talk.
Nina is still at the Qs. Jax comes to the door, looking for her . Jax is trying to console Willow and says Nelle will be found. Olivia calls and tells Willow that Brook confirmed that Nelle took Wiley.
Sasha's at the PCPD. I guess to be "with" Michael? I don't even know. Michael is trying to get into Nelle's phone but can't get the password right.
Michael goes to see Brook Lyn. Even tho she shouldn't talk, she tells Michael there's a GPS tracker on Wiley. Michael figures out (with a fake flashback) that the password is the date of Nelle's kidney operation.
Jogger on the road redux, she gets the Amber Alert. Nelle is driving still, talking to Wiley. The jogger calls the Amber hotline. She says Nelle has been gone about 20 min. Then we see Nelle stop the car and say "We are here"!!
Nelle is hiding in the Q cabin... in the woods "They'll never look for us here" Oh, not sure it's the "Q Cabin"...someone said it's where Michael took Nelle eons ago?
Chase is talking to the jogger (That was fast)...she shows him which way Nello went.
Nelle sees That the Kangaroo was left in the get away bag! She freaks out.
TOMORROW: Michael fights Nelle!